Have you heard of the Savings formula? I'll tell you the savings formula.
In a normal person's life, his ideal method of saving is trying to minimize all the expenses in a month (usually bills, groceries, allowances, etc) and whatever is left of his monthly income is kept in the piggy bank.
But in the investor's mind, his formula is saving first before spending. His equation looks like this:
INCOME – SAVINGS = EXPENSES
Rather than;
INCOME – EXPENSES = SAVINGS
The former is more effective to use rather than the latter. In its essence, this formula makes it easier to save. But how do we effectively do this? Frankly, it is practically hard to follow this especially in our robust culture of shopping and entertainment.
Well, our friends from BPI introduces a more practical yet effective way of saving without having that guilty feeling of choosing our needs over our wants.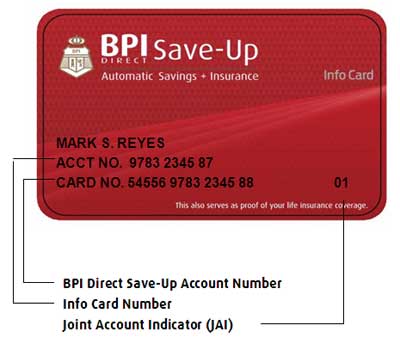 BPI Save Up Account
BPI Direct Save Up Automatic Savings Account + Insurance is a special BPI account that forces you to save a portion of your salary every month. How? It automatically takes a predefined amount of money from your payroll account every payday.
This new product does not require an initial deposit. You decide how much you want to save (minimum of Php250.00) every payday or every month and it will automatically be transferred from your ATM-based savings account to your Save-Up account.  You cannot easily withdraw the money from your Save Up account because it does not come with an ATM card or a passbook. The only way to withdraw the money is to transfer it to your ATM account via phone banking or online banking, you cannot do it over-the-counter. When you have extra cash, no need for you to wait for your automatic schedule transfer – you can transfer funds anytime to your Save-Up account from your existing Savings Account. All of this is done wirelessly. Talk about convenience.
Aside from that, you are given a FREE Life Insurance which is equal to as much as 10x your account balance. Well, it actually depends on what happened to you. For basic life, you get 5x your account's month-to-date average daily balance of the past 3 months before you die. If you die by accident, you get additional 5x your account's average. This means that the higher your savings, the higher your insurance coverage.
     Basic Life: 5x your account's average MTD-ADB up to PhP 2 million.
     Accidental Death: additional 5x your account's average MTD-ADB up to PhP 2 million.
     Accidental Dismemberment: in accordance with the Schedule of Dismemberment Benefits, up to PhP 2 million.
So how do you go about to take one of your first steps toward financial freedom? 
You need to have a BPI Peso Account and this account should be enrolled in their online banking. This will be your settlement/source account.
After that, open a BPI Direct Save-Up account . Once it has been enrolled, you only need to specify a certain amount to be withdrawn from your settlement/source account to your BPI Direct Save-Up account. The minimum is P250.00. You can also choose the frequency of transfer- weekly, biweekly, once a month.
You will receive an Info Card via mail. This will have your pertinent card information. This will also serve as a proof that you will be receiving an insurance coverage from Ayala Life.
As for the cases of real emergencies, you can simply transfer funds from your BPI Direct Save-Up to your nominated source account via Express Mobile, Express Banking or Express Phone. Once it is credited, then you can immediately withdraw your money through the ATM.
Automatic savings plus insurance coverage? What a unique and wonderful initiative from BPI
For more Information, you can visit this link
BPI Direct Save Up Automatic Savings Account + Insurance Terms and Conditions here

The following two tabs change content below.