I started investing in the stock market in October 2010. And since then, I never stopped studying. That's the best or some would say, worst part about the stock market. There really is no single formula that will work over and over again, no exact pattern, no exact scenario. Market is driven by human behavior, human emotion and perception. So you really have to continuously study, get updates, read news etc. It's a never ending learning as most will say.
So it doesn't matter if you're a newbie or a veteran. The only difference probably is that, most veterans have more mistakes done in the past which made them more wiser. But then again, they also need to be updated most of the time like the newbies. That's why it's very timing that TGFI (The Global Filipino Investors) Facebook group holds this seminar about the stock market entitled "Bulls Session – TGFI Manila Market Outlook 2013" to be held on March 9, 2013 at the National Press Club in Ermita, Manila from 11am – 6pm. For only P600 (lunch included).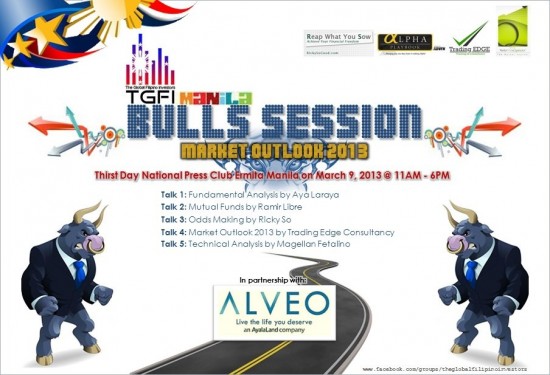 What's in store for the "Bulls Session – TGFI Manila Market Outlook 2013"? They have prepared 6 interesting talks by well-known speakers. Below are the details.
Talk 1: TGFI Market Outlook Fundamental Analysis
Speaker – Mr. Aya Laraya of Pesos and Sense
Talk 2: Why invest in Mutual Funds in the Philippines?
Speaker – Mr. Ramir Libre
Talk 3: Market Outlook for 2013 by Trading Edge Consultancy
Speaker – Mr. Ron Acoba
Talk 4: Odds Making in the Philippine Stock Market
Speaker – Mr. Ricky So
Talk 5: Market Outlook: Technical Analysis
Speaker – Magellan Fetalino
To reserve a slot, please contact the following
Khristian Santos / Floi Wycoco
Mobile : 09228226067
Facebook: http://www.facebook.com/groups/theglobalfilipinoinvestors/
Email: khristiansantosmd@yahoo.com/theglobalfilipinoinvestors@gmail.com
Promo: Reservation fee is only P600 inclusive of the lunch and slot reservation/ First 50 to reserve will get a P100 off
I'll be there, so in case you're attending, simply poke me. I'll be wearing my FinancialPlanningPh.com shirt so you can easily recognize me. Let's learn together.
Please SHARE to your friends and relatives. Just one click on the SHARE button and you help spread the news. Who knows, this might be useful for them too.
The following two tabs change content below.
Garry Zaldy de Castro is an advocate, Financial Advisor, Certified Investment Solicitor (Mutual Fund Representative), blogger, IT practitioner, husband to Aileen and a dad to Jacob and JohnD. He started Financial Planning Philippines in 2008 just to share his financial learning to friends, relatives and anyone who wishes to be financially independent.
Latest posts by Garry De Castro (see all)