This video of Chinkee Tan was shared by J. Randell Tiongson thru his twitter account. After watching it, I thought why not share it to AAFP Phils readers.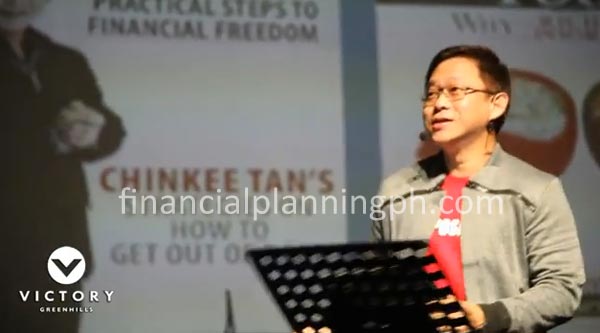 I'm not really a Chinkee Tan fan and this is actually the first time I watched Chinkee Tan speaking about money and success though I know he has written books like 'Till Debt Do Us Part' and 'For Richer and For Poorer'. And who will forget his stint in showbiz.
In this video, Chinkee Tan talks about the True Meaning of Success. According to him, most people pictures success on the basis of money or wealth. While some people seeks success thru Power. And yet others finds success thru Achievement. Thru his talk, he defines thru success.
You be the judge. I like his humor though. I wish I have that kind of humor when speaking in front of a large crowd.
The following two tabs change content below.
Garry Zaldy de Castro is an advocate, Financial Advisor, Certified Investment Solicitor (Mutual Fund Representative), blogger, IT practitioner, husband to Aileen and a dad to Jacob and JohnD. He started Financial Planning Philippines in 2008 just to share his financial learning to friends, relatives and anyone who wishes to be financially independent.
Latest posts by Garry De Castro (see all)