I saw this intriguing post on Facebook about former NBA Player Shaquille O'neal. For the youngsters who don't know anything about Shaquille O'neal, he was once the partner of Kobe Bryant in the LA Lakers. He is now retired.
Back to my story. According the the FB post, when Shaquille O'neal was first drafted in the NBA, he spent his first million in just 30 minutes. That was ridiculous isn't it. But I know it must be exaggerated. But what amazes me most is what he did after. Here's the exact excerpt from that Facebook post.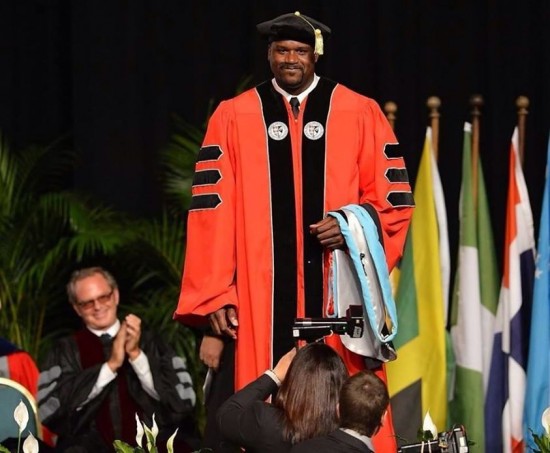 When Shaquille O'neal was drafted into the NBA, he spent the first million that he earned within 30 minutes. O'neal then received a phone call from his banker, who scolded him, and told him that he would end up joining the list of former athletes who ended up broke if the current trend continued.

O'neal decided to sharpen up his education on business and finance. He returned to college, completing his Bachelor's degree, followed by his M.B.A, and lastly, his Ed.D. That's right, he is now Dr. Shaquille O'neal.

As of today, Shaq is the joint owner of 155 Five Guys Burgers restaurants, 17 Auntie Annie's Pretzels restaurants, 150 car washes, 40 24-hour fitness centers, a shopping center, a movie theater, and several Las Vegas nightclubs.

In addition to his business holdings, O'neal still earns $22 million per year (roughly $423,000 per week) from his endorsement deals with Arizona Creme soda, Icy Hot, Gold Bond, Buick, Zales, and at least a half dozen additional corporate sponsors. He is also a studio analyst for TNT.

In Shaq's own words, "It is not about how much money you make. The question is are you educated enough to KEEP it."
Intrigued by the story, I made a quick Google search on Shaquille O'neal investments. Here are some interesting facts about Shaquille O'neal as written on Wiki.
Shaquille Rashaun O'Neal (born March 6, 1972), nicknamed Shaq, is an American retired basketball player, former rapper and current analyst on the television program Inside the NBA. Standing 7 ft 1 in (2.16 m) tall[1] and weighing 325 pounds (147 kg), he was one of the heaviest players ever to play in the NBA. Throughout his 19-year career, O'Neal used his size and strength to overpower opponents for points and rebounds.

On Education

O'Neal left LSU for the NBA after three years. However, he promised his mother he would eventually return to his studies and complete his bachelor's degree. He fulfilled that promise in 2000, earning his bachelor of arts in general studies. Coach Phil Jackson let O'Neal miss a home game so he could attend graduation. At the ceremony, he told the crowd "now I can go and get a real job". Subsequently, O'Neal earned an MBA online through the University of Phoenix in 2005. In reference to his completion of his MBA degree, he stated: "It's just something to have on my resume for when I go back into reality. Someday I might have to put down a basketball and have a regular 9-to-5 like everybody else."

Toward the end of his playing career, he began work on an Ed.D. in Human Resource Development at Barry University. His doctoral capstone topic was "The Duality of Humor and Aggression in Leadership Styles". O'Neal received his degree in 2012. O'Neal told a reporter for ABC News that he plans to further his education still by attending law school.

O'Neal has also studied directing and cinematography with the New York Film Academy's Filmmaking Conservatory.

On his Road to Riches

But it was some priceless advice that he got from Magic Johnson that he says helped put him on the road to real riches.

"Magic pulls me aside and says 'It's good that you're the man, but you need to start owning things,'" Shaq recalls. After some reassurance from his mom and the reality that he wouldn't be in the game forever, Shaq began investing his money in everything from a shoe line to the Five Guys burger chain. (Though Shaq says he's leaving the actual cooking to the pros.)

Valued at some 250 million dollars, Shaq credits not only Magic Johnson for this financial success, but his military father and even President Obama who, he says, instilled in him the value of giving to those less fortunate.
References
http://en.wikipedia.org/wiki/Shaquille_O'Neal
http://www.huffingtonpost.com/2011/11/16/shaq-gives-money-advice-opens-burger-joint-tours-private-island_n_1097439.html
http://www.bornrich.com/shaquille-oneal.html
Amazing isn't it? Reading all this, I will never see Shaquille O'neal the same way again. He's more than a basketball star.
SHARE if you're also inspired by his story.
The following two tabs change content below.
Garry Zaldy de Castro is an advocate, Financial Advisor, Certified Investment Solicitor (Mutual Fund Representative), blogger, IT practitioner, husband to Aileen and a dad to Jacob and JohnD. He started Financial Planning Philippines in 2008 just to share his financial learning to friends, relatives and anyone who wishes to be financially independent.
Latest posts by Garry De Castro (see all)