We're very proud to inform you guys that yours truly was invited (luckily and randomly) to be one of the guest interviewee in the No. 1 show on investments and personal finance "Pesos and Sense".
I'd like to share my "Pesos and Sense" experience already but I think it will be best if we watch this episode first entitled "The Race to Success – All About Long Term and Short Term Investments".
It will be aired this Saturday, October 29, 2011 on GMANEWSTV Channel 11 (ch24 on Skycable and ch15 on Destiny) at exactly 8.30-9:00am.
As I always put it, Sabay sabay tayong manuod ng Pesos and Sense.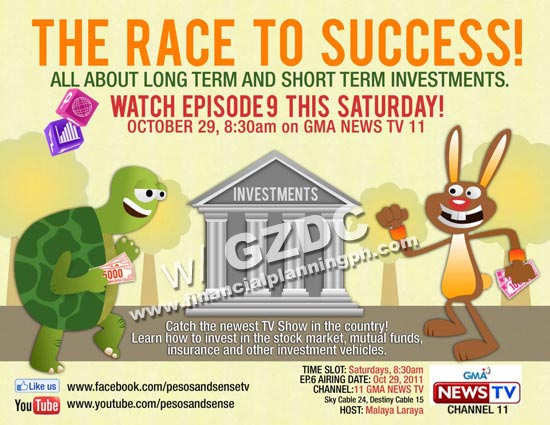 The following two tabs change content below.
Garry Zaldy de Castro is an advocate, Financial Advisor, Certified Investment Solicitor (Mutual Fund Representative), blogger, IT practitioner, husband to Aileen and a dad to Jacob and JohnD. He started Financial Planning Philippines in 2008 just to share his financial learning to friends, relatives and anyone who wishes to be financially independent.
Latest posts by Garry De Castro (see all)