I've been inactive for sometime, but let me get back with something to look forward or should I say, something worth attending this May. It's called "iCON 2014" happening on May 17, at the SMX Convention Center  by my friend and mentor Randell Tiongson and fellow financial gurus in their respective areas of expertise.
If I'm not mistaken, this is the 2nd installment of this great event. The first happened last year. If you were able to attend last year, this time, they made it even bigger. It's not a full day event.
It's Time We Make Investing For Everyone!
"With a bigger and stronger thrust this year, we are very much excited to bring back ICON to our fellow kababayans.  The turnout from last year was overwhelming seeing that there is much interest and support given not only by the attendees who are in thirst for learning on what vehicle they could put their money in but also for the mentors that are willing to help bridge the gap through educating these people. Our goal is to create a paradigm shift and a mindset that whoever you are or whatever class you belong to, you are capable of investing. Living up to this year's theme, we say, 'It's time we make investing for everyone!" states Tiongson.
Some of the speakers that I have listened to before and would particularly like to listen again are the following – Randell Tiongson, Marvin Fausto, Marvin Germo, Jess Uy, Mon Sto. Domingo and Rose Fausto.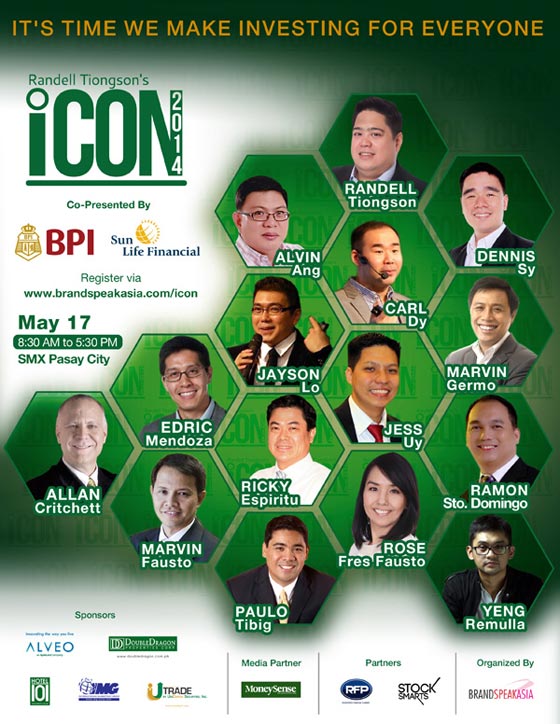 ICON 2014 is co-presented by the Bank of Philippine Islands and Sun Life Financial Philippines, in partnership with the Registered Financial Planners (RFP) and Stock Smarts. The event is also sponsored by Alveo Land, International Marketing Group (IMG), and UTrade by UniCapital Securities, Inc.
How to Attend iCON2014
All you have to do is register here visit http://www.brandspeakasia.com/icon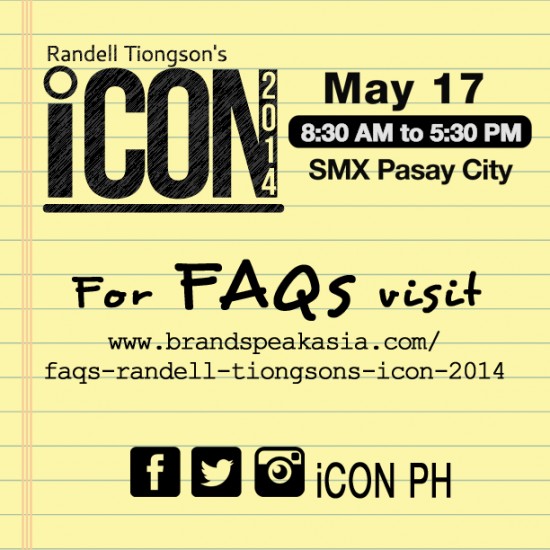 Who's coming? I'm definitely am. So hope to you see fellow financial advocates!
The following two tabs change content below.
Garry Zaldy de Castro is an advocate, Financial Advisor, Certified Investment Solicitor (Mutual Fund Representative), blogger, IT practitioner, husband to Aileen and a dad to Jacob and JohnD. He started Financial Planning Philippines in 2008 just to share his financial learning to friends, relatives and anyone who wishes to be financially independent.
Latest posts by Garry De Castro (see all)