If you have plans of investing in mutual funds Big Time, you might want to check the latest offering of Sun Life Asset Management Company, Inc. (SLAMC), the mutual fund company of Sun Life Financials – "Invest and Play: The Great Gadget Giveaway Promo".
What's with this promo. Starting March 17, 2011, anyone who wish to invest (in Sun Life mutual funds of course) for a minimum amount of P500,000.00 or $10,000.00 (sorry for the trick here, that's why I mentioned Big Time) for a certain period of time (under Sales Load Option B) will get a FREE corresponding gift item (GADGET). Fun gadget choices include mp3 players or digital camera, iPod Nano (gen6) or Samsung Corby, Blackberry Curve 9300 or IPod Touch 4th Gen, Toshiba netbook or Philips Blu-ray player, Acer Laptop  or a Samsung Galaxy Tab!
Check the image below for the corresponding gift item of your intended investment.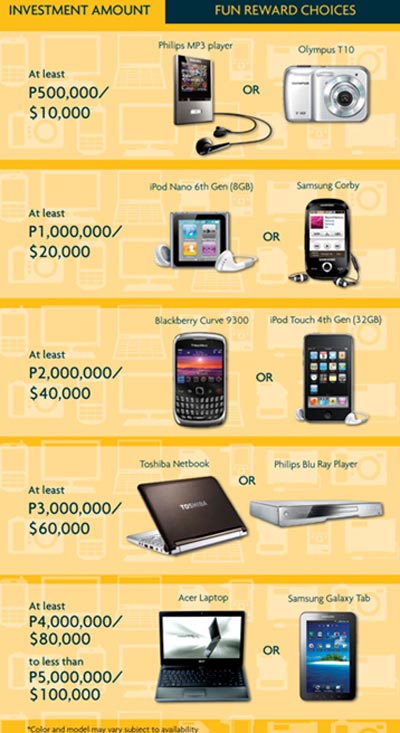 So how can you avail of the promo? Simply contact your Sun Life Investment Advisor or me and I'm sure they'll be more than happy to explain everything to you.
And if you don't have that amount yet, try convincing your parents or your titos and titas,  so that you may get the gadgets for FREE, hehe.
As we always say in Sun Life – "Investing is not a matter of timing but a matter of TIME!"
The following two tabs change content below.
Garry Zaldy de Castro is an advocate, Financial Advisor, Certified Investment Solicitor (Mutual Fund Representative), blogger, IT practitioner, husband to Aileen and a dad to Jacob and JohnD. He started Financial Planning Philippines in 2008 just to share his financial learning to friends, relatives and anyone who wishes to be financially independent.
Latest posts by Garry De Castro (see all)