We've been receiving a lot of invitations lately. This time it's with Chartered Financial Analysts  (CFA) Society of the Philippines thru BrandSpeakAsia to attend this "CFAP's University Outreach 2012: Jumpstarting a Career in Finance: Listen to Experts, Discover your Options". The event was held at the Grace Auditorium, Word of Hope Church Quezon City (in front of SM North EDSA Annex last July 14, 2012 from 9:00am – 11:00am.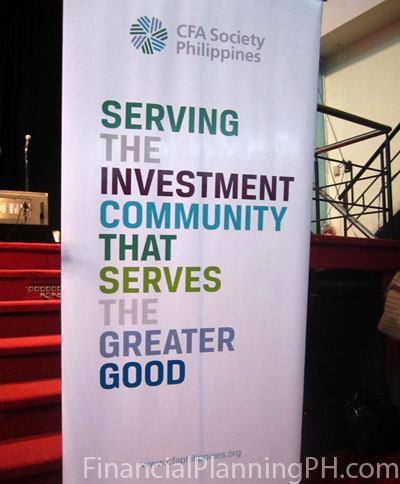 At first, I was like, why am I being invited to this event wherein I already have a Finance related career. Further email exchanges revealed that I will be coming in as Media – how cool is that?
I don't have much background on CFA Society of the Philippines so I really don't know what to expect. I know that attendees will be mostly students but was really surprised to see the huge crowd. It was indeed attended by students not from 1 school but from different universities and colleges in Manila and neighboring provinces. To my estimate, I think there's around 3,000 people in that venue.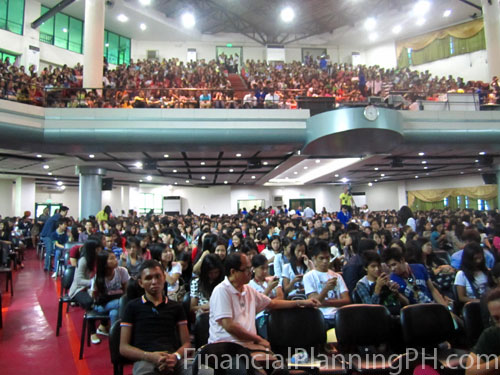 Some of the notable persons and speakers were April Lynn Lee-Tan, CFA Philippines President and also head of research from COL Financial. There's also BPI's head of Human Resources – Roberto Galvez who gave an insight on career in BPI. There's also this guy from CFA Philippines that discussed what's CFA is all about and how one can have a title Chartered Financial Analyst and how you can benefit from it (details here http://www.cfaphilippines.org). Mike Vinas of COL Financial also gave an overview on How to Build Wealth thru Stock Market Investing.
Other speakers were Mark L. Yu of Novel Capital, Inc., Philip Zemen of MSCI, Angelica Reyes of Metropolitan Bank and Trust Co. and Noli de Pala of East West Bank. [Speakers' Profile Here]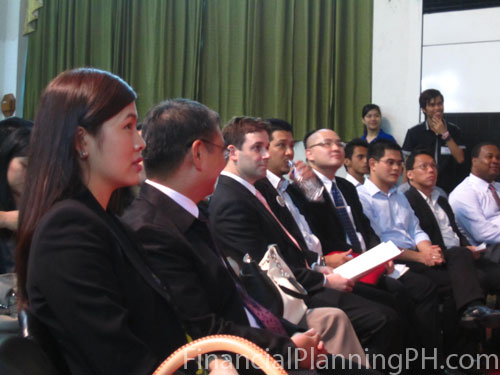 Here's the Press Release sent by BrankSpeakAsia
CFA Society Philippines Prepares the Youth to Jumpstart a Career in Finance

The CFA Society of the Philippines continues its advocacy on developing and producing young finance and investment professionals, as it holds its annual university outreach: "Jump-starting a Career in Finance: Listen to Experts, Discover your Options 2012" at the Grace Auditorium of Word of Hope Christian Church in Quezon City.

The seminar is aimed at majoring and graduating students in Finance, Business, Management, Entrepreneurship, Industrial/Management Engineering, Economics, Accountancy, Math, Statistics and related courses, from over 35 universities and colleges in Metro-Manila.

Spearheaded by CFA Philippines President, Ms. April Lynn Lee-Tan, CFA, the Society upholds its goal of nurturing the next generation of finance and investment professionals by promoting and equipping them with ethical behaviors and professional standards espoused by the CFA Program.

[ad#content300]"This initiative is envisioned to deliver both near-term and long-term value to the investment community in the Philippines by giving future investment professionals an early clear view of how to rightly build a career in finance, with global class education, with an appreciation of best standards of professional practice, and a commitment to ethical behavior," says Ms. April Lynn Lee – Tan, CFA.

The seminar will introduce students to various career opportunities and financial instruments. The highlight of the outreach event is the forum on careers in finance which will be participated by five industry practitioners namely Mr. Mark Yu, CFA of Seaoil Philippines (Corporate Finance); Ms. April Lynn Tan, CFA of COL Financial Group, Inc. (Equities); Mr. Arnuldo de Pala, CFA of EastWest Bank (Fund Management); Ms. Angelica Reyes, CFA of MetroBank (Bank Treasury); and Mr. Philip Zemen of MSCI (Business Process Outsourcing).

Supporting this free seminar are BPI Asset Management, COL Financial Group, Inc., Angping & Associates Securities, Inc., MSCI, FTI Consulting, Inc., The Philippine Stock Exchange, Inc, InfoTxt, C2 Green Tea, and X.O. Candy. The career seminar was also made possible through partnership with three student organizations – Junior Confederation of Finance Associations-Philippines, De La Salle Management of Financial Institutions Association, and University of the Philippines Junior Finance Association.

Admission to the seminar is FREE as part of CFA Philippines' university outreach program. For registration and more information, please visit www.cfaphilippines.org or call 636.54.11 loc. 122 or email info@cfaphilippines.org.
The following two tabs change content below.
Garry Zaldy de Castro is an advocate, Financial Advisor, Certified Investment Solicitor (Mutual Fund Representative), blogger, IT practitioner, husband to Aileen and a dad to Jacob and JohnD. He started Financial Planning Philippines in 2008 just to share his financial learning to friends, relatives and anyone who wishes to be financially independent.
Latest posts by Garry De Castro (see all)