I'm sure you've heard and read about the 52 week money challenge by Kuripot Pinay that went viral on Facebook and was even featured in 24 oras. But for those who haven't, let me give you a summary on how it's done. Maybe you can do this too.
The basic idea in this 52 week money challenge is saving at any increments per week starting on the first week of January and  doubling the amount on succeeding weeks. For example, for a P50 increment, you'll save P50 on the 1st week, then P100 on the 2nd week, P150 on the 3rd week and P200 on the 4th week and so on and so forth.
Doing this on a weekly basis for 52 weeks (if you really can keep up to it) will then give you P68,900 by December. See the illustration below.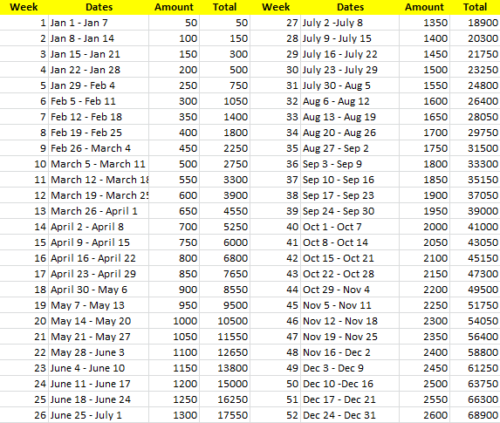 This is a very ideal strategy but one noted that starting October, you'll be needing to save around P2,000 per week or P8,000 a month – "bigat" as he exclaimed.
With that, she created different versions starting with P5 and then P10, P20 and even fixed amount.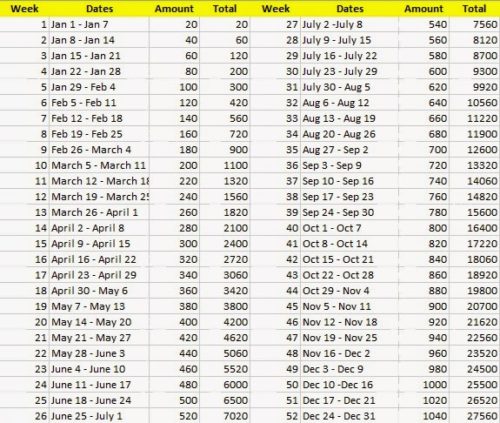 Student version
For students, they can even try the P10 or P5 increment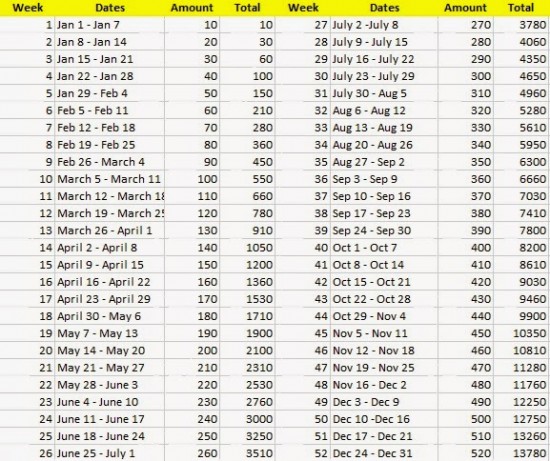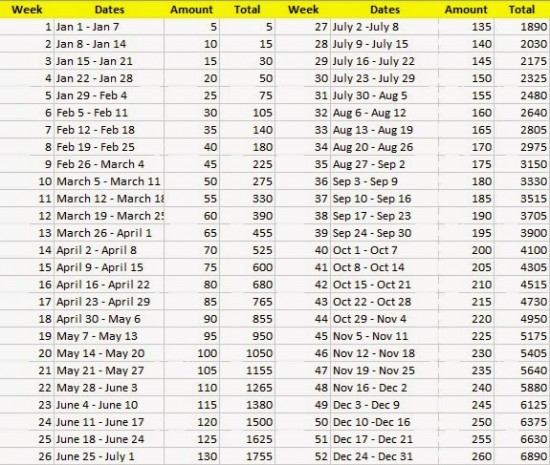 Fixed version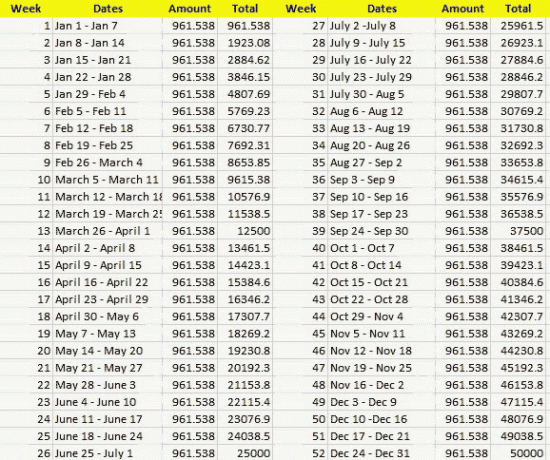 Here's a video from State of the Nation of Jessica Soho that shares some insights on saving as part of your new year's resolution
My Take
The mere fact that this went viral only means that a lot of the Facebook population are still new to saving. Seeing that it will only take P50 per week and doubling that every week seems very doable and to top it off at the start of the new year got everyone excited.
The good thing with this strategy is it's very easy to follow, very easy to start. Anyone working and earning a minimum wage salary can easily start doing this.
The only challenge in this strategy is the discipline. The first few weeks, even if you skipped some amount, you can easily fill it up on the succeeding weeks. But starting on the 8th month – 12th month, the amount gets heavy having to save  a lot bigger. If the monthly allowance or salary is fixed up to a certain level, this could attribute to around 30-50% of the amount.
In my own personal experience, I started my saving habit by using increasing percentage instead of increasing amounts. I started with 5% of my monthly salary until such time that I'm comfortable saving at least 20%.
It may not be easy at first, but with proper determination and goal setting, it's very achievable. And you only need to start doing it.
Please SHARE to your friends and relatives so that they can start saving and starting 2014 right!
The following two tabs change content below.
Garry Zaldy de Castro is an advocate, Financial Advisor, Certified Investment Solicitor (Mutual Fund Representative), blogger, IT practitioner, husband to Aileen and a dad to Jacob and JohnD. He started Financial Planning Philippines in 2008 just to share his financial learning to friends, relatives and anyone who wishes to be financially independent.
Latest posts by Garry De Castro (see all)