This may not be the best episode of Pesos and Sense but it's surely one of my favorites – Pesos and Sense Episode 9. If you're a regular reader of this blog Financial Planning Phils, I'm sure you already know the reason behind that statement. (Pagbigyan nyo na ako, paminsan minsan lang to, walang basagan ng trip ika nga.)
For those who are still clueless why it's my favorite episode – it's because I actually appeared in this episode of Pesos and Sense. I'm just acting cool with it, but deep inside me I'm ecstatic.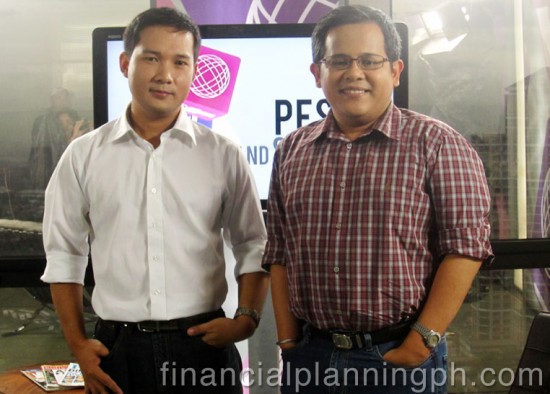 A lot of my friends were asking me, "How did you end up being a guest interviewee in Pesos and Sense? Did you know Aya Laraya personally? To tell you frankly, I don't know either. I also don't know anything about Aya Laraya prior to the show. It must have been a struck of luck, a lot that is.
It all started when Jacqui – a colleague of mine mentioned on one Saturday morning that she's watching this Money and  Finance related show on GMANEWSTV 11. Knowing that I'm a big follower of Bo Sanchez, she shared me the whole 30minutes of the show.
Knowing that I could learn a lot from it, I started getting early every Saturday watching and even recording the show and later sharing every episode here in Financial Planning Phils blog.
And seeing the opportunity to help, I started following the FB page and from time to time, answering some of the queries that are known to me. I even told myself then, Pesos and Sense should have a regular guy answering people's queries. (Dapat may taga sagot ang Pesos and Sense sa mga queries sa FB page nila).
After more than a month of that routine, I got an FB message from the producer of Pesos and Sense – Ms. Redge. At first I was anxious reading the message. I thought I was being reprimanded for meddling in their page (pakialamero). But later I was relieved when it said that they'd want me to be on the show as one of the guest interviewee.
That was Monday (Oct 10). Come Wednesday, it was taping day. I really don't have much idea on the things that I will say altho I already have an idea that the concept will revolve on Aya's Investment Diagram (A.I.D) of Time, Knowledge and Money.
Did I get nervous? A little maybe.  I had the chance to exchange ideas with Aya Laraya before rolling the camera. I guess that helped me get at ease when the actual conversation was shot. We had to do it twice or thrice ( 2-3 takes ) as the lapel ran out of battery and the background was too dark.
It took around 1 1/2 – 2 hours for the whole experience including the make up session. It was fun and as most say – hindi araw araw eh nakikita tayo sa tv.  (it is not always that we are seen on tv).
A few days before the actual airing, I texted all my friends, relatives and clients to watch the show but not directly telling them that I will be one of the guests. There were few but not all. At the back of my mind, I hope they'll be surprised when they do.
Oct 29 – actual airing day. I woke up early, set the video cam and waited. Actually, the whole family waited. First video of Miko Sayo was shown, done. Second video of Edward Lee was shown, done.
I was actually getting a bit nervous that time. What if I was wrongfully informed of the date. (Patay, wala ako mukhang ihaharap sa mga tinext ko, hehe). Good thing that the 3rd video was the real deal.  Thank God. For like 5 minutes I appeared on TV – Yahoo!. 😀
Here are the videos of the whole episode – (Pesos and Sense Episode 9 – Race to Success)
Video 1 – Mr. Miko Sayo of Tsupitero.com sharing Short Term investing in Stock Market using Tsupitero (day trading)
Video 2 – Mr. Edward Lee, the bigboss of Citiseconline.com on Long Term investing in Stock Market using cost averaging method.
Video 3 – Garry De Castro (yours truly) of FinancialPlanningPh.com sharing his personal experience on investing in mutual funds, insurance, real estate and stock market.
Video 4 – Ask Aya portion
The following two tabs change content below.
Garry Zaldy de Castro is an advocate, Financial Advisor, Certified Investment Solicitor (Mutual Fund Representative), blogger, IT practitioner, husband to Aileen and a dad to Jacob and JohnD. He started Financial Planning Philippines in 2008 just to share his financial learning to friends, relatives and anyone who wishes to be financially independent.
Latest posts by Garry De Castro (see all)