I just attended the Wealth Summit 2013 – Wanted Superheroes of Abundance at PICC from Mar1-2 with a Bonus Day Mar3, 2013. The learnings are overwhelming. It was attended by more or less 500 people from all success of life. It was ecstatic.
For this, let me just share what I got from Mr. Edward Lee, the man behind Colfinancial.com. I'm sure most of you (readers of this blog) are already familiar with People's Behavior on Money. But for those who aren't let me give a quick review.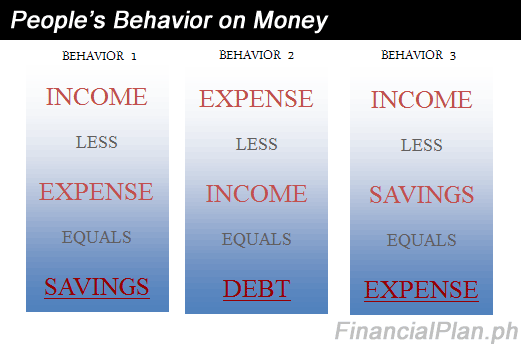 In my seminars, I always tell this. There are 3 behaviors on money. Behavior 1 – when income or salary arrives, you immediately deduct all the expenses. Bills like Meralco, Maynilad, Cellphone, groceries etc. Then whatever is left is your Savings. That was also my formula when I started earning my own money.
[ad#content360]Behavior 2 is the worst. Even without any income yet, we are given the power to spend. Welcome to the world of plastic money – Credit Cards. Since it's very easy and convenient to swipe that sinful card, you spend as if you'll never ran out of money. Lo and behold, when your income arrives, it's not even enough to cover what you spent already. That gives you DEBT and later DEATH. Death of relationships in case debts are not paid.
Behavior 3 is the ideal – at least before. It says that every time your income arrives, automatically deduct your Savings. And whatever is left is then for your Expenses. How much should you save? That should be equivalent to 20%. You do that for a very very long time, you'll be financially independent. How did I know? Because that's what the Bible promised us.
In Genesis 41:34-36, it says
Keep one-fifth of the crops during the 7 years of plenty. The food will be a reserve for the country during the 7 years of famine.
Don't be mistaken, I'm not a religious person. I wish I am but not yet. I got this from one of my mentors. One-fifth, if you convert to fraction is equivalent to 20%.
So what's the new behavior on Money? It's not actually new, it's actually just a revision of the last one. Mr. Edward Lee shared that it should now be Income – Investments = Expenses and no longer Income – Savings = Expenses.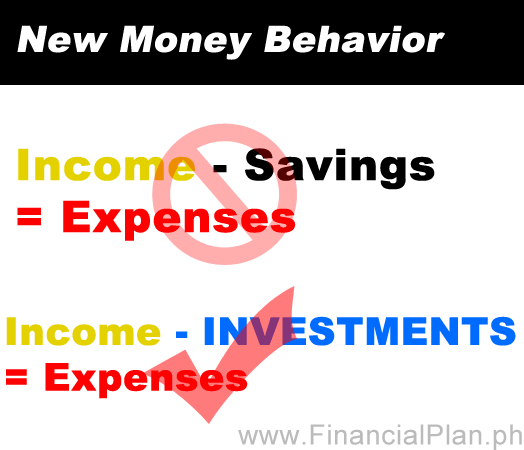 Why is that? At today's interest rates especially in the banks, Savings and Time Deposit accounts can only give you loose change interests. Even SDA's are not enough to beat inflation.
Other's would say, at least the Capital in the Banks are guaranteed. How can you offer me a product that's not even guaranteed. Yes, investments like Mutual Funds, Stocks and VUL products may not be guaranteed. But historical performance will attest to you that they're very much better than guaranteed.
What amount should you invest? Basic rule of thumb – anything in excess of your Emergency Fund (3-6 months expenses) should be invested. Go try compute that out.
But if you still don't have any emergency fund yet, better start that one first. Besides, any investments will be useless in case emergency arrives and you don't have any. Either you borrow money (Debt) or you prematurely withdraw your investments.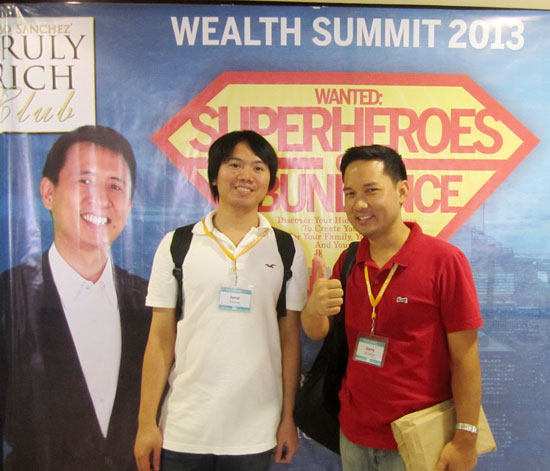 Please SHARE this to your friends and relatives. Just one click on the SHARE button and you help spread the news. Who knows, this might be useful for them too.
The following two tabs change content below.
Garry Zaldy de Castro is an advocate, Financial Advisor, Certified Investment Solicitor (Mutual Fund Representative), blogger, IT practitioner, husband to Aileen and a dad to Jacob and JohnD. He started Financial Planning Philippines in 2008 just to share his financial learning to friends, relatives and anyone who wishes to be financially independent.
Latest posts by Garry De Castro (see all)