Here's a good one from "On The Money" on the topic of Creating Life Goals. Ms. Jenny Del Mundo, field monitoring unit head of Sun Life Financials gave a quick road map on the things you should consider first in your journey to financial freedom.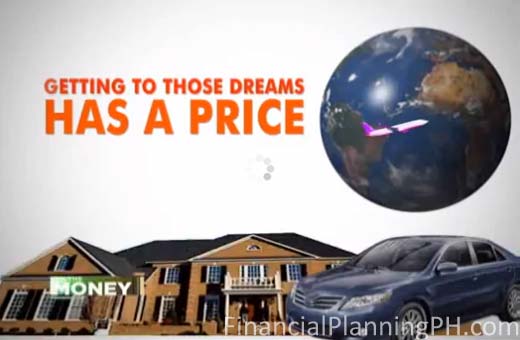 She uses the Financial Planning Pyramid as the basis – very much similar to what we have here – Basic Steps to Financial Security. The good thing to what Jenny shared is that, they are anchored to our dreams and the steps to convert them to goals.
Some of the good pointers in this video is having SMART Goals. Goals that are Simple, Measurable, Attainable, Realistic and Time Bound. 
Instead of saying "I Want to Be Rich", try doing "I Want to have 5Million Portfolio by the time I reach 40 years old".
Instead of saying "I Want to Travel", try "I Want to go to Antartica to see the Penguin in 3 years by setting aside P10,000 monthly"
On The Money – Creating Life Goals
Here's the video – it's around 26minutes so watch it during your free time.
Question and Answer
In the latter part of the video is a question and answer portion just like what we have been accustomed to Pesos and Sense.
I kinda liked her answer to one particular question. It goes like this.
I'm a fresh graduate about to start a job with a BPO making 20,000 a month. I want to buy myself a car but am not sure if I should buy used or new. With my salary, what is best and what kind of insurance do I need?
Her answer
More than the cost of the car, he also has to think if he has funds for expenses that comes along with having a car. Aside from monthly amortization, you need to factor in the costs of gas, parking, maintenance and insurance.
Share to your friends, relatives and loved ones. Who knows, this video might change their views on money.
The following two tabs change content below.
Garry Zaldy de Castro is an advocate, Financial Advisor, Certified Investment Solicitor (Mutual Fund Representative), blogger, IT practitioner, husband to Aileen and a dad to Jacob and JohnD. He started Financial Planning Philippines in 2008 just to share his financial learning to friends, relatives and anyone who wishes to be financially independent.
Latest posts by Garry De Castro (see all)