If you've missed the Episode 3 of Pesos and Sense, here's a summary of what was shown and discussed in this weeks Pesos and Sense on the topic of Insurance.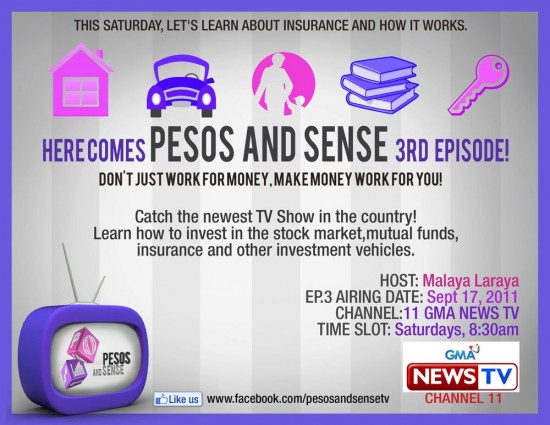 The show started with Aya Laraya introducing the topic as one with 'controversial' reputation which is Insurance or Preneed.
After that, different people were asked on their take on Insurance or the people selling insurance. Here's what they all said.
'bigla ka na lang hahatakin and sasabihin sayo, dito ka muna, usap muna tayo'.
'not so secured since ung ibang insurance agency na lumalapit, di masyado kilala'.
' I don't like the fine print that they put on the insurance'
'Parang hindi sya credible pag dito sa Pilipinas'
'Minsan nakaka irita pag tawag ng tawag syo, like minsan may ginagawa ka'
[ I think most of them we're referring to the one in the malls. I almost fell for that one before]
So what's Aya's take on Insurance. Here's what he said –  'Sa kabila ng negative na pananaw ng marami tungkol sa Insurance, ito ang katotohanan mga Kapuso. Kailangan natin ng Insurance. Bakit? Para sa akin, Insurance is the main investment instrument we can use to protect our other investments.'
It was then followed by a simple illustration of a man with only 2 investments – savings account and a land worth 1Million pesos. If you don't have insurance and that person dies, the assets will become part of his estate which is subject to 20%  estate tax payable to the government [it's not really 20% – here's the table http://www.bir.gov.ph/taxinfo/tax_estate.htm]
So that means, the family that was left behind will have to pay P200,000 for them to get the property that you left behind.
That's where Insurance comes in. If that person has a policy worth P200,000, that can then be used as payment for estate tax to get the property.
Here's my take on that. Technically, the illustration is just one use of Insurance. But more than that, I believe they should have focused more on the economic value of a person in relation to his family. For example, if the bread winner dies, where will his dependents rely on? Insurance can then be used as an income replacement to that of the bread winner.
After that, Jay Tablante (known photographer) was interviewed as the guest for the day. The point of Aya was to let everyone know that any non finance person can easily invest in Insurance. Here are the pointers that Jay Tablante shared.
Insurance is part of his investment philosophy that he used to diversify his investments
He got insurance at an early age to use the time over the long term.
Getting insurance is having a sense of security. In case of death, his dependents will have lump sum of money.
Insurance is cheaper when you are younger.
On looking for one – he first researched on the net and met with one for personal discussion.
On the process – it's actually fast. Finished in 1-2 hours over coffee.
His first insurance is a single pay plan. He then got regular pay after 3 years when his income can now sustain the payment.
On how to monitor his policy – he checks it online.
On his best experience on the process – his interaction with the agent and the fact that he can check his policy online.
On his not so good experience – the payment process. As much as he want, he'd like it as single payment so as not to worry on succeeding payments.
The idea of Variable Universal Life (VUL) was also discussed. According to the illustration, it's like Basic Life Insurance marrying Mutual Funds. So you are both insured and invested at the same time. How does that happen?
Part of your payment pays for the insurance part, and part of it goes to investment part. [Example of that is Sun Maxilink Prime – http://www.financialplanningph.com/sun-lifes-maxilink-prime-insurance-with-investment/]
————————————————————————————–
The second part of the show featured Citiseconline's Juanis Barredo taking on the topic of Technical Analysis in Stocks investing.
Technical Analysis is the study of the movement of price.
Market goes up and down because of Supply and Demand. If there are a lot of buyers and few sellers, price goes up. Likewise, if there are few buyers and lot of sellers, price goes down.
Bullish market means the prices goes up. Like when a bull charges, it's upwards.
Bearish market means the prices are going down. When a bear attacks you, it pulls you down.
Looking at the chart or graph will easily tell you where the market is heading and can quickly help you in making decisions.
The show ended with the Question and Answer portion. Here are some of the questions sent by viewers.
Mas mabuti ba mag invest sa stocks or sa mutual funds – Depende yan kung ano mas importante syo. Kung gusto mo ng diversification, mas ok ang mutual funds kasi sa murang halaga, diversified agad ang pera mo. Pero kung gusto mo naman ng transparency, mas ok ang Stocks kasi alam mo kung ano ang hawak mo talaga.
Nag invest ang kapatid ko sa Lepanto, tama ba ang ginawa nya? – Di natin masasabi kung tama yan kasi di natin alam kung bakit ba nya ginawa yun. Dapat sa pagpasok sa stocks, dapat alam na nya ang ginagawa nya at hindi hulaan.
Mayron bang ideal number of years sa pagbayad sa insurance? –  Depende yan sa maa afford mo. Be it monthly, quarterly, semi annual or annual, ang importante ay kung ano ang maa afford mo regularly. It's not the number of years, but the amount. Di bale mahabang bayaran, basta maa afford mo bayaran kaysa mamadaliin mo, pero di mo naman maa afford later on, masasayang lang yung hinulog mo.
Aya, ano ang best insurance para syo? – It really depends on what I want to accomplish. Siguro start with the basic lang. For those who doesn't have any life insurance as of now, you may start getting the basic life insurance policy.
Topic for next week – Scams.
The following two tabs change content below.
Garry Zaldy de Castro is an advocate, Financial Advisor, Certified Investment Solicitor (Mutual Fund Representative), blogger, IT practitioner, husband to Aileen and a dad to Jacob and JohnD. He started Financial Planning Philippines in 2008 just to share his financial learning to friends, relatives and anyone who wishes to be financially independent.
Latest posts by Garry De Castro (see all)