My apologies for posting this late. Been very busy these past few weeks that updating Financial Planning Phils blogsite has set aside.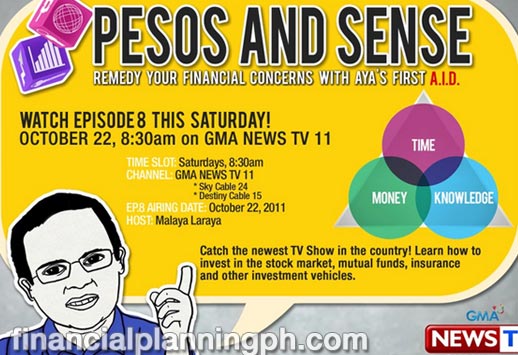 This is the 8th installation (Pesos and Sense Episode 8 Video) of my favorite TV show – Pesos and Sense. For this episode, we'll look at the life of Malaya 'Aya' Laraya. San nga ba nanggaling si Aya Laraya at bigla na lang siya sumulpot from out of nowhere?
Video 1 – Background on the life of Aya Laraya
Video 2 – Application of Aya's A.I.D. (Aya's Investment Diagram) using Time, Money and Knowledge and the episode guest Ariel (theater professor) on his personal application of A.I.D.
Video 3 – CitisecOnline's April Tan on Fundamental Analysis
Video 4 – Ask Aya portion of the show
The following two tabs change content below.
Garry Zaldy de Castro is an advocate, Financial Advisor, Certified Investment Solicitor (Mutual Fund Representative), blogger, IT practitioner, husband to Aileen and a dad to Jacob and JohnD. He started Financial Planning Philippines in 2008 just to share his financial learning to friends, relatives and anyone who wishes to be financially independent.
Latest posts by Garry De Castro (see all)