Just the other day, my employer abroad sent me her monthly fund transfer for the work I've been doing for her (my online employer). And for some coincidence, it falls on the same week where I'll be getting my accumulated earnings from Google.
I have not been expecting that money to arrive actually. Did you know what quickly comes to my mind in that instant? UPGRADE!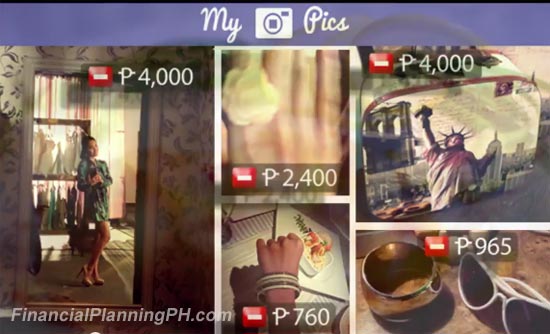 What if I UPGRADE my laptop? I heard Macbook Air's battery time lasts up to 10 hours. Perfect for me, I won't be needing to carry the heavy laptop adapter all the time.
Or what if I buy a new set of clothes with matching shoes, coat and tie etc.?
Or what if I upgrade my phone – an Iphone perhaps with matching Ipad Mini?
You're probably wondering, is that really Garry? All the while he's telling us to save and invest but he's not practicing what he preach?
You see, I'm also a human after all. I'm also tempted with these luxuries that life has to offer.
And then, just today, I saw this latest TVC of Brighterlife.com.ph entitled "UPGRADE". Watch the Video by clicking Play symbol.
I can so relate to that video at that particular moment.
Sun Life's Advocacy
I've seen the previous TV Commercials of Sun Life and as an average consumer myself, I'd say it doesn't appeal much to me. For one, the message is not that clear. It's the type that you call "implied message".
But this one, I must say that it's straight to the heart of an average consumer just like me. Just my exact sentiment when I received that windfall money.
Illustration Explained
In the illustration presented, you must have seen the "In 10 years, 15 years and 20 years". Let's dissect that a little.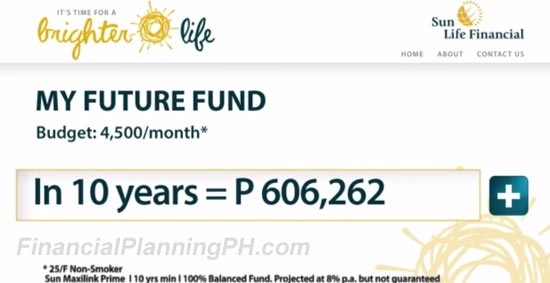 In this example shown above, it says My Future Fund, Budget P4,500 per month and in 10 Years will be equal to P606,262. How is that possible?
At the bottom, there's the explanation. The illustration is for a 25 year old female, non smoker for the plan Sun Maxilink Prime – minimum of 10 years payment, invested 100% in Balanced Fund projected at 8% interest per annum but not guaranteed.
If you're going to invest P4,500 a month, that's equivalent to P54,000 a year. Total money invested for 10 years is P540,000. In essence, you'll earn P66,262.
Very little you might say. But what's not included in the illustration is the income protection that comes with the plan. In my estimate, around P2Million income protection.
Another illustration shown in that video is this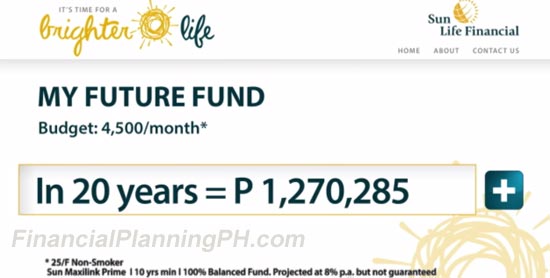 Same thing, the same illustration for the one above. The only difference is that you leave it 10 more years and your money would've been doubled to around P1.27Million. In essence, your P540,000 will become P1.27Million after 20 years – 10 years saving period and 10 years waiting period.
[Shameless plug]
In case you want a similar proposal based on your profile, check this link ->>
It doesn't have to be exactly P4,500 monthly. It can be any amount that you're comfortable to start with
The figures may differ from plan to plan, be it Mutual Funds, direct stocks investment, UITF or other forms of installment investments. But one message is clear. Instead of making that "Unnecessary UPGRADE" today, why not make that UPGRADE for your future instead.
PLEASE SHARE
Can you relate to that STORY?
Comment or SHARE this to your friends and relatives if you do!
[Oh, did I buy that Macbook Air? Nah, I just added it to my mutual funds and Stocks investment. But we did splurge a little for my wife's birthday]
The following two tabs change content below.
Garry Zaldy de Castro is an advocate, Financial Advisor, Certified Investment Solicitor (Mutual Fund Representative), blogger, IT practitioner, husband to Aileen and a dad to Jacob and JohnD. He started Financial Planning Philippines in 2008 just to share his financial learning to friends, relatives and anyone who wishes to be financially independent.
Latest posts by Garry De Castro (see all)