Sun Dollar Maximizer – Best Dollar Investment is back, now invested in Emerging Asia for a limited time offer – from February 5 to March 5, 2013. (This was last offered November 2012)
I actually posted this on Sun Life Policy Holders FaceBook group (for my clients only) I created solely for my clients. I truly believe that everyone especially those who weren't able to dispose of their dollars at P44 – P45 because they were in time deposit will surely benefit from this.
Imagine if you have USD10,000.00 left in a time deposit in any commercial banks today. You probably got it when the exchange rate is around P45. At today's price of P42, you're already losing some P30,000 in value. So most likely you wouldn't convert it at today's price. You wouldn't be needing it anyway, so you'll just wait til it goes back to it's old value. For how long, we don't know.
Where would you put it then, for sure in Time Deposit. And if it's in time deposit, you're only receiving an interest of 0.75% to 0.85% per annum (subject to 20% withholding tax). It doesn't even comes close to 1%.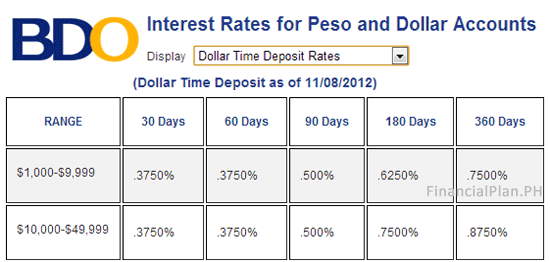 For latest BDO rates, check this link – https://bdo.com.ph/personal/accounts/dollar-time-deposit/dollar-time-deposit
What if someone tells you there's a better alternative – Invest it! But with the word invest, normally it would mean that there's a possibility that the capital is not even protected.
But what if there's a financial product where the capital is protected – meaning, worst case scenario, you won't lose the capital and on top of that, it has the potential to earn a lot more than what the banks can offer. Wouldn't you be interested? I would be, for sure.
That's actually what Sun Dollar Maximizer (Emerging Asia) is all about. And it's greatest advantage is that, it will be invested in 8 high-growth Emerging Asian economies – China, South Korea, Taiwan, Indonesia, Malaysia, Thailand, Vietnam and the Philippines. In essence, it's very much diversified. Talk about not putting all your eggs in one basket.
Here's the actual description/specification from Sun Life website.
Sun Dollar Maximizer (Emerging Asia) is a single pay, US dollar-denominated, investment-linked insurance product that matures in seven (7) years and allows you to participate in the equities of eight (8) high-growth Emerging Asian economies – China, South Korea, Taiwan, Indonesia, Malaysia, Thailand, Vietnam and the Philippines – without the fear of losing your capital.*

Enhance your dollar's earning potential through Sun Dollar Maximizer (Emerging Asia):

Diversification through High-Growth Asian Assets
For a minimum of US $8,000, you can seize the world's bright spots for foreign investments! The premiums shall be invested in exchange-traded funds of eight (8) Emerging Asian economies – assets that have shown stronger potential for future growth and are difficult to invest in as an individual client.
Guaranteed Life Insurance Coverage
Gives added financial security by protecting the life of the insured with coverage of at least 125% of the single payment. For policies issued under the Guaranteed Insurability Offer (GIO), the amount of coverage shall be limited to the fund value plus charges in case of the insured's death within the first 2 years from policy effective date, except if due to accident
100% Capital Protection*
Attain peace of mind knowing that you will receive your FULL single payment at the end of the seven-year period regardless of fund performance.
Optimized Returns
You need only one good year to maximize returns because of the product's "Best Performance, Look-Back" feature, where the highest cumulative annual performance within the seven-year period is used to determine the participation on earnings. The product has a Volatility Control Mechanism that cushions the investment downside during times of market fluctuations.
Guaranteed Acceptance
Hassle-free application and policy approval through the guaranteed insurability offer, subject to certain limits.

*Capital protection is subject to the ability of the note issuer to perform its obligations and the absence of a credit event of the Republic of the Philippines.
So how do you go about it? You may ask your Sun Life advisor in case you already have one. Or just in case you'd like to have a fresh perspective, different advisor, you may ask me directly.
Just provide me with the following and I'll be happy to provide you with a sample proposal. Definitely NO Obligation. Remember, this offer is only up to November 23, 2012 March 5, 2013.
What if you don't have USD8,000 and would want to invest your dollars, can you do that? Yes, you may do that via Dollar Mutual Funds (Dollar Advantage and Dollar Abundance). For a minimum investment of USD1,000, you get the potential to earn more that what your bank time deposit can offer.
How much is the interest? Not guaranteed, but if you've invested January 2, 2012 up to December 28, 2012,  your dollar earned 8.71% (dollar advantage) or 10.70% (dollar abundance).
In case you'd like to transfer your dollars, fill up the form below so I can contact you.
Again, if you feel your friends and relatives with dollars should know about this offer, please feel free to SHARE!
The following two tabs change content below.
Garry Zaldy de Castro is an advocate, Financial Advisor, Certified Investment Solicitor (Mutual Fund Representative), blogger, IT practitioner, husband to Aileen and a dad to Jacob and JohnD. He started Financial Planning Philippines in 2008 just to share his financial learning to friends, relatives and anyone who wishes to be financially independent.
Latest posts by Garry De Castro (see all)