Last July 4, Financial Planning Phils. got an invite from Nuffnang, an ad network to a Press Conference of Sun Life Financial launching their newest campaign called Sun Life Sun Shorts.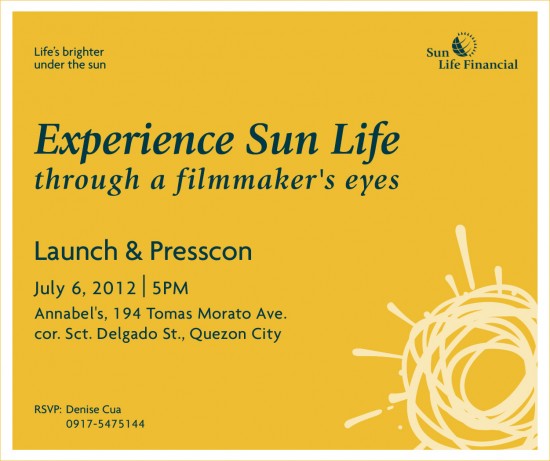 At first I thought, what's Sun Shorts? Is this a pair of shorts for running – maybe they'll have this marathon or running event as most companies have nowadays.
It turns out that it's not shorts, but Short Films – a five-film series about stories of people whose lives have been touched by Sun Life. Now this is getting interesting. My next question then was, why didn't I get a part in the film. I could play the part to double Papa Chen (in the soap My Binondo Girl) haha just kidding.
To cut the story short – I just learned that same day that I cannot attend. There are more pressing matters that needed my presence. Did we pass on it? No can do. We got to be there. Good thing our correspondent Jonel Columba was able to make it in time, so he was the one who represented Financial Planning Phils.
So what is Sun Shorts really all about? Here's the press release
Experience the Sun through SUN SHORTS

Sun Life Financial rolls out the red carpet for SUN SHORTS, a collection of digital films that shines the light on the value of love, family, friendship, foresight and a positive outlook in life.

SUN SHORTS is Sun Life Philippines' installment of a regional short film project called Experience the Sun, which is a collaboration between Sun Life Financial and film makers in Hong Kong, Indonesia and the Philippines. The project brings to life the power and beauty of the Sun through the eyes of top directors across the region. SUN SHORTS is an extension of this venture, made specifically for the Philippine audience.

SUN SHORTS features five Filipino filmmakers sharing their interpretations of how life is brighter under the Sun. Beginning July 25, 2012, these films will be shown as a series in www.experiencethesun.com.ph .

Stories Under the Sun

Unitel's veteran producer-storyteller Jun Reyes (The Last Journey of Ninoy, Crying Ladies) makes a trip down memory lane to tackle a love that transcends the test of time and shines brightly amidst the darkness of war in "1945."

Most sought-after commercial director Jolly Feliciano departs from light-hearted themes to posit a lifetime of possibilities thru the eyes of a sick young boy whose hope burns brightly as the sun in "Life in a Day."

Director-playwright Chris Martinez (Here Comes the Bride, Kimmy Dora, 100) takes on the humorous side of the generational divide as an old woman's faith and penchant for superstisions clashes with a young man's cool confidence in a future well planned in "Oh My Goth!"

[ad#content300]Up and coming filmmaker Nic Reyes follows the travails of a young man whose penchant for "quick fixes" led him into tight-hole situation and finds enlightenment and redemption from a surprising character in the action-packed "The Debt."

Multifarious artist Jerrold Tarog (Senior Year, Nino, Shake Rattle and Roll, Aswang) lets his "Sun Dance" pump up the beat of friendship that empowers three young women to tackle life's ebbs and flows with grace and elegance. These shorts show how much friends bring the brightness of sun into our lives.

Apart from the five films making up SUN SHORTS, Jim Libiran (Happyland) brings to life a film called "Araw" which forms part of Sun Life Asia's regional project. Araw is based on a true story of a man who harnesses the power of the sun to create beautiful art and, in so doing, reconnects with his roots.

"Relationships are at the heart of SUN SHORTS, with the sun as a symbolic light source, that brings hope and a promise of a brighter tomorrow to the characters in the films. As to our use of the digital platform, this is really due to the desire of Sun Life to communicate and engage a growing segment of the market who are online, while allowing them to experience our brand promise of a life that's brighter under the Sun. It also shows the progressive spirit of Sun Life as it explores new ways of engaging the market ," said Sun Life Financial Philippines Chief Marketing Officer Mylene Lopa.

Advocate for the arts

SUN SHORTS is yet another technological breakthrough from the country's first and longest-standing life insurer, which also pioneered financial literacy advocacy in the Philippines. These digital originals illuminate the lessons of "It's Time!" which encourages the value of savings, investing and planning for tomorrow.

"We believe that inspiring Filipinos to go for their dreams is part of our mission to provide financial freedom for Filipinos. Thru the magic of movies and the powerful medium of the Internet, we hope SUN SHORTS can enlighten its viewers in ways that will make their outlook in life brighter," affirmed Sun Life Financial Philippines President and CEO Riza Mantaring

SUN SHORTS kicked off with a radio promo where listeners are welcome to share their sunny stories thru Twitter (@sunlifeph) and Facebook (sunlifeph). And another promo awaits everyone who watches the films online in " Sun Shorts Fly to America!" promo. After watching SUN SHORTS films online, all the viewer has to do is like it and post a comment for a chance to go to San Francisco, USA.

Sun Shorts digital films are produced by Sun Life Financial Philippines in collaboration with Unitel Pictures and supported by Star Magic, Cinema One and Sun Life Foundation. For more information and updates, visit experiencethesun.com.ph
Here's a teaser / intro from Piolo Pascual
Schedule of Film release are as follows. So watch out for these dates.
"1945" by Jun Reyes- July 25, 2012
"A Life in a Day" by Jolly Feliciano – August 8, 2012
"Oh My Goth" by Chris Martinez – August 22, 2012
"The Debt" by Nic Reyes – September 5, 2012
"Sun Dance" by Jerrold Targo – September 19, 2012
I'm excited to see the first film and share it here.
The following two tabs change content below.
Garry Zaldy de Castro is an advocate, Financial Advisor, Certified Investment Solicitor (Mutual Fund Representative), blogger, IT practitioner, husband to Aileen and a dad to Jacob and JohnD. He started Financial Planning Philippines in 2008 just to share his financial learning to friends, relatives and anyone who wishes to be financially independent.
Latest posts by Garry De Castro (see all)