Looks like the Insurance Commission is now quick on this one – I just checked today and they have already released the Top Life Insurance Companies in the Philippines for 2010. Usually it takes more than 1 year before they make an update to their website. 😀 <keep up the good work>
The last time I made an update on the Top Insurance Companies in the Philippines was way back 2007 – see list here. Let's make a quick comparison on who stayed on the top, who kept their rankings and who made good improvements after 3 years.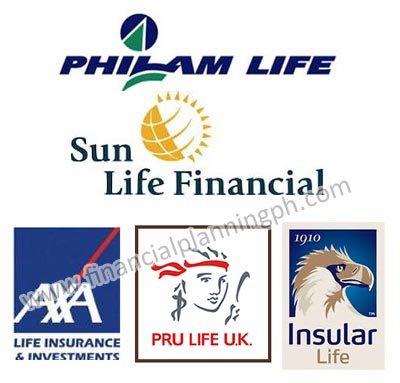 Top 15 Life Insurance Companies in the Philippines

according to Premium Income as of December 31, 2010
Rank
Company
Total Premiums
1
Philam Life & Gen.
11,254,874,199
2
Sunlife
10,633,280,619
3
Phil. Axa
8,359,866,264
4
Pru Life
7,356,704,771
5
Insular Life
7,129,014,421
6
BPI Philam Life
5,695,869,300
7
Manulife (Phils)
3,974,603,127
8
Grepalife Financial
3,492,356,444
9
United Cocolife
2,333,374,408
10
Generali Pilipinas
1,419,746,109
11
Asian Life & Gen
1,125,966,159
12
PNB Life
1,007,884,869
13
Pioneer Life
987,749,200
14
Manulife Chinabank
974,297,387
15
Phil. Prudential
828,153,747
Looking at the list, I've made some simple analysis based on
Who kept their rankings
Philam Life remained at the top.
Sunlife kept its 2nd position.
Ayala Life now BPI Philam remained at the 6th spot.
Generali is still at the 10th spot.
Pioneer remained at #13.
Who made good improvements?
Pru Life from #7 to #4.
Axa Life moved from #4 to #3.
Grepalife from #8 to #9.
Decliners
Insular from #3 to #5.
Manulife from #5 to #7.
United Cocolife from #8 to #9.
National Life dropped from top 15 .
Great Life also dropped.
New Entries to Top 15
Manulife Chinabank (I'm not sure if it's the same with Manufacturers Life Insurance Co., Inc. The (Branch)
Phil Prudential at #15.
Please take note that in the end it wouldn't really matter if your life insurance policy doesn't belong to the Top Insurance Companies in the Philippines. As long as they are able to keep what they have promised to you, that for me will always be the best insurance company. (Altho for sure, others will say that it will simply show how stable is the company).
[ad#content300]
Oh, just a quick note. Most likely, anyone in the Top 5 rankings can easily say that they are #1. Might be true coz there are different parameters used like first year premiums, premium income, first year premiums + 10% of single premium. The same reason why there are more than one company claiming to be the #1. 😀
The following two tabs change content below.
Garry Zaldy de Castro is an advocate, Financial Advisor, Certified Investment Solicitor (Mutual Fund Representative), blogger, IT practitioner, husband to Aileen and a dad to Jacob and JohnD. He started Financial Planning Philippines in 2008 just to share his financial learning to friends, relatives and anyone who wishes to be financially independent.
Latest posts by Garry De Castro (see all)