Last week, I attended this 'Fundamentals of Investing' course where one of the topic is about inflation.  As I've wrote in my previous article "Why do we need to plan for retirement? Inflation: Silent Money Killer", I've discussed the tremendous effect of inflation in our lives.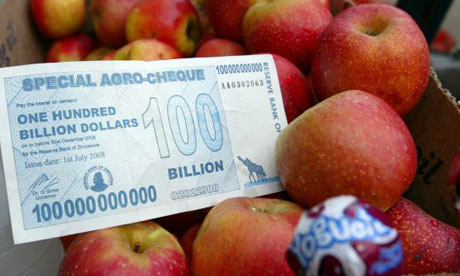 Here's more disturbing fact that I've learned in the seminar. Did you know that the highest inflation rate recorded in history was no other than Zimbabwe? Yes, that's correct. It's Zimbabwe who holds the highest inflation rate in history of mankind. And how much is that, you may ask. If in the Philippines, we have an inflation rate of 9.3% in 2008 and an average inflation rate of 6% in the past 10 years, Zimbabwe's highest recorded rate was a whopping 231 million percent. Imagine that?
It's like having to buy a bread that cost's P1 yesterday, and suddenly having to buy the same bread at P231million. Unbelievable, isn't it.
Here's some related stories to read.
Zimbabwe inflation hits 231 million percent
Zimbabwe's inflation rate surges to 231,000,000%
Tags: Inflation
4 comments on "
Trivia – What's the highest inflation rate recorded in History?

"