Tatay Sario is my long-time mentor, prayer warrior and very close friend. He is a person with a loving heart, who continuously preaches the word of the Lord despite being paralyzed all his four limbs and being in a worst condition we could imagine. Being quadriplegic, he completely depend on others for all activity he takes – this is because being quadriplegic means his hands and feet are all immobile and has already lost their sensations. Today, May 25, is his 63rd birthday and I am writing this to grant his birthday wish, that is, to share his story so that people may be able to learn from his life's lessons.
The Accident
It happened during the 7th month pregnancy of his wife to their fifth child. As a hard working husband and supportive father, Tatay Sario – a tricycle driver back then, was doing his duties as the head of the motorcycle association in their locality when an accident changed the rest of his life. September 22, 1988, this was the date when Tatay Sario accidentally fell from the tricycle of his friend and hit his head on the road.
When he regained his consciousness he was already at Jose Reyes Memorial Hospital. He was shocked that he could no longer move his hands and feet. His family brought him for more check-up at Philippine Orthopaedic Center, that was where the doctors explained that his spinal cord was damaged resulting to the impaired function of all his limbs, trunk and pelvic organs and that there was no chance at all that he could normally walk again. That was very painful to Tatay Sario. Very painful enough to the point that suicide crossed his mind. But what was more painful to him was learning that because of his predicament, his wife that he loved so much turned her back on him together with their kids leaving him at the house of his parents at Sto. Tomas, La Union.
Despite all these, he never gave up and instead put his whole trust to the Almighty. Realizing his situation, his God-father helped him enter an institution for the abandoned and disabled in Marikina. On April 3, 1993, in the darkness of his situation, he found hope in the light of St. Camillus Home of Charity. Truly, when God closes the door, he opens a window to those who have faith in Him.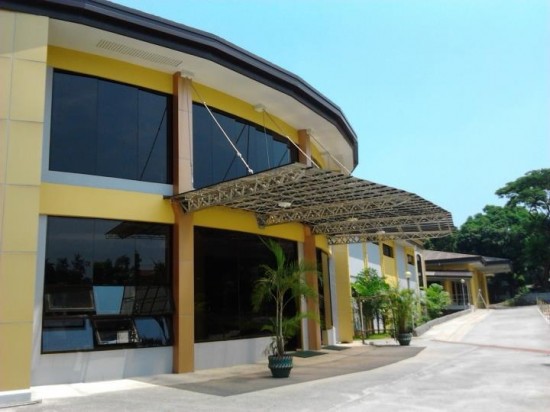 St. Camillus Home of Charity
When St. Camillus Home of Charity was still providing shelter, accepting and accommodating abandoned persons with disabilities (PWD), our small prayer group in Intramuros composed of employees of Knights of Columbus Fraternal Association, Inc. was able to visit the institution for our outreach activity. This happened way back in 2001 and this was when I first met Tatay Sario. I was not expecting then that our encounter would be the start of a great friendship up to now.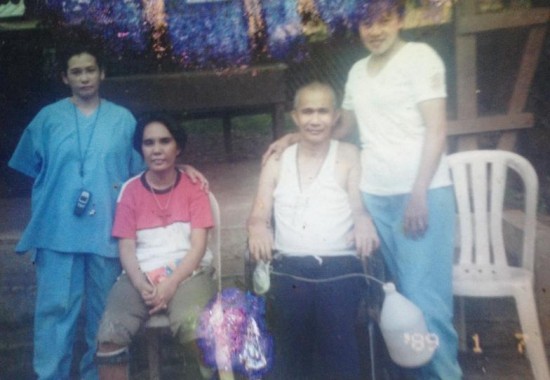 In St. Camillus Home of Charity, various abandoned hospital patients were accepted as family, providing for them their needed attention, shelter, food and medication including therapy, all for free. The fund that sustained this institution came from the generous hearts of various philanthropists here in the Philippines and abroad, religious groups and the support of various Catholic dioceses.  For many years since it was founded in 1992, it flourished and continued to stretch out their helping hands to the needy particularly the sick and abandoned.
Camillus MedHaven
After many years under the care of St. Camillus Home of Charity, on February 2, 2006 the institution formally changed its direction and renamed the center to Camillus MedHaven. This move dramatically challenged again the hope of Tatay Sario and the rest of the patients as the once famous shelter and health care provider for abandoned persons with disabilities, was changed to home for the elderly and sick, that is, the once free institution is now serving the senior citizens and the sick for a fee. One popular reason was that the institution could no longer sustain the financial needs of running the whole organization as some of its major benefactors have already died and or discontinued the monetary support that they previously gave. For this reason, they were sent out to their respective families even before February 2, 2006.
Unexpected Return to Family
This is the reason why many of the patients including Tatay Sario were forced to be returned back to their families for they have no means to pay for the services anymore. The institution itself searched out for the whereabouts of his wife and children and brought him back to their presence. On March 5, 2005, Tatay Sario was returned back to his wife and children. This new situation brought various problems as his wife and the now adult sons and daughters were not equipped and prepared psychologically, emotionally and financially on his return. This created a very thin air of acceptance considering also that they themselves were struggling to get out of poverty. As a result, Tatay Sario is now suffering malnutrition, requested the help of the street kids to assist him when eating, sold out anything he owns that have monetary value to buy for his maintenance medicine – antibiotics for his Urinary Tract Infection, alcohol and petroleum jelly for his soared skin, catheter for him to urinate, and so much more. He even need to pay someone to have his clothes cleaned, gave no attention to the bite of mosquitos during night time, beg for help of strangers that he be transferred from his worn-out wheelchair to his bed. Bathing and toileting has also been so difficult for him.
Despite all these, he still managed to be happy, thank God for all the blessings he received, shared the word of the Lord to everyone he met, even to the little kids and strangers. Practicing and teaching forgiveness to all souls around him and praying for the people who are also in need.
The Call
Even if a lot of things had already happened since Tatay Sario and I first met, I never ever since missed to communicate with him and visit him. I was still single back then when I remembered celebrating Christmas and New Year eve with him at St. Camillus. Now, as a married man, I still visit him but already together with my family, relatives and close friends. We help him in any way we could and communicate with him through call and text messages. Even if it took him great effort to answer our calls and send out his reply text messages, he was still very eager to communicate to us and he never fails to pray, inspire and bless us. He has become a comfort provider, prayer warrior and counsellor, especially, to the heavily burdened.
He had significantly changed my perspective in life thus inspired me to come up with my advocacy of helping people protect themselves and their families and spread out financial literacy for a beautiful life. For me, this has been on of the answers to my search as to why I came to be a Financial Advisor and being a licensed accountant somehow helped me on this mission. Sun Life of Canada (Philippines) has become my partner in achieving this. Tatay Sario's life has inspired me to write this down hoping that the lessons in his story would somehow touch and help everyone.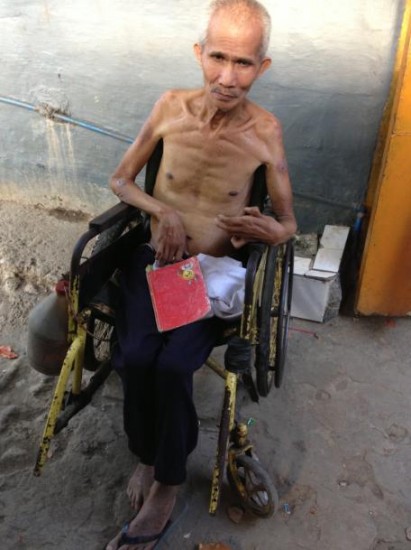 P.S. If you want a listening ear or want to help, Tatay Sario could be reached through his cellphone +63 912-987-3012. Please extend your patience when calling to him as he needs the assistance of other person to hold the phone in his ear for him.
Should you want to know more on how Sun Life could help protect you and your family against accident, total disability, critical illness, death, or plan out for your retirement and also estate planning, my numbers are: +63 927-955-3242 (globe) +63 932-609-6159 (sun) or you could email me at Ferdinand.G.Aranas@sunlife.com.ph or ferdsz@yahoo.com. Thank you and God bless!
Please SHARE this to your friends and relatives. Just one click on the SHARE button and you help spread the news. Who knows, this might be useful for them too.
The following two tabs change content below.
Ferdinand Aranas
Certified Public Accountant, Internal Auditor, Senior Financial Analyst, Insurance Advisor, Certified Investment Solicitor, Stock Market Trader, Long-Term Investor, Triathlete, Father of two boys and a great husband
Latest posts by Ferdinand Aranas (see all)