BPI Family Savings Bank (BPI Family) is once again at the forefront of advancing and promoting entrepreneurship in the country as it co-presents Franchise Asia Philippines 2013, an event organized annually by the Philippine Franchise Association (PFA). The event that brings together key local and international franchise players provides an accessible venue for valuable sharing of global best practices and showcasing the hottest franchise opportunities today. Newly elected Senators Loren Legarda, Cynthia Villar and Grace Poe led the event's opening ceremony that was held recently at the SMX Convention Center in Pasay City.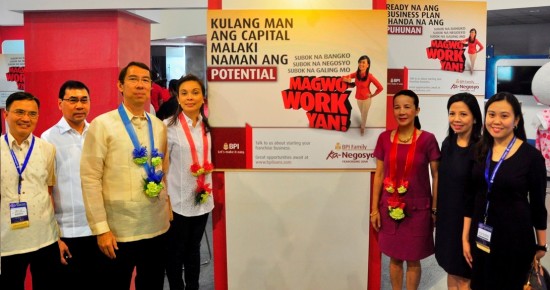 BPI Family joins PFA in bringing Franchise Asia Philippines 2013, the biggest 5-day franchising event that also featured educational seminars, and a 2-day franchise conference. At the event, BPI Family also made available its exclusive Ka-Negosyo Franchise Financing Program that helped attendees to select and identify a franchise brand that suits and enable them to enter into a profitable enterprise to fulfill their business aspirations. BPI Family Ka-Negosyo is the bank's pioneering business program that makes franchising easily accessible and affordable to entrepreneurs.
At the opening ceremonies of Franchise Asia Philippines 2013, PFA VP and concurrent Philippine Seven Corp. President–CEO, Victor Paterno, noted that the event serves as the Philippines' integration to the Southeast Asian Franchising Industry. "We envision this whole international Expo to be a showcase of the freshest local and global franchise brand concepts that are ready to explore the world via franchising," shared Mr. Paterno.
To know more about BPI Family Ka-Negosyo's Best List brands, call 754-NEGO (6346), email kanegosyo@bpi.com.ph, text 0917-852NEGO or 0922-869NEGO. To apply, log-on to www.bpiloans.com or visit any of the 800 BPI or BPI Family Savings Bank branches nationwide.
The following two tabs change content below.
Garry Zaldy de Castro is an advocate, Financial Advisor, Certified Investment Solicitor (Mutual Fund Representative), blogger, IT practitioner, husband to Aileen and a dad to Jacob and JohnD. He started Financial Planning Philippines in 2008 just to share his financial learning to friends, relatives and anyone who wishes to be financially independent.
Latest posts by Garry De Castro (see all)