A tremendous number of married couples have been wanting to explore acquiring their own home; but their respective busy work schedules prevent them from scouting for a property to buy in their preferred location, and jointly talking to a bank to assess their capacity to purchase.
But this is no longer a problem. BPI Family Bank's "On-The-Spot" kiosks now make it easy for prospective homebuyers to get expert advice on what, where and how to acquire their dream home while malling with the family on weekends.
Whether a couple is already in the market to purchase a home, or just simply curious and would like to find out their readiness to own their family's dream home, BPI Family Bank gives on-the-spot advice on how best to realize their dream –for FREE – absolutely no commitment nor obligation on their part.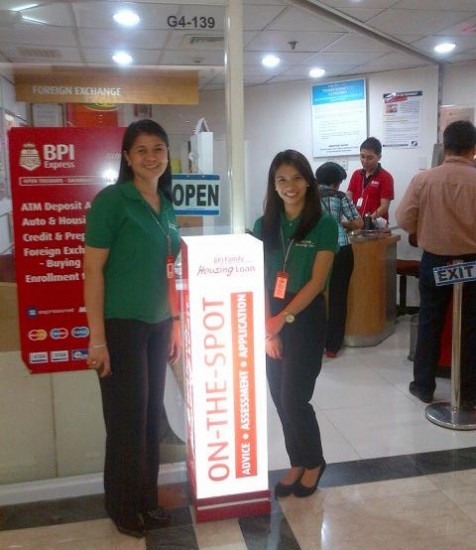 The BPI Family Housing Loan kiosk also provides homebuyers options on which homes are available for purchase; and can even give conditional approval so they can negotiate with real estate sellers with confidence – knowing how much they can really afford.
BPI Family Savings Bank clients can now go and avail of a housing loan for their new homes at Glorietta (Fridays and Saturdays); Trinoma, Alabang Town Center and V-Mall (Saturdays and Sundays) during mall hours. These kiosks can be found within the premises of BPI Express Banking Centers (EBCs), manned by Housing Loan Experts.
"Putting up these Housing Loan Experts is one of BPI Family's pioneering initiatives. As we expand, we likewise improve our client servicing systems that should make owning a property easier for our target market. We have selected EBCs in areas with busy and high-market traffic. This is just one way of pursuing our commitment to provide fast, easy and affordable loans, especially home loan, to Filipino families," says BPI Family Savings Bank President, Mr. Jose Teodoro Limcaoco.
For updates on the schedule of these Housing Loan Experts, you may visit bpiloans.com and BPI Loans Facebook page.

The following two tabs change content below.
Garry Zaldy de Castro is an advocate, Financial Advisor, Certified Investment Solicitor (Mutual Fund Representative), blogger, IT practitioner, husband to Aileen and a dad to Jacob and JohnD. He started Financial Planning Philippines in 2008 just to share his financial learning to friends, relatives and anyone who wishes to be financially independent.
Latest posts by Garry De Castro (see all)