Last November 20, 2012, BPI launched their latest payment innovation called BPI Mobile Wallet. It's actually using your mobile device into a paying machine – the first of its kind here in the Philippines. I was one of the lucky few bloggers who got invited in this event :D.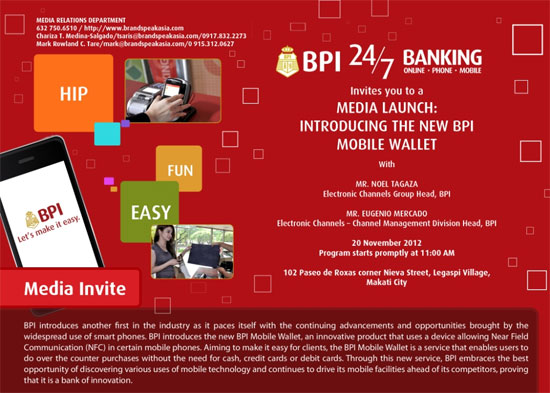 So what is it all about? Here's the press release of the event.
BPI introduces a new, hip way to pay through BPI Mobile Wallet

Bank of the Philippine Islands (BPI) is launching its newest innovation, the BPI Mobile Wallet, which offers its clients a new means to make over-the-counter purchases more fun, convenient and easy.

"BPI takes pride in being a leader in mobile phone banking in the country. Through our BPI 24/7 Mobile Banking Channel, it has always been our commitment to put together advanced mobile services to meet the changing needs of today's consumers. Today we are proud to pioneer another service that will make everyday transactions easy for our clients," shares Mr. Noel Tagaza, BPI SVP and Head of the Electronic Channels Group.

BPI has been pioneering advancements in the banking technology that compete with the rapidly evolving global market. Today, with the many capabilities mobile apps offer, smart phone usage has advanced to being more than just a communications device. BPI seeks to build on these advances through the different mobile services it provides.

Using Near Field Communication (NFC), the BPI Mobile Wallet allows clients to install a device on their phone and turn it into a virtual "wallet" that they can use for over-the-counter purchases in select stores without the need for cash, credit cards or debit cards. One will simply need to "tap" their phone over the TAP terminals to complete their purchase easily and in real-time.

Mr. Tagaza adds, "We know that the Philippines has been anticipating mobile payments, having seen other countries like Japan adopt this technology. Launching the BPI Mobile Wallet today, we see this as the next "big" step for the banking industry and we at BPI are proud to be the first bank to introduce this service in our country. Launching the BPI Mobile Wallet, we aim to make it easy for our clients by giving them the means to use their mobile phones to make fast and easy payments."

In its initial stage, the BPI Mobile Wallet NFC devices are made available for clients using BlackBerry® BoldTM 9780, BlackBerry® BoldTM 9700, BlackBerry® CurveTM 8520 and iPhone 4S with iOs 4 and 5. Currently, BPI Mobile Wallet payments are accepted in all Metro Manila Banapple and Serenitea branches, as well as selected Kenny Rogers, Seattle's Best, Healthy Options, Fully Booked, Evita Peroni, and Mango branches.

"With the Bank's 161 years of serving Filipinos, BPI remains steadfast in our commitment to make it easy for our clients and to keep up with the ever-changing needs of the market. Seeing this growth in mobile, we've made it a point to put mobile technology as one of our priorities for innovations. We continue to move towards the future, to offer more convenience and ease for any transactions our clients need to do. The BPI Mobile Wallet is an exciting new step for the industry and promises so much potential for the future even as we continue to expand on this service to cater to more Filipinos," says BPI AVP and Division Head of Channels Marketing and Sales Division, Mr. Carlo Gatuslao.

BPI currently offers electronic banking through BPI Express Online, BPI Express Mobile, and BPI Express Phone. BPI also has existing electronic payments through its Credit Cards, EPS, and the BPI Mobile Mall java app.

For more information about the different electronic services BPI has to offer, visit www.bpiexpressonline.com.
How To Use It?
We were given the opportunity to actually use it for the first time buying Serenitea in the event. All you have to do is tap your phone (pilot phones as of the moment) and whoala, it will automatically deducts from your mobile wallet. No need to bring those bulky wallets or purse with coins.
Will It Fly?
I'm not really sure how the market will adapt to this way of payment. A lot have tried like Smart Wallet or Globe Gcash, but I'm not really sure they have been successful with their targets.
With BPI Mobile Wallet, they are targeting more on the yuppies market in the metro, so maybe it can fly.
How to Avail?
If you have a Blackberry Phone listed above or Iphone with IOS 4 or 5 and you are a BPI account holder, you can avail of the smart card or casement for free for a minimum wallet load of P2,000.
The following two tabs change content below.
Garry Zaldy de Castro is an advocate, Financial Advisor, Certified Investment Solicitor (Mutual Fund Representative), blogger, IT practitioner, husband to Aileen and a dad to Jacob and JohnD. He started Financial Planning Philippines in 2008 just to share his financial learning to friends, relatives and anyone who wishes to be financially independent.
Latest posts by Garry De Castro (see all)