Financial Planning Phils was invited in yesterday at the media launch of DLSAA exhibition "Bullesye! Ignite Your Business Animo" which will happen on March 16, 2013 at the Henry Sy, Sr. Hall De La Salle University in Manila. Mayleen and Rowena, Financial Planning Phils.' correspondents attended the event.
Here's the Press Release of the event –
With the country's rising economic growth brought by small and medium-sized enterprises (SME) and micro-enterprises, the De La Salle Alumni Association (DLSAA) spearheads its first-ever entrepreneurship expo on March 16, 2013 at the Henry Sy, Sr. Hall, De La Salle University. This flagship exhibition dubbed as "Bullseye! Ignite Your Business Animo" will feature discussions brought to you by renowned Filipino entrepreneurs who are proven successful in their own businesses.

Through this, DLSAA would like to build awareness and harp on the novelty of the Bullseye Expo which will be attended by students, DLSU alumni and the general public. The association believes that they could contribute to nation building directly to its members through entrepreneurship.

"We know that Filipinos have a natural flair for business. We have also seen how they have grown with much gravity in the Philippine economic scene—generating jobs and livelihood to other people, giving opportunities for expansion of new businesses, and increasing productivity through technological change. We see that entrepreneurs are the backbone of our economy that is why we have come up with this event that ignites the spirit of the people aspiring to start up and grow their own business", says Mr. Johnny Sy, President of De La Salle Alumni Association.

[ad#content360]During the event, there will be more than 25 reputable exhibitors represented by different companies such as Generika, SEAOIL Philippines, Inc., Kumon Philippines, Ahead Learning System, Microsoft, Bubbatealicious Pearl Milk Tea Place and many others, will be putting up booths that can help the attendees choose on where to start up their own franchising business.

Attendees of the expo can learn from distinguished businessmen by hearing the success stories of Mekeni Food Corporation's Mr. Prudencio Garcia and French Baker and Chatime's Johnlu Koa who will be sharing their testimonies on how they overcame their adversities and became successful in their business. There will also be a forum with proven businessmen like Rossana Lenado of Ahead Learning Center and Gilbert Jim of Bubbatealicious to name a few. They will share some success secrets of putting up and expanding a business.

Bullseye! Ignite Your Business Animo! is co-presented by San Miguel Corporation with event partners namely GoNegosyo, Philippine Franchise Association (PFA) and Association of Filipino Franchisors (AFFI); Media Partners namely ANC, Business Mirror and Rektikano Magazine. Gold sponsors namely BPI Family Ka-Negosyo, Rizal Commercial Banking Corporation, Smart Communications, Inc., R-II Builders Inc., Harbour Centre, and Avida Land.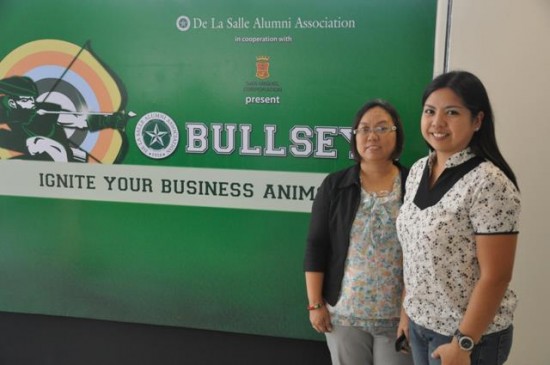 The following two tabs change content below.
Garry Zaldy de Castro is an advocate, Financial Advisor, Certified Investment Solicitor (Mutual Fund Representative), blogger, IT practitioner, husband to Aileen and a dad to Jacob and JohnD. He started Financial Planning Philippines in 2008 just to share his financial learning to friends, relatives and anyone who wishes to be financially independent.
Latest posts by Garry De Castro (see all)