Sarah shares her sentiments over the recent news on TV where a student committed suicide over non payment of tuition fee.
I am saddened with the recent news on TV. Why is EDUCATION so hard to earn? It's a human right and should be accessible to all. Lately, a student from UP committed suicide because she was unable to pay her tuition fees. Then yesterday, a man took hostage of a sacristan inside the church in QC. Police found out that the man had difficulty paying his child's tuition at the Southern Luzon State University in Lucban, Quezon.
[ad#content360]Why is this happening? A lot of factors, definitely. Poverty is first on the list. Could it be because the parents weren't able to plan ahead? Yeah, possible. If only the parents took advantage of the time they had back then, when they were earning even a little, they could have spared something for their children's future. I'm not blaming them. Like what I said, this is just one of the many factors.
A lot of us are complacent thinking we have enough money in the bank to fund our children's education. The question is, is it enough? With an average inflation of 5% every year, we are losing the value of our money. It's stuck in bank, yes, readily available anytime you need it BUT not enough to beat inflation. What are the interest rates given by banks nowadays? 1-2% or even lesser? So that would mean 5% (inflation) vs. 1-2%(bank rates) – oh, loud and clear.
Below was the summary of College Tuition Fees in the country for 2012-2013, provided by GMA NewsTV. Just by looking at this graphic representation, I could say that an average family will have a hard time paying this. To be able to produce P30k – P80k per semester, where are we going to get this? Most likely, we end up in debts. Parents can sacrifice anything or everything just for their children – even pride.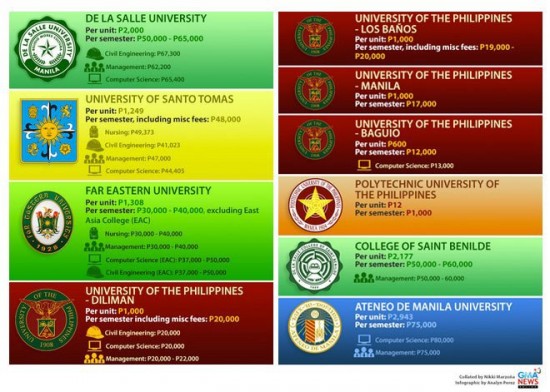 So what do we do now? What actions do we need to take? We always dream of sending our kids to Top Universities like De Lasalle and Ateneo. Are we letting it remain as a DREAM? PLANNING and DISCIPLINE first. Every year, almost all of the schools have an increase on their fees. These figures will soon hike up. Save as much as you can now. We may never know what might happen next tomorrow. If we still have a job, savings, business, more so – if we are still alive.
Next, find a financial instrument that can beat inflation. Do not be scared by asking questions but be scared by not doing them 'cause soon enough, you'll end up asking yourself, WHAT IF?
If you need help on this, feel free to buzz me.
Please SHARE this to your friends and relatives. Just one click on the SHARE button and you help spread the news. Who knows, this might be useful for them too.
The following two tabs change content below.
Sarah Odessa Natanauan
Currently a Financial Advisor of Sun Life of Canada (Philippines) Inc., Sarah is a registered nurse by profession - was able to practice it for sometime til she found herself on a new venture. Sarah is from Tanauan City, Batangas and is living happily with her family. She aims to spread financial literacy, in her own ways via realistic and striking articles.
Latest posts by Sarah Odessa Natanauan (see all)