continuation of Part 1…
Funny how this post 'Education Plan Options in the Philippines' is all connected with the recent news on TV.
Just last Friday, May 13, it was reported that the Government Service Insurance System (GSIS) is having problems with its Educational Funds and members were complaining about it (full story here).
Imagine that, even our government agency is having problems with Education Funds, what more if it's a small private company. Even companies as big as Sun Life had to stop offering new Pre-need Educational Plans due to the huge amount of trust fund required by the SEC. (But don't worry, previously sold pre-need educational plans from Sun Life are still in forced and in good hands).
Who would forget what happened with College Assurance Plan (CAP) and Pacific Plans (Yuchengco Group)? The nightmare that you paid a hefty amount of money and waited 10-15 years and when your child is about to enter college, you will be presented with the news that the company went bankrupt will surely haunt you forever. I can't imagine the scenario.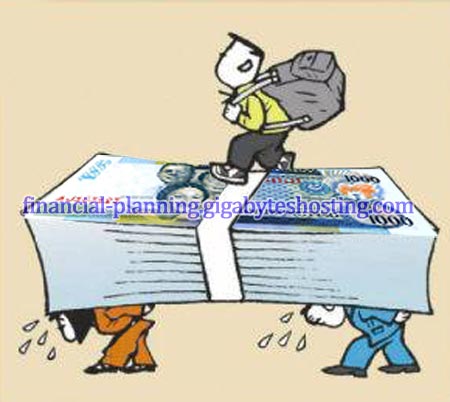 The same may be the reason why even Randell Tiongson, (a personal finance mentor) when asked if one should buy a Pre-Need Educational Plan for their children, he has a strong conviction to say NO. His 3 main reasons are 1.) Too risky. 2.)Horrible Returns 3.)Unfair Policy Provisions (Full story here)
On the other hand, would you just sit around with your cash stashed in those old alkansyas or even in banks and just put your savings until such time that your little one reaches college? When on the other side of the news, it was reported that 300 colleges and universities will have a tuition fee hike ranging from 3%-12% this coming school year? I'd say 'NOT' either.
What if you can make your own Educational Fund for your children, would you be willing to learn? What if you can actually imitate the educational products that Pre need companies were offering before with much less risk, will you be interested?
Here's what I call 'Do It Yourself Educational Plan'.
First, let's look at the features of a typical Educational Plan. Usually it has the following components
the amount of money you pay will be used to pay the tuition fees in 4 or 5 years in college
the scholar (child) as they call it is insured for a specific amount in case of death
the payment is waived in case the payor (parent who pays) suffers Total Disability
the plan is considered paid in case the payor (parent who pays) dies
the payment period is 5-10 years
So, looking back at Luna's case, what are the options available to come up with P3.7M by the time she reaches college.
Here are some of the solutions that I can think of.
Save in Banks. Assuming that you can find a stable commercial bank that would give you a 1% interest per annum, you'll only need to save P17,700 a month for 16 years and you'll have P3.7M by the time she reaches college. Your total contribution = P3.44M. Your money's interest P303,826.00. Will it solve the P3.7M problem, YES – with the assumption that nothing happens to the payor for the next 16 years and he regularly puts money every month.But what if after 2 years, death comes into the picture. Total savings + Interest = P426,321.00. Not bad. If bank is only your option, make sure to get those savings that has automatic insurance just to have a protection component.
Invest in Mutual Funds. To attain P3.7M in 16 years, you can opt to invest in mutual funds. Though, the rate of return is not guaranteed, most mutual funds in the Philippines were performing 8%-13% based on their 5 Year returns (http://www.pifa.com.ph/factsfignavps.asp). Let's assume that the 15 year return to be only at 8% (conservative assumption).If that's the case, Luna's parents would only need to invest P8,207 – P9,813 monthly for 16 years to achieve P3.7M. Playing more with numbers will give us these.
– 10 Years Saving Period & 5 years waiting – P10,650.00 per month (total contribution P1.27M)
– 7 Years Saving Period & 8 years waiting  – P13,724.00 per month (total contribution P1.15M)
– 5 Years Saving Period & 10 years waiting- P17,884.00 per month (total contribution P1.07M)
– 3 Years Saving Period & 12 years waiting – P27,708.00 per month (total contribution P997,000)
Will it solve the problem? Partly, YES. Why? Coz it doesn't have a protection. A safety net when the worst case scenario happens.
[ad#content300]So do we 'completely' solve the problem? By simply getting a separate Insurance on the side. Since the investment takes care of the payment (money), we simply need a term Insurance to take care of the protection. That way, in case the payor dies, the fund is automatically available.
For a term insurance, we need a coverage of P3.7M so that when death comes to the payor, the death coverage is equivalent to the amount needed for the Education which in our case is P3.7M.
For a P3.8M term insurance, Luna's father needs only to pay P17,310/year increasing at around P200-400 in a span of 15 years. Total insurance needs for 15 years is P263,070.00. In reality, we can decrease the insurance every 5 years since our fund is increasing also.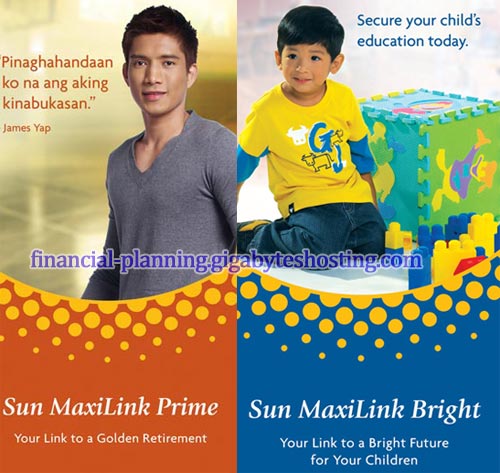 Get an Insurance with Investment Plan (intended for education) + MF. I'm not much of a Term insurance since I want return for my payments. That's why personally, I didn't do the 2nd option. And if Luna's parents will do the same, here's how it will look like.Mix & Match Insurance with Investments + Mutual funds.With this solution, we can use a VUL product Sun Maxilink Prime (10 years paying period) or Sun Maxilink Bright (5 years paying period). Both plan is an insurance with investment component wherein the fund value increases as time goes by. It's like an insurance with mutual fund combo.Below are the figures.Sun Maxilink Prime (P3.7M) coverage = Annual Premium of P102,102.00 / P8,500+ monthly
+
Mutual Fund investment of P7,000.00 monthly
=
at year 16, the fund value of Maxilink Prime (at 8%) will be P1.7M and the fund value of mutual funds (at 8%) will be P2M. For a total of P3.7M

Total Payment on Maxilink Prime for 10 years – P1,021,020.00Total Deposit on Mutual Funds for 10 years – P840,000.00Total money shelled out = P1.84M

Get Insurance with Investments geared towards education (Maxilink Bright) – If you're the type that has the money and would like to pay on an annual mode instead, then I'd suggest you simply get Sun Maxilink Bright. It's an Insurance with Investment –  5 year paying period plan. Both our money and protection needs are rolled into one. The only downside is it's a little expensive coz the idea is early investment of your money.For Luna's case, for a P3.7M coverage and to attain the fund value of P3.7M in 16 years, her father would need to shell out P27,083.00 per month or P325,000.00 a year for 5 years. By the time Luna reaches college, fund value at 8% will be equivalent to P3.7M.Total money shelled out = P1,625,000.00
What if you'd say 'I don't have that amount of money!'? The good thing about this approach is it's very flexible that you can adjust it to your income. But of course, you also have to adjust your target school. The important thing is that you have a target and you're starting early. Invest NOW!
If you want to have a FREE case study or a FREE proposal for your children, just give me the following:
The following two tabs change content below.
Garry Zaldy de Castro is an advocate, Financial Advisor, Certified Investment Solicitor (Mutual Fund Representative), blogger, IT practitioner, husband to Aileen and a dad to Jacob and JohnD. He started Financial Planning Philippines in 2008 just to share his financial learning to friends, relatives and anyone who wishes to be financially independent.
Latest posts by Garry De Castro (see all)