In line with our advocacy to Financial Planning, we just created a Finance Forum / Message board here in AAFP Philippines – http://www.financialplanningph.com/forum.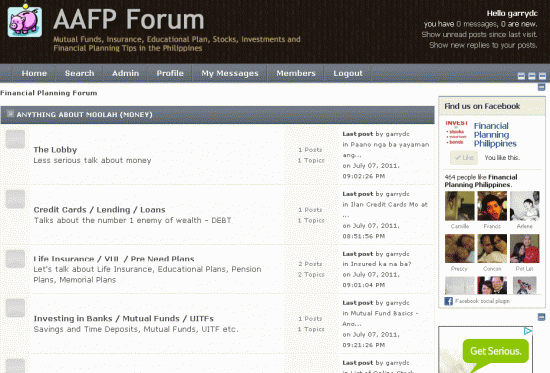 What's the need for Finance Forum / Message Board?
We truly believe that experience is the best teacher. But, there's a big but in there. It doesn't necessarily mean that it has to be your experience. We can easily (and a lot better) learn from the mistakes of other people. Isn't that a good idea? You don't have to suffer just to learn.
Basically, that's the idea of the Finance Forum. We'd hope everyone can share a bit of their money experience so that others can learn from it. I'm sure, everyone has a bit of information that is not readily available with everyone. That's what we want to do with the forum.
True enough that I'm already sharing it thru this blog. But I'd say 1 person isn't enough. Two heads are better than one. What more if everyone who follows AAFP Philippines will share a money experience or two. Isn't that a very ideal scenario.
What's in the AAFP Finance Forum?
We've divided the Forum into 2 main category – All About Money and Anything Under the Sun.
Under All About Money are the following topics –
The Lobby – anything less serious talks about money
Credit Cards / Loans / Debt
Life insurance / VUL / Pre Need Plans / Educational Plans
Investing in Banks / Mutual Funds / UITFs
Investing in Stock Market / Stocks Trading
Making Money Online / Work From Home / Adsense / Blogging
Real Estate / Properties
Tax Tax Tax
Under Anything Under the Sun
Kwentuhan ng Buhay buhay
Kababayans Abroad / OFW Talk
As much as possible, we want to create a community that anyone can easily understand and later on learn how to invest.
How to Join?
Don't be shy if you don't know your way around yet. I was like that too when I was just starting.
This forum is also a work in progress.  Expect changes and additions from time to time. If you have ideas or find any errors, please don't hesitate letting me know. We'll also be needing some moderators and regular contributors, so if you can share your extra time, you're very much welcome.
See you in the forum. Ciao!
The following two tabs change content below.
Garry Zaldy de Castro is an advocate, Financial Advisor, Certified Investment Solicitor (Mutual Fund Representative), blogger, IT practitioner, husband to Aileen and a dad to Jacob and JohnD. He started Financial Planning Philippines in 2008 just to share his financial learning to friends, relatives and anyone who wishes to be financially independent.
Latest posts by Garry De Castro (see all)