Check out the list of Finance related seminars for September 2011 that you might want to attend to. I have attended a lot of seminars in the past and it helped me a lot to where I am now. And from where I stand, I know I have a lot more to learn in this trade. In case you'd want to make an upgrade of yourself, these are some of the cheapest investments for yourself that you won't regret getting.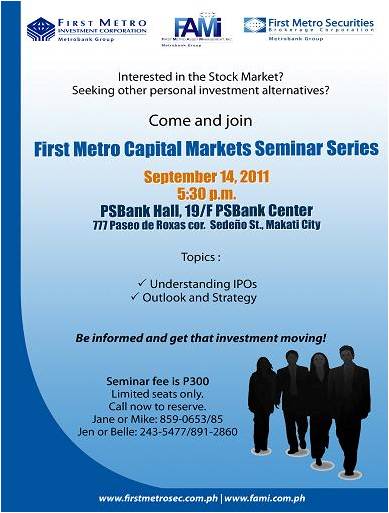 September 14, 2011 (5:30pm) – First Metro Capital Markets Seminar Series "Understanding IPOs" + Market Outlook and Strategy."
Venue is at PSBank Hall, 19/F PSBank Center 777 Paseo De Roxas cor. Sedeno St. Makati City.
Seminar Fee is P300. Usually they will reimburse your payment if you sign up with them later. Limited Seats Only.
Call Jen or Belle: 243-5477/891-2860 to reserve. If you'd like to attend, let me know. Most likely, I'll be there.
I've been regularly attending this seminar series and I always keep on coming back. If you have any questions on particular stock, attending this seminar will give you the ticket to know the answers from the masters.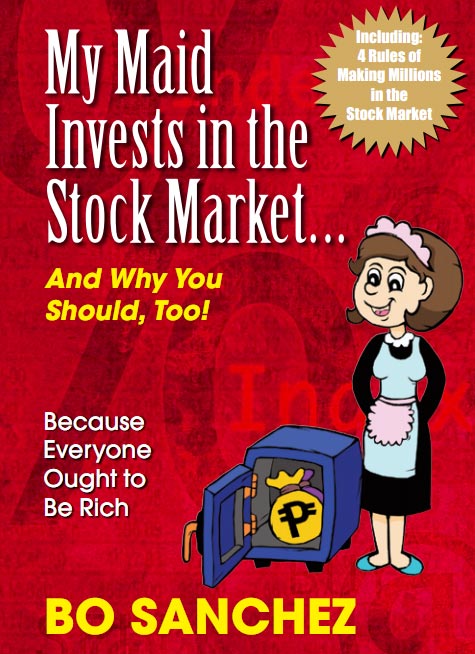 September 24, 2011 (8.30am – 12nn) – Bo Sanchez' How to Make Millions in The Stock Market "Live" Seminar.
Venue is at Pasig.
Seminar Fee is P497.
Email beaconlightevents+seminar@gmail.com to reserve.
I've read the book and it was very elementary. Very easy to understand. Altho personally, I think this is not applicable to all Maids out there. But if Bo Sanchez' Maids and Drivers were able to do it, so can you. If you want to have a pdf copy of "My Maid Invests in the Stock Market", just send me an email at garrydc[at]financialplanningph.com
Here's the intro teaser from the email list
Question: Is the Stock Market like an Alien Monster to you?

And do you think that the Stock Market is for Billionaires only and not for regular human beings like yourself?

You're not alone. A lot of people think that way.

Last year, I shocked the world by writing my book, My Maid Invests In The Stock Market And Why You Should Too. (Today, that book is #3 in the Top Ten Bestselling Books List of National Bookstore.) All of a sudden, people realized that anyone can be rich through Stocks.

If you want to retire with millions through the Stock Market, this is the answer to your prayers. In this powerful Seminar, my team and I will teach how to invest in the Stock Market the right way. Hard Fact: 85% of people lose money in Stocks. But if you follow the specific investing method that I will teach you, you'll be able to create your millions for your future.

At the end of the seminar, if you don't have a stock broker yet, you can open a Citiseconline account, the #1 stock broker in the country. My team will also guide you—one step at a time—how to operate their website and buy your first stock!
The following two tabs change content below.
Garry Zaldy de Castro is an advocate, Financial Advisor, Certified Investment Solicitor (Mutual Fund Representative), blogger, IT practitioner, husband to Aileen and a dad to Jacob and JohnD. He started Financial Planning Philippines in 2008 just to share his financial learning to friends, relatives and anyone who wishes to be financially independent.
Latest posts by Garry De Castro (see all)