Today is May 13, 2014 – only 4 days to go to iCON2014.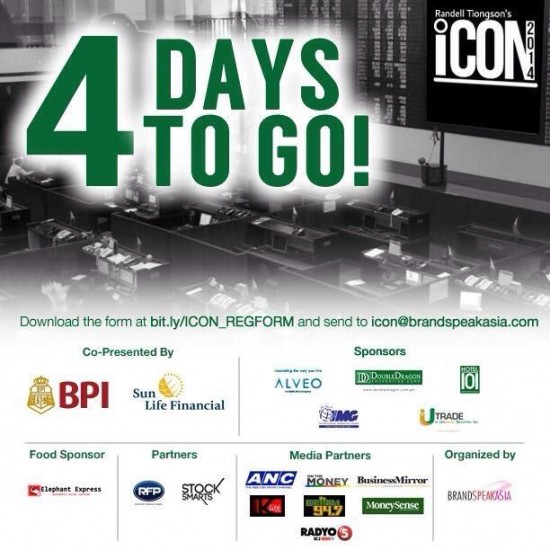 Do you want to go for FREE? I bet you do.
And because we're given the chance to share this with our readers, we're giving away 2 FREE tickets to iCON2014.
You actually have a big chance of winning this because we only have few readers reading this. In my last count, we only have 10 readers, including 7 of my relatives, hehe. So if you're reading this, you really have a high chance of getting the FREE Ticket.
Here's what you have to do to win one of these 2 FREE tickets.
Answer this very easy question
– How long have you been reading FinancialPlanningPH.com?
– What article do you love/like the most?
– How did it help you in planning your finances?
Send your answer to my email address garrydc@financialplanningph.com
We will send you an email on May 15, 2014 to tell you how you can claim your ticket.
We may use your entry in our Testimonial section later.
Timer starts now, Go!
Note: In case you want to attend and don't have time to join this, all you have to do is Register and pay here – Download the form at http://bit.ly/ICON_REGFORM and send to icon@brandspeakasia.com
Feel free to SHARE and/or LIKE.
The following two tabs change content below.
Garry Zaldy de Castro is an advocate, Financial Advisor, Certified Investment Solicitor (Mutual Fund Representative), blogger, IT practitioner, husband to Aileen and a dad to Jacob and JohnD. He started Financial Planning Philippines in 2008 just to share his financial learning to friends, relatives and anyone who wishes to be financially independent.
Latest posts by Garry De Castro (see all)