Yesterday, while I was travelling on a bus, an idea came to my mind (as always). I was thinking, how will an ordinary employee have 1 million in cash (or in liquid asset) just by simply working?
I'm sure, anyone working in finance related industry like mine already knows the answer. Or maybe, most people know the answer, they are not just focus on how it is done.
How many times have we heard the saying  'walang yumayaman na empleyado'. Agree? I beg to disagree. Maybe if that employee will only stick to the 'isang kahig, isang tuka' principle. Then the answer will be definitely yes, they won't get rich.
We were brainwashed that it is impossible for an ordinary employee to have 1 Million in Cash.
However, by using a different approach, I truly believe that it is very possible.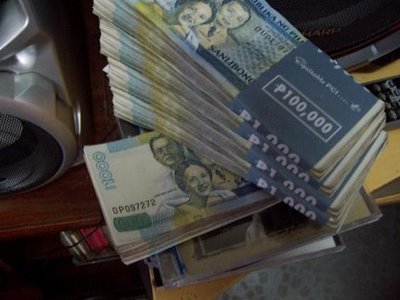 Let me show you the simplest and easiest way to have 1 Million pesos. By simply saving and investing in mutual funds.
Don't know what's mutual fund – read and watch the video in this link –  http://www.financialplanningph.com/what-is-mutual-funds-is-it-legal/
Here's how. Below is a table I created using a Financial Calculator. Here, I tried to show that attaining 1 Million Pesos is very possible at age 30 up to age 45.
The column on the left represents your current age. That will be our starting point. On the right are future age where you want to have your first million pesos. Inside the table are the amount (in Pesos) that one must save and invest on a monthly basis.
Your Starting Age
Objective – To have 1 Million Pesos At Certain Age
(8% Annual Return)
How much do you need to save and invest monthly?
At Age 30
At Age 33
At Age 35
At Age 38
At Age 40
At Age 45
21
6,440
4,328
3,321
2,383
1,940
1,205
22
7,561
4,832
3,742
2,562
2,148
1,321
23
9,013
5,552
4,328
2,962
2,383
1,450
24
10,963
6,440
4,832
3,321
2,562
1,595
25
13,709
7,561
5,552
3,742
2,962
1,757
26
17,848
9,013
6,440
4,328
3,321
1,940
27
24,774
10,963
7,561
4,832
3,742
2,148
28
38,666
13,709
9,013
5,552
4,328
2,383
29
80,425
17,848
10,963
6,440
4,832
2,562
30
24,774
13,709
7,561
5,552
2,962
31
38,666
17,848
9,013
6,440
3,321
32
80,425
24,774
10,963
7,561
3,742
33
38,666
13,709
9,013
4,328
34
80,425
17,848
10,963
4,832
35
24,774
13,709
5,552
36
38,666
17,848
6,440
37
80,425
24,774
7,561
38
38666
9,013
39
80425
10,963
40
13,709
41
17,848
42
24,774
43
38,666
44
80,425
Assumption
Your investment will have an 8% annual return. That's a conservative projection since past performance of most Philippine mutual funds had an average of 14-20%.
The idea is this. Say you're 21 years old now and just started working. Determine at what age would you like to have 1 Million pesos depending on your capacity to save. Is it at age 30? Then you have to start saving / investing P6,440 per month. Too stiff? Then adjust.
[ad#content300]If you want to have your first million pesos at age 33, invest P4,328 a month. Still too big? Adjust again. If you can only save P1,205 per month, and if you continue doing that until age 45, you'll have your 1 Million Pesos.
How bout if you're 25 right now and you'd like to have 1 Million at age 30. How much do you need to invest monthly? Looking at the table, that gives us  P13,709.
I'm already 32. Looking at the table, looks like the simplest way to reach 1 Million is at least age 38.
Conclusion
You don't have to win in the Lotto to be a millionaire. Anyone, at any point in their life can have 1 million even if you're just a regular employee. Maybe you can't save P10,000 per month today. But not because you can't save P10,000 today, you'll not save at all. That's not the idea. The idea is to save as much as you can today, whenever you can and increase your savings every time you have bonus or increase.
Maybe you can only save P1,000 today. But next month maybe you'll have a bonus, then increase your savings. Save a part of your income whenever you can. And learn how to invest.
Start with an open mind. Don't hesitate to ask. Maybe your officemate has a mutual fund investment, ask him to teach you.
Sabi nga ni Henry Sy, the richest man in the Philippines today. 'It is only the first million that's hardest to get. Once you hurdle your first million, the next millions are a lot easier'.
When do you want to have 1 Million? If you haven't started yet, then it's time you do. START Saving and Investing NOW!
I'm Interested, How Do I Get Started
In case you're interested and want to get started, follow this link – http://www.pinoymutualfunds.com/p/open-account.html
Or you can simply comment on the form below and I'll contact you.
Happy Investing!
The following two tabs change content below.
Garry Zaldy de Castro is an advocate, Financial Advisor, Certified Investment Solicitor (Mutual Fund Representative), blogger, IT practitioner, husband to Aileen and a dad to Jacob and JohnD. He started Financial Planning Philippines in 2008 just to share his financial learning to friends, relatives and anyone who wishes to be financially independent.
Latest posts by Garry De Castro (see all)