This post is dedicated to all my Mutual Fund clients (shameless plug). It's actually a promise I made to  Aileen and Jay. They were asking, just like most of my clients, on what's the procedure should they want (they sure would) to make additional investments in their Mutual Fund account.
If you want to make Subsequent Investment via Online Fund Transfer, check this link – http://www.financialplanningph.com/additional-investments-sunlife-mutual-funds-online/
It will also lessen my effort whenever others will ask on what's the procedure in making additional investment in Sun Life Mutual Fund account. You see, I receive a lot of emails asking how to open mutual fund account, how to make additional investment etc. And every time I receive such email, I can't help myself but get carried away typing anything that naturally comes to my mind.
[ad#content300] Opening a mutual fund account is no other than opening a back account. You need to fill out a lot of forms about your personal data, submit gov't issued ID and sign signature cards.
In making additional deposits or investments, it's almost the same. With banks, you need Deposit Slip. With Mutual Funds, you need an Order Ticket.
So much for the trash talk, here it is. What you need to do to make additional investment with Sun Life Mutual Fund.
You can either
Go to a Sun Life Business Center or Deposit thru bank. Either of the two, you'll need to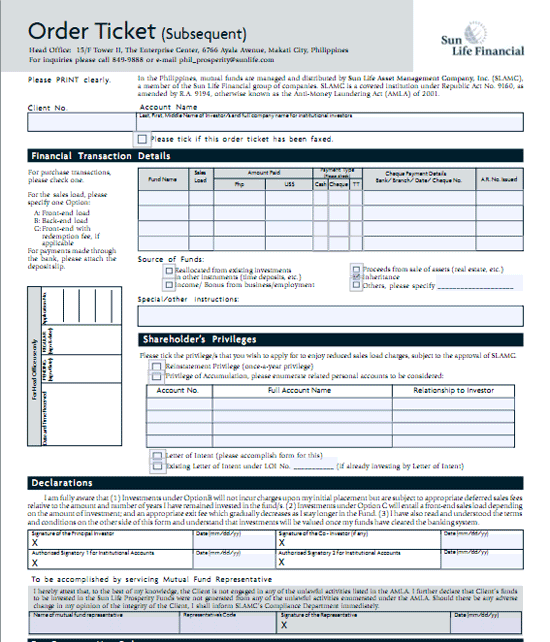 Fill out the Order Ticket (Subsequent) with the following infoClient No.:
Account Name:
Fund Name:
Sales Load: (either A for front end, B for backend or C for combination of A & B for big accounts)
Amount Paid:
Payment Type: (check only)
Deposit Slip / Check details:
Acknowledgment Receipt No. (if issued):
Source of Funds: (check only)
Investor Signature and Date:
Name of Mutual Fund Representative / Rep Code: (Here's mine just in case Garry Zaldy De Castro 084955)
Along with the Deposit Slip – fax the document to (632) 849-9744 or 849-9740. The document will be processed based on the time when the faxed document was received by SLAMC.The investor is still required to submit the original documents to SLAMC within 3 business days, except those enrolled in the Facsimile Facility. Or you- may simply submit through the Sun Life Customer Service Centers.Here's the beauty if you're my client. Instead of doing the fax thing, you may simply email the form (either scan or take a picture) to me and I'll do the rest.
Below is the list of Bank accounts where you can deposit your additional investments
To deposit your cash investments in the Peso-denominated Funds:
Account Name: Sun Life Asset Management Company Inc.
Banco de Oro 046-004225-4
Metrobank 066-3718-10691-6 Cash deposits, with charges.*
Bank of the Phil. Islands 0073-1798-07
Phil. National Bank 264-522191-8 (With charges for deposits outside Metro Manila)
Chinabank 203-103621-6
Citibank 5-602714-022
RCBC 3-001-00840-3
HSBC 000-270579-070
Security Bank 0514-020724-200
Land Bank 1801-0249-00
You may download the Sun Life Order Ticket (Subsequent Investment) here – Click the this link
Here's the cool thing. You may actually fill up the form online and just print it. Of course, you have to sign it after.
Watch out for my next post regarding this topic – How to Withdraw / Redeem your Mutual Fund Investment with Sun Life Mutual Funds.
If you want to open a mutual fund account with Sun Life, read this post – http://www.financialplanningph.com/how-to-open-a-mutual-fund-account-with-sun-life/
The following two tabs change content below.
Garry Zaldy de Castro is an advocate, Financial Advisor, Certified Investment Solicitor (Mutual Fund Representative), blogger, IT practitioner, husband to Aileen and a dad to Jacob and JohnD. He started Financial Planning Philippines in 2008 just to share his financial learning to friends, relatives and anyone who wishes to be financially independent.
Latest posts by Garry De Castro (see all)