I was lucky enough to be present in yesterday's press con of Sun Life Philippines where they handed over the result of the recent survey  conducted via SOLAR  (Study of Lifestyles, Attitudes and Relationships) FLARe (Financial Literacy Advocacy Reports) to the Insurance Commission. And I must say, that the results of the survey were very revealing on some of the good and not so good traits of us Pinoys when it comes to money matters.
Some of the interesting points from the survey are as follows
Pinoys are very optimistic. When asked how they expect their financial situation to change in the next 3-5 years, 87% expressed positive feelings.
1 out of 5 Filipinos (20%) think they're money experts but test scores from basic financial literacy quiz showed that only 8% scored above 80% and none scored more than 90%.
Study shows that when respondents were asked about financial matters, knowledge about inflation got the lowest score.
"Top personal worry of Juan: personal safety."
Juan's top priorities in the next 2 years: open a business, purchase lot, get life insurance.
8 out of 10 Filipinos would put savings in a bank to prepare for anticipated life events. 1 out of 10 would invest.
7 out of 10 believe that everyone must have life insurance.
There's 1.14% life insurance penetration in the Philippines.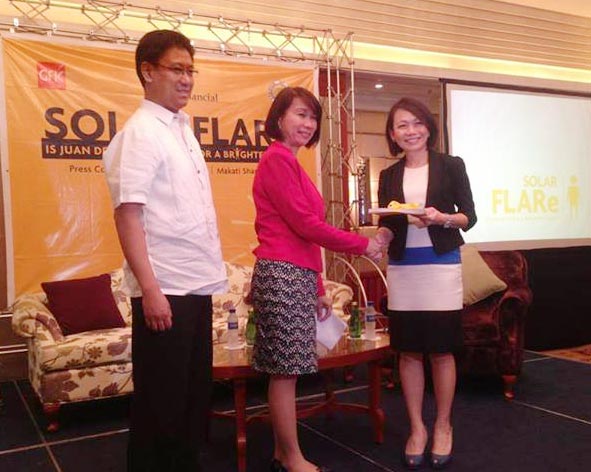 Here's the Press Release of Sun Life Philippines for a better appreciation of the study.
For the past five years, Sun Life has been conducting a nationwide Study of Lifestyles, Attitudes and Relationships (SOLAR) to gain insights on the public's attitudes and behavior toward financial matters. This research has been instrumental in helping Sun Life pursue its thrust to raise financial literacy among Filipinos.

Uncovering a Paradox

Conducted during the first quarter of 2013 with 1,100 respondents coming from middle to upper income segments, the findings of this year's SOLAR have been compiled in an account titled SOLAR FLARe or the Financial Literacy Report. Here, Sun Life discovered that Filipinos are confident about how they manage their finances, with 20% claiming to be an expert. However, test scores from a basic financial literacy quiz revealed a need for them to be educated further as only 8% scored above 80% and no one scored over 90%.

The report also looked into the priorities of Filipinos. When asked how they are preparing for these milestones, 8 out of 10 would rely on bank savings, overlooking other options such as life insurance and investments.

L-R Ms. Mylene Lopa, Sun Life Phils' Chief Marketing Officer, Ms. Rosanna Balderama, Managing Director of GfK Phils and Ms. Riza Mantaring, Sun Life Phils' President and Chief Executive Officer

"While SOLAR FLARe reveals a lack of knowledge of some financial concepts, it does indicate an improving attitude towards life insurance. Life insurance is now considered by a third of the respondents as a priority purchase for the next two years," said Sun Life Philippines President and Chief Executive Officer Riza Mantaring.

Advocating Financial Literacy

SOLAR FLARe upholds Sun Life's tradition of understanding Filipinos and teaching them how to achieve lifetime financial security. It will be noted that Sun Life launched "It's Time!" in 2009, the first multi-media financial literacy advocacy in the country, meant to educate Filipinos on financial preparedness.

During the official presentation of Sun Life's report to the Insurance Commission, Mantaring expressed Sun Life's desire to strengthen the partnership between public and private sectors in widening the reach of financial education.
Just so you know, here are some of the questions asked in the survey. Let's see how you fair by commenting the number of your correct answers below.
Which of the following statements about inflation is false ?

Higher inflation means higher prices of consumer goods
Purchasing power is lower if inflation is high
As inflation rises, every peso will buy a fewer amount of goods.
None of the above
All of the above

The formula for a healthy budget should be …

Expense + income = Savings
Income – savings = Expenses
Income – expenses = Savings
None of the above

If a savings account has an annual interest rate of 2 percent, how much will a P100,000 deposit earn after a year?

P2
P20
P2,000
P20,000

Which of the following can be considered an asset?

Cash
Credit
Utility bills
All of the above
None of the above

Which of the following can be considered a debt?

Insurance
Loan
Real estate
All of the above
None of the above

Which of the following can be considered an investment?

Stocks
Taxes
Revenue
All of the above
None of the above

Did you get all the correct answers? Comment and let us know! Please SHARE to spread the news!
The following two tabs change content below.
Garry Zaldy de Castro is an advocate, Financial Advisor, Certified Investment Solicitor (Mutual Fund Representative), blogger, IT practitioner, husband to Aileen and a dad to Jacob and JohnD. He started Financial Planning Philippines in 2008 just to share his financial learning to friends, relatives and anyone who wishes to be financially independent.
Latest posts by Garry De Castro (see all)