I'd like to make this short and simple as I tend to write long articles when I get carried away with the topic that I'm writing. I just want to share my wonderful experience at the 'Steps to Financial Peace' by one of my idols in personal finance, no other than Randell Tiongson.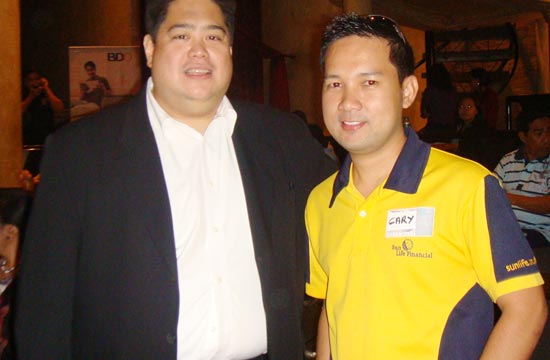 If you're not very familiar with the event, it's called 'Steps to Financial Peace' by Randell Tiongson, along with gurus like Jayson Lo, Francis Kong, and Paulo Tibig held last Aug. 12, 2011 in Greenhills.
Here are some of the key ideas that stuck in my mind. I'd love to discuss everything in details – one by one  in my next posts.
70-30 Rule – Save 30% of your income and live on the 70%. On the 30%, save and invest the 20% for retirement and long term plans. Tithe the 10%.
Personal Finance is 80% behavior and 20% knowledge – You don't actually need to be a rocket scientist to be wealthy. Just by having the right behavior, you're good to go. So don't make that excuse that you are poor because you don't have high grades when you were still in school.
Jayson Lo on the Topic Get Out of Debt
If you have money problems, more often than not, you have or you will have marriage problems.  Jayson Lo shared that the top 3 common problems encountered in marriage are a.) communication b.) money c.) sex
The most simplest way to be financially independent – Spend less than what you earn and do it for a Long Time, then you will be financially independent.
Don't lend money to your friends if you value the friendship. A lot of relationships have been destroyed because of money.
Never guarantee for someone else's loans. These are the likes of co-maker, guarantor etc. It is written in the Bible – Proverbs 17:18 (CEV)
on Francis Kong
It was the first time I saw Francis Kong in person and I was stunned by his presence. All I can remember was that he shared his speaking engagements here and abroad and all the while that he is talking, I can't help but admire this guy. Deep in my mind, I want to be like Francis Kong. I will be like Francis Kong someday. He sure knows how to engage with his audience.
on Paulo Tibig
I'm really sorry, but I can't help but think that the part of Paulo didn't get much of my attention. The setup was a question and answer. I don't know but looks like a little unprepared for me. Or maybe just like what Randell mentioned. There really is a big gap to fill if your turn to speak is after Francis Kong.
on Randell Tiongson
Randell showed us the video on Economic Freedom. Below is the actual video.
Basic Steps to Financial Security – This one I liked the most. I've encountered a lot of steps in achieving financial freedom, some are 4 steps, 5 steps, 8 steps. But this one kinda seals them all. Altho if you'll look at all the different steps, they are in one with the things that one must do.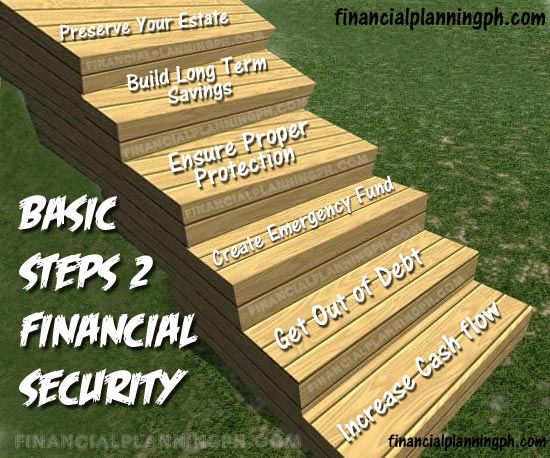 (This is not the original illustration showed to us by Randell. I just felt that it should be presented this way).
Reminded by these steps, I kinda feel a little confident that it was actually what I was telling to my clients and what I'm trying to get across with this blog AAFP – Phils. The idea is that, in order to achieve Financial Security, you have to go step by step. As most of them say, 'There are no Shortcuts in getting Wealthy".
Of course, some smart ass will say, you can if you win the lotto. Maybe yes, but only for 5-6 years. Did you know that almost all lotto winners after 5-6 years of winning ended up broke or worse than their previous life.
You have to go thru each step. You can't invest if you have debt. You can't think of Estate planning if you don't have emergency fund yet. And the most basic, you can't do all those things if you don't have fund yet.
Anyway, I'd love to dedicate a single post on this topic later – Basic Steps to Financial Security. Watch out for it.
The following two tabs change content below.
Garry Zaldy de Castro is an advocate, Financial Advisor, Certified Investment Solicitor (Mutual Fund Representative), blogger, IT practitioner, husband to Aileen and a dad to Jacob and JohnD. He started Financial Planning Philippines in 2008 just to share his financial learning to friends, relatives and anyone who wishes to be financially independent.
Latest posts by Garry De Castro (see all)