One specific group of people that I personally want to be enlightened with Financial Literacy are the Overseas Filipino Workers (OFW). I can vividly remember in one workshop that I attended wherein we were ask 'which group of people do you want to help?' I wrote 3. One is family and friends (obvious choice), OFWs and call center agents.
Why OFWs? For one, I have personally witnessed the vicious cycle of a lot of OFW kababayans. They'd usually have a good life while working abroad, their families are well taken cared of, buying the things that they want, building big houses etc. But by the time they stopped working, that's where the problem begins. Since they weren't able to plan for their retirement, they began selling jewelries, property etc. just to get by.
I know these by heart since I have lots of OFW relatives and I feel very sad seeing their stories unfold. Good thing Pesos and Sense dedicated one episode on the topic of OFW – What Overseas Filipino Workers must do while working outside the country?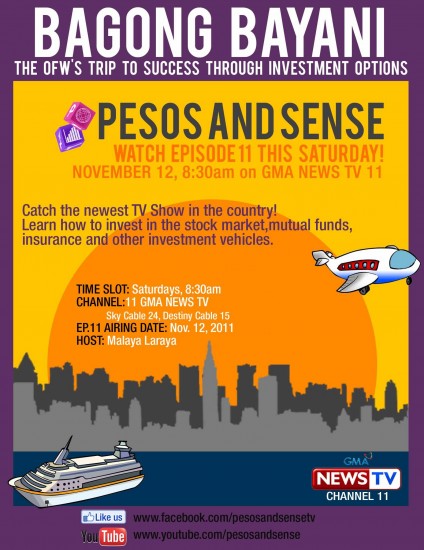 So if you're an OFW, you better watch this. Find out what you need to acquire while working outside the country and sacrificing your precious time away from your family.
Video 1 – Basic step is to learn how to save. Always remember that 20% should go to "SAVINGS" and later learn to "INVEST".
Video 2 – What investment should OFWs get? Using Aya's Invesment Diagram, Aya recommended 4 – Insurance, Real Estate, Mutual Funds and long term Stocks investment.  Ms. Odette Alsola, the episode guest shared her story as an OFW and Aya recommended basic investments that she should have.
Sample of Insurance product – Sun Maxilink Prime – http://www.financialplanningph.com/sun-lifes-maxilink-prime-insurance-with-investment/
Video 3 – Mike Vinas, Marketing Officer of Citiseconline shares how to earn from Stocks investing.
Video 4 – Ask Aya portion
The following two tabs change content below.
Garry Zaldy de Castro is an advocate, Financial Advisor, Certified Investment Solicitor (Mutual Fund Representative), blogger, IT practitioner, husband to Aileen and a dad to Jacob and JohnD. He started Financial Planning Philippines in 2008 just to share his financial learning to friends, relatives and anyone who wishes to be financially independent.
Latest posts by Garry De Castro (see all)