Last Saturday, during our small group seminar in Starbucks SM Bacoor, one attendee asked about the similarity / difference of a Pre-Need company from an Insurance company. Most probably, we already know where the question is coming from. It's been all over the news – the Insurance Commission ordering a 'Stay Order' on Prudential Plans Inc. The order says…
With the "Stay Order" decision, all payment of claims by planholders effective February 6, 2012 are suspended. That means starting February 6, all Prudentialife planholders cannot file for any claims against the company until its corporate rehabilitation plan is approved.  All claims being processed, however, as of February 6 will still be honored and funds will be released to planholders.
Technically, comparing a pre-need company with an insurance company is like comparing apples from oranges. Though they are both fruit, but they are completely different in how they operate and investment strategies. Pre-need plans have guaranteed returns on a pre-determined period (say education plan, pension plan, memorial/burial plan). Insurance, on the other hand, pays the beneficiary for a guaranteed amount in case the insured life dies. (will make an additional article on this subject).
I'm not sure if the one who asked that question completely understand what I told him that time so I think I need some reinforcements. Guess who's the person I got to back me up – no other than Sun Life Financial Phils. President Ms. Riza Mantaring. (you think I'm joking, hehe).
Click the photo below to watch the video of Sun Life Financial Phils. President Riza Antaring answers several questions on the matter of pre-need, insurance, stability and related ideas.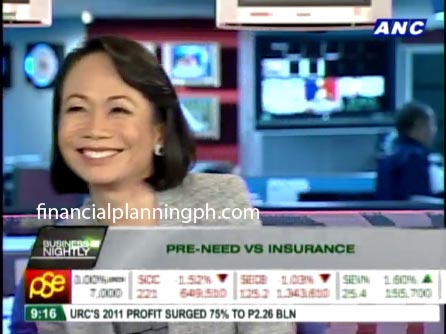 The following two tabs change content below.
Garry Zaldy de Castro is an advocate, Financial Advisor, Certified Investment Solicitor (Mutual Fund Representative), blogger, IT practitioner, husband to Aileen and a dad to Jacob and JohnD. He started Financial Planning Philippines in 2008 just to share his financial learning to friends, relatives and anyone who wishes to be financially independent.
Latest posts by Garry De Castro (see all)