Last Tuesday's episode of Reporters Notebook entitled "Banat Buto", was indeed an eye-opener for everyone.  It depicted the condition of our seniors who are still working despite their old age. I felt sad and wished I can do something to free them in the miserable life they are living.  It bothered me to some point that I was so eager to write another article relating to this.
http://www.pinoy-ako.info/tv-show-replay/82-reporters-notebook/83851-reporters-notebook-02-april-2013.html
Earlier,  I went to Manila to buy the usual supplies I have/need for my biz (One4Tees). When I got off, I saw an old man carrying a big sack of junk. I suddenly felt weary (for the second time).  A man who should be enjoying his golden years with his family is still working his ass off. I immediately turned away as I'm so vulnerable to this. Along the way, thoughts played on my mind. Where are their families? Why did they end up like this? This is definitely not the scenario I want my parents to go through. Not even a single thought.
As my part of my job as a Financial Advisor, I have read several articles in the past relating to Retirement. The facts were really alarming knowing that only few are aware of this. In this stage of tranquility, I'm not so sure if an average Filipino can still manage to retire in style unless they have some investments in the past that gives them passive income/investment income.  I attached the contribution table from SSS from one of my presentations.  Majority of us relies on the pension we can get out of SSS, thinking that this is enough, but did you know that the amount of your pension is based on the contributions you made? It's not enough to sustain your lifestyle – not to forget inflation which devalues them in a snap.
For us who are in the age of responsibility (25-45) and age of maturity (45-55), these are the stages where cumulative effects of bad and good living we did begin to show.  And while we're busy working, funding our family's needs we must have a goal. A financial goal. It is crucial that we know how we can accumulate or multiply our savings/investments. Trust me when I say, there's no other BEST TIME than TODAY.
I guess the question now will be, how do you envision yourselves in your golden years? Do you want to depend on your kids when you aged or do you see yourselves surprising them with gifts when you visit them? Your kids will still support you because they love you but you have to realize they can't do this forever because they also have a family of their own. What if your son/daughter-in-laws are not up to this set-up? I hate to think that we will all end up pitying ourselves, that we worked all our lives and yet, nothing happened. A piece of misfortune we can't getaway.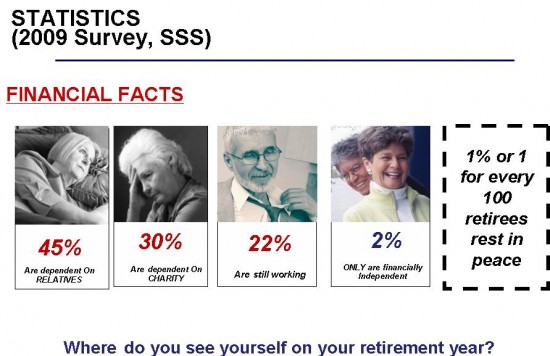 I'm not scaring you, really. It has always been my desire to show the reality.  This is REALITY. This is occurring maybe to our neighbors, friends, relatives or even to our PARENTS.  Let us enlighten the folks who still live in taboos.
If you love your parents and you know you can do something for them, a RETIREMENT PLAN will be the best gift you can hand them. If you'll ask me how much money they/you'll need for RETIREMENT? It depends on YOU. Yes, YOU ALONE. With all your possible earnings in a year, how much money can you SPARE for your golden years -at least to live comfortably not relying on anyone for your basic needs?
Again, if you need some help on this, please, feel free to buzz me.
Please SHARE this story to help others prepare for their RETIREMENT. Just one click on the SHARE button and you help spread the news. Who knows, this might be useful for them too.
The following two tabs change content below.
Sarah Odessa Natanauan
Currently a Financial Advisor of Sun Life of Canada (Philippines) Inc., Sarah is a registered nurse by profession - was able to practice it for sometime til she found herself on a new venture. Sarah is from Tanauan City, Batangas and is living happily with her family. She aims to spread financial literacy, in her own ways via realistic and striking articles.
Latest posts by Sarah Odessa Natanauan (see all)