This morning, a client texted me asking if it's ok to switch her balanced fund (mutual fund) to equity fund and if it's high time to add more money in equities NOW. I then replied to her, not yet. Let's just wait in the sidelines for the moment as the trend is still downwards. All this commotion is due to the PIIGS (Portugal, Ireland, Italy, Greece, Spain)  combined with that of US credit problem.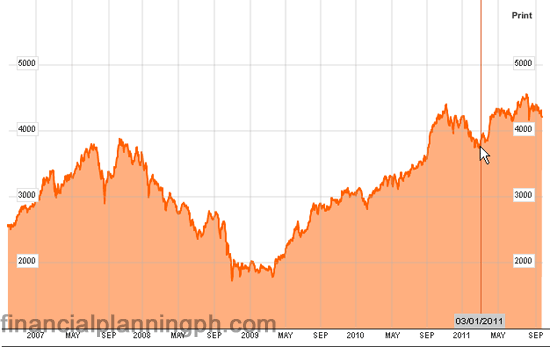 What have been happening in the Philippine Stock Market lately? Here's an excerpt from Firstmetrosec website.
Philippine equities (4,096.10, -2.57%) closed in the red for the third day (September 22, 2011) in a row following the sell-off on Wall Street overnight as the Federal Open Market Committee voted to proceed with "Operation Twist", where monetary authorities are expected to buy longer-dated US treasuries and sell shorter-dated instruments.

Volume was heavy and market breadth remained negative, as foreign transactions continued to register net outflows. All the sub-indices fell today, with the biggest percentage decline seen on the financial sector (930.14, -3.06%) as all of its constituent stocks slipped, led by BPI (55.10, -2.99%), BDO (52.65, -4.27%), and MBT (67.90, -2.72%).

The mining and oil index (21,868.53, -3.02%) was not too far behind, with AT (17.78, -5.43%), PX (23.45, -2.09%), SCC (199.60, -3.67%), LC (1.29, -1.53%), LCB (1.33, -3.62%), ORE (4.15, -7.98%), and NI (4.23, -3.20%) amongst the heavily traded losers of the day. TEL (2,238.00, -2.27%), GLO (884.00, -4.33%), ICT (50.10, -1.76%), CEB (77.00, -3.51%), and LR (7.15, -4.79%) weighed the service sector (1,450.84, -2.39%) down, while the industrial index (6,875.38, -1.99%) retreated on the weakness of MER (238.00, -5.56%), EDC (5.86, -2.66%), JFC (85.25, -3.23%), SMC (122.00, -0.81%), AP (29.80, -1.00%), and FPH (55.40, -1.16%).

The same goes for the property sector (1,437.26, -2.77%), which was pulled lower mainly by SMPH (11.64, -4.12%), ALI (14.86, -1.72%), MEG (1.77, -2.75%), FLI (1.14, -2.56%), and VLL (3.12, -1.27%), and the holding companies index (3,194.45, -2.44%), whose sentinels all tumbled with AEV (38.15, -2.18%), AC (292.00, -2.99%), AGI (9.73, -3.28%), MPI (3.09, -2.52%), DMC (36.25, -1.63%), and SM (518.00, -0.38%) on the forefront.

Among the 28 stocks that bucked the downtrend is AR (0.0077, +11.59%), the session's most actively traded gainer, whose board recently approved a joint venture deal with Canadian miner Olympus Pacific Minerals, Inc. involving the Capcapo project in the province of Abra. Flag carrier PAL (6.20, +3.33%) also moved higher on talks that businessman Manuel Pangilinan has agreed to buy the airline from Lucio Tan.
I don't expect everyone to understand the entirety of that article especially if you're not really into stocks investing. It simply means that the PSEi (phisix or index) has been down for 3 consecutive days – all in the red. From 4,300+ on Monday, it has come down to 4,096 Wednesday.
If you're invested in mutual funds, should you be worried? Here's my take on the current situation. Since most of us when we decided investing in mutual funds, our investment horizon is more than 5 years right? And knowing that the market is always on the up and down movement, these scenarios shouldn't worry us at all.
And to tell you frankly, more than it scares me, it actually excites me. Part of me is actually rejoicing knowing that we can buy more shares if the market continues to go down. (My mentor said it could go down as low as 3,500-3,300)
And if this will give you some sort of peace of mind, my mentor's fearless forecast is that the index can rise up to 7,000 in the next 5 years. How's that?
So, what should we do now? I'd say focus more on our active work and save more. So that when the time that everything eases down, we can invest more and benefit from the downtrend that we are currently experiencing now.
Happy investing!
The following two tabs change content below.
Garry Zaldy de Castro is an advocate, Financial Advisor, Certified Investment Solicitor (Mutual Fund Representative), blogger, IT practitioner, husband to Aileen and a dad to Jacob and JohnD. He started Financial Planning Philippines in 2008 just to share his financial learning to friends, relatives and anyone who wishes to be financially independent.
Latest posts by Garry De Castro (see all)