Here's another best selling product from Sun Life, it's called Sun Life Assure. It is actually a term insurance  that protects the insured from 36 Critical Illnesses. Once diagnosed with any of the 36 Critical illnesses, Sun Life releases the face amount to the insured or in the case of death of course. More details here ->
Aside from my Sun Maxilink Prime (VUL insurance), I also got Sun Life Assure for me and my wife. I believe this is the best term insurance in the market.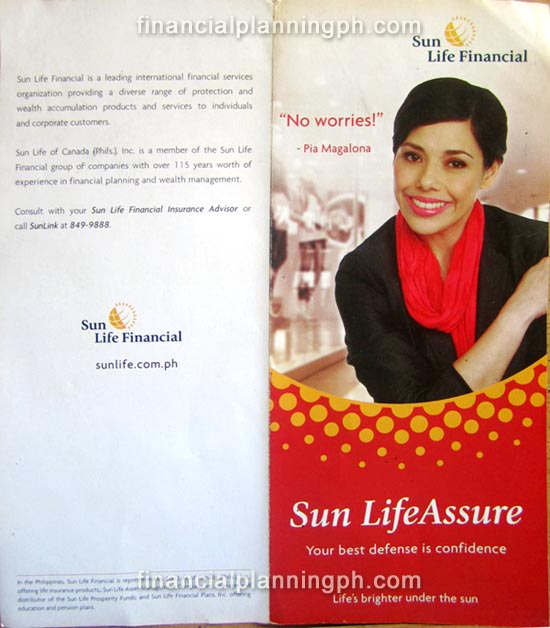 Covered Critical Illnesses
Heart Attack
Stroke
Cancer
Kidney Failure
Dissecting Aortic Aneurysm
End Stage Lung Disease
Progressive Muscular Atrophy
Major Burns
Multiple Sclerosis
Paralysis
Total Blindness
Loss of Limbs
Aplastic Anaemia
Bacterial Meningitis
Benign Brain Tumour
Deafness
Encephalitis
Amyotrophic Lateral Sclerosis (ALS)
Progressive Bulbar Palsy (PBP)
Meningeal Tuberculosis
Cerebral Metastasis
Loss of Speech
Coma
Parkinson's Disease
Terminal Illness
Medullary Cystic Disease
Alzheimer's Disease
Fulminant Hepatitis
Major Head Trauma
End Stage Liver Failure
Motor Neurone Disease
Guillain-Barre Syndrome
Critical Illnesses Requiring Surgery –  means any of the surgeries specified and defined as follows:
(33) Major Organ Transplant
(34) Coronary Artery Bypass Surgery
(35) Surgery for Disease of the Aorta (Aortic Surgery)
(36) Replacement of Heart Valve
* subject to eligibility and exclusions provisions of the policy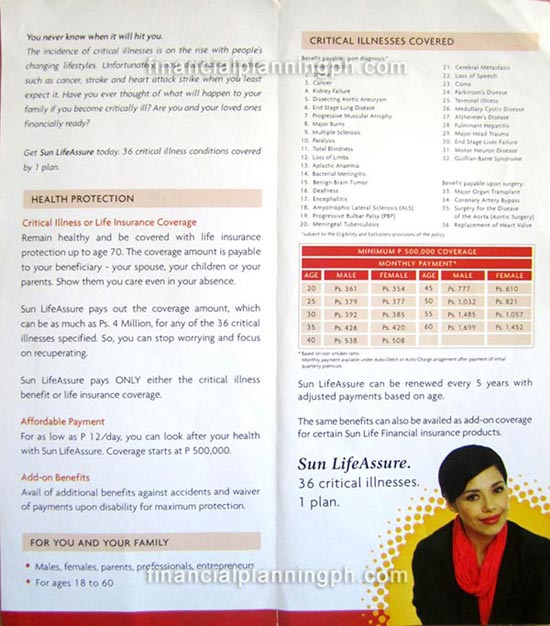 What I liked about this Plan?
It's is actually very cheap. For a P500,000.00 coverage, you only need to pay around P5,000+ a year (for a 30 year old male/female non smoker). For P1Million coverage, that's only P10,000+ a year. That's less than 1k a month.
More than that, biggest advantage of this plan is it will automatically release the face amount in case you're diagnosed with any of the 36 critical illnesses. Of course I wouldn't want that to happen. But there's always the big 'what if'. You wouldn't know what lies ahead.
In case that wouldn't happen, I'd be very glad. However, in case that happens (wag naman sana), I'd have something to support me and not use our savings and investment for the purpose of hospitalization.
Even if death comes not from critical illness, my beneficiaries will still get to benefit from the plan.
You may also charge it to your credit card to earn points that you can exchange for Jollibee or other freebies.
What I don't like about this Plan?
The mere fact that this is a term plan, it means that there are no return of payments later on. As with any term plan, the premium also increases as you grow older. In the case of Sun Life Assure, it increases every 5 years.
For example, for a 30 year old, non smoker female, payment for the first 5 years  is P5,070 per year (ADB and TDB rider included). For the next 5 years, it will then increase by P518.00 per year.  Not that big actually.
Also, if you have pre existing or history of any of the illnesses mentioned, you'll have difficulty in getting approved, as with any insurance. So better avail while young and healthy.
Will I recommend this plan?
Definitely, a big Yes. You may use this as your main insurance plan or just additional insurance on the side. As you may know, our main insurance is VUL and just added this for additional coverage. But for Buy Term, Invest the Difference aficionados, you might want to get this plan for added insurance coverage.
How can I Avail of this plan?
Want to avail of Sun Life Assure? Just fill out the form below and I'll send you a proposal based on your profile and target insurance coverage.
Don't worry if you're from Visayas or Mindanao area. I may not be able to personally assist you, but I'll make sure  that I will refer you to the best Sun Life advisors in your area.
Garry De Castro – Sun Life Financial Advisor  (Makati / NCR / Bulacan / Bataan / Pampanga)
M – 0922 897 8977 / 0916 414 7400
E – garryzaldy.s.decastro [at] sunlife.com.ph / garrydc [at] financialplanningph.com
Just a request though. Once I send you the proposal, please confirm with me that you received it. 

The following two tabs change content below.
Garry Zaldy de Castro is an advocate, Financial Advisor, Certified Investment Solicitor (Mutual Fund Representative), blogger, IT practitioner, husband to Aileen and a dad to Jacob and JohnD. He started Financial Planning Philippines in 2008 just to share his financial learning to friends, relatives and anyone who wishes to be financially independent.
Latest posts by Garry De Castro (see all)