Updated Feb 2018
Are you looking for the best value for money VUL Plan in the Philippines? Take a serious look at Sun Life's Sun Maxilink Prime.
Sun Maxilink Prime is the first Life Insurance I got for me, my wife and my sons Jacob and JohnD.
The good thing about this sun life insurance product is that part of your payment pays for the insurance and part is invested in a mutual fund like investment.  So your family / dependents are protected in case of dying too young (wag naman sana) and at the same time, you can also benefit if you live too long (for retirement).  Ika  nga, walang tapon, walang sayang.
[How much Life Insurance coverage do you really need?]
Sun Maxilink Prime is actually a VUL (Variable Unit-Linked ) Insurance. To better understand what a VUL is, check this video of Pesos and Sense.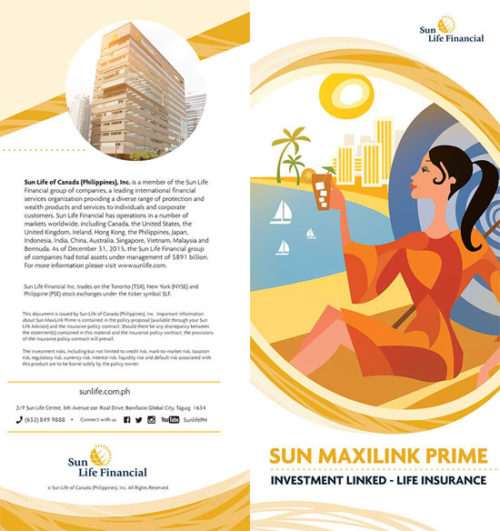 Here's the exact words from Sun Life Financial website.
The Sun MaxiLink Prime is a peso denominated variable life insurance plan (VUL) that provides financial protection PLUS a potential source of savings that can fund future needs like retirement income through its investment earnings. There are 5 funds to choose from where your premium payments will be invested in. These funds are managed actively and prudently by our top-notch investment professionals.

Sun MaxiLink Prime is payable for at least 10 years*

* The premium paying period is not guaranteed. You may be required to pay additional premiums after 10 years if the fund value is insufficient to pay charges. (cases like consecutive years of bad economic situation, delayed payments and skipped payments)
Here's my realization why I had to get a life insurance. Why it's a must for every breadwinner –
Being the head of my family, I have lots of dreams for my son Jacob. I want him to be successful in any field he chooses later on. But what if I Die Too Young. Those dreams will die with me. So the idea of life insurance is that, it can replace my income. So in essence, even if I die, that dream can still live on with my insurance benefits. It can be used by my wife to support for both of them and Jacob's education also.
If I had known this product earlier (way back when I was still single), I would have gotten it already. Imagine if I was able to get this at age 24 or 25, I would only need to pay 3 years and it's already fully paid.
How Much is Sun Maxilink Prime?
The cost of Sun Maxilink Prime greatly depends on your desired insurance coverage and your current age. Normally, the quotation will reflect Benefit Amount. The death benefit is actually 200% of the benefit amount so for a P350,000 benefit amount, the insurance coverage is P700,000.
The minimum available plan for Sun Maxilink Prime is P350,000 benefit amount or an insurance coverage is P700,000. Meaning, in case of death of the insured, P700,000 will be the amount your beneficiaries will receive. How much is that? For a 20 year old male non smoker, that's around P19,000 per year or something like P1,600 per month. For a 30 year old male, around P21,000- P22,000 per year or P1,800 per month.
Most likely, you'd want a bigger insurance coverage especially if you're the breadwinner of the family or you have people depending on your income. Say you want a P2 Million insurance coverage, how much will that be?
Male 30 years old, non smoker with an insurance coverage of P2 Million – around P60,000 per year or P5,000 per month.
Female 30 years old, non smoker – around P55,000 per year or P4,600 per month.
Sun Maxilink Prime Rates
above figures are based on special rate for non-smokers, with riders Accidental Death Benefit and Total Disability Benefit, rounded off to the nearest thousand.
Sun Maxilink Prime Sample Proposal
Here's an actual proposal for myself when I got the plan – (this is actually my 3rd insurance plan at the time I got it)
Update – my total life insurance coverage as of Dec 2017 is around 8 Million. Is it enough? Check this article Is Your Life Insurance Coverage Enough?
Here are the details of 1st Sun Maxilink Prime I got from Sun Life.
Garry, 30 years old, Male, non-smoker
 My Investment
P32,000

a year (P2,667 per month) for 10 years or a total of P320,000
Insurance Benefit
P1Million

 Insurance coverage will be received by my beneficiaries (death coverage is 200% of the face/benefit amount)

P1.5Million

 in total in case of Accidental Death (additional P500,000) – (ADB Rider)
Waiver of payment in case of Total Disablement (TDB rider)

P1,000 per day

Hospital Income  (HIB Rider) for a minimum of 3 days confinement
Living Benefit at 10% per annum assumption – (money you can withdraw  after certain years)
After 10 years – P357k
or After 20 years – P892k
or After 35 years (age 65) – P3.58Million 
Other optional rider (depends on which country you're working)
Accidental Death, Dismemberment and Disablement (payment up to 100% of face amount in case of loss of certain body parts like hand, foot, finger, eyesight etc)
Critical Illness Benefit
Hospital Income Benefit
Waiver of Premium upon death of initial owner (if the life insured is a child)
Waiver of Premium upon death or disability of initial owner (if the life insured is a child)
Basically, there's nothing to lose.  I will be required to pay for 10 years so my total contribution is P320k in 10 years. During those time, in any case I die (wag naman sana agad), my family will instantly get P1Million. So it's like I'm buying P1Million with P320,00 on an installment basis for 30 years. How good can it get, right?
And if I live too long, (grow old up to age 75-80 hopefully), I can then enjoy the fund value of more than P3.58Million (projection at age 65 10%). Not bad di ba?
Also, in case of emergencies, I am allowed to make partial withdrawal on the fund value without any interest or whatsoever. It's my money anyway. As long as the fund value does not equal to zero, the insurance is still in-forced.
The one I showed above is only for 1 Million death coverage – P32,000 a year or P2,667 per month.

For a 1.5 Million death coverage, payment (premium) is at P48,000 a year or P4,000 per month.

For a 2 Million death coverage, payment (premium) is at P64,000 a year or P5,334 per month.

For a 3 Million death coverage, payment (premium) is at P96,000 a year or P8,000 per month.

For a 4 Million death coverage, payment (premium) is at P128,000 a year or P10,667 per month.

The best part of it – you don't have to die to benefit from it. Even while living, you can get to withdraw the fund value at a rate better than what our banks are giving us.
Ikaw ba insured na? Get a sample proposal if you don't have any form of insurance yet. Aside from wealth accumulation feature, getting an insurance is one of the many ways of showing how we truly love and care for our family.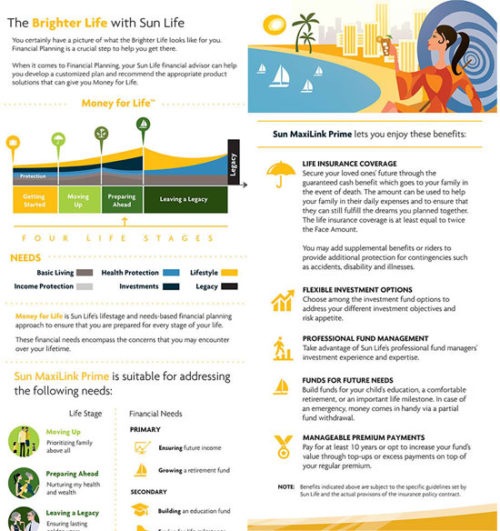 FREE Proposal
Want a FREE proposal based on your age and profile? Simply fill up the form below. Note: One must be in the Philippines at the time of application.
Garry De Castro – Sun Life Financial Advisor  (Manila / Makati / Bulacan / Bataan / Pampanga / Cavite / Laguna ).
In case you're outside my jurisdiction, I'll refer you to a trusted Sun Life advisor in your area say you're in the Visayas or Mindanao area.
Mobile – +63922 897 8077 / +63 916 414 7400
Viber – +63916 414 7400
Email – garryzaldy.s.decastro@sunlife.com.ph / garrydc@financialplanningph.com
The following two tabs change content below.
Garry Zaldy de Castro is an advocate, Financial Advisor, Certified Investment Solicitor (Mutual Fund Representative), blogger, IT practitioner, husband to Aileen and a dad to Jacob and JohnD. He started Financial Planning Philippines in 2008 just to share his financial learning to friends, relatives and anyone who wishes to be financially independent.
Latest posts by Garry De Castro (see all)