If my memory serves me right, on October 21, 2012 will be my 2nd year in the stock market. I started investing in the stock market on October 21, 2010. And so far so good. Comparing my gains with that of my mutual fund accounts (that's my benchmark), I could say that I'm doing pretty good. (I still believe that if you can't outperform mutual fund's performance, then it might be more practical investing in Equity Funds than direct stocks investing).
One time, while I was doing a Financial Needs analysis with a client, she asked me. "Garry, how did you start investing in the stock market? Who taught you or gave you the idea? How do you choose which companies to buy? Or when to sell?"
(I've actually wrote that story. Read it here if you haven't  Investing in the Stock Market – A Personal Experience
I wasn't able to answer quickly. I had to pause and think for a while. Starting was easy, you just have to fill in some forms, submit and fund your account. The not so easy task is choosing which companies to buy and when to sell. Then I just realized, the Truly Rich Club had a great part in my stock market investing. The guidance, the knowledge in choosing which stocks to buy, when to sell etc. Added the other materials they provide, that makes a lot of difference.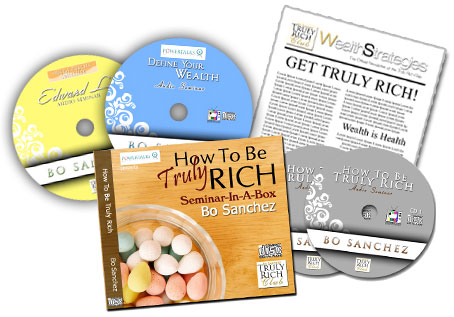 So what's the Truly Rich Club? It's actually a paid monthly newsletter subscription from Bo Sanchez. How much is it? Only P497/month for local residents and P997/month for international residents. Is it worth it? Based on my personal experience, VERY MUCH WORTH IT.
(In case you sign up via links in this article, I'll get P99.40 for every successful sign ups, Thank you!)
Here's what Truly Rich Club is all about as shared by Ralph Jason.
"If you want to know what God thinks of money, just look at the people he gave it to." 
– Dorothy Parker
My financial awareness started when I read Robert Kiyosaki's Rich Dad Poor Dad. And during that time, I was looking for a Filipino counterpart who can be my mentor and guide towards financial freedom. I found respite when I met Bro Bo Sanchez in one of his talks and seminars. That was when he introduced the Truly Rich Club (TRC).
In a nutshell, the Truly Rich Club (TRC) is a membership site aimed to help us create wealth, guided by Biblical doctrines and values. The group engages mainly in the stock market investing but also gives stratagems on other areas like businesses, mutual funds, etc.

What are the perks of joining this club?
For starters, the E-books that bro. Bo Sanchez wrote like
 How To Conquer Your Goliaths
How To Turn Thoughts Into Things, and
My Maid Invests in the Stock Market and Why You Should Too
These are one of the best books there is that is easy to comprehend and relate too.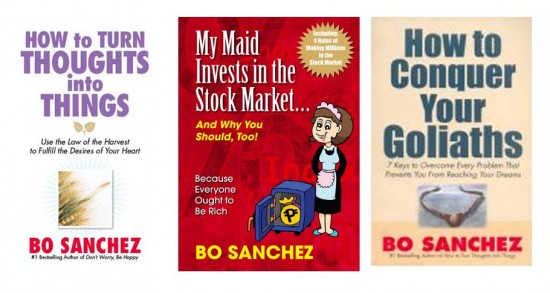 If you can not attend Bro. Bo's talks/ his "How to be Truly Rich Seminar", you can view his Powertalks in the group's site. These mp3 recordings are great because I can listen to it everyday and I can get inspired or re-energize myself when I need to. His interviews with successful people are also awe-spiring.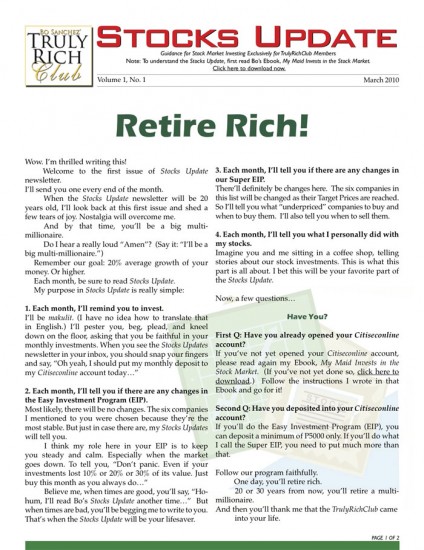 Wealth Strategies are given weekly to update the members of different wealth building actions that can be done by anyone. It is both educational and motivating because you can learn from prominent business mentors or from the experiences of the mentors as well to improve our financial life.
Everyday, Bro Bo will send to your email GodWhispers that serve as our daily devotional treats to keep as satiated with Biblical values and principles. In here, Bo reminds the group everyday of who God is and what He plans for us.
And certainly, one of the most important aspects of the Truly Rich Club is Bro. Bo's Stock Updates. Twice each month, he releases a newsletter where he discloses the stock picks that he himself invests into. It is a recommendation from his mentors and staff analysts on which companies to buy, when to buy and when to sell. This is actually very important and beneficial to those who do not have the resource to study the market as closely as possible. It is like having a guide or manual on where to put your money so that it can work for you efficiently.
You can also earn passive income by becoming an affiliate of the Truly Rich Club and with other Bo Sanchez's  internet newsletters to earn commissions.
And because the people behind TRC believe so much on how they are helping people reach their financial and spiritual growth, they are giving guarantees in their membership. If, for example, on the first month of your membership you decide to conclude your connection with the group or you see that continuing further your membership will not help you substantially in claiming your financial freedom, Bo's Truly Rich Club will return your money (no questions asked) and, still, you get to keep all the free materials he has sent you as a gift just for trying. They call it Get WOWED or your Money Back Guaranteed
 Truly, being rich is all about helping others while learning something good in return. Success is bound for those who continue to have a positive outlook in life and those who strive to continually enrich themselves with knowledge and wisdom.
To learn more : click here
To those who are fellow subscribers of Truly Rich Club, please feel free to share also your experience by commenting below. 😀
If you feel this article helped you and should be read by your close friends and Facebook friends, please feel free to SHARE. Happy Investing!
The following two tabs change content below.