Last night, I received an email coming for Business Maker Academy informing that they have this upcoming seminar "Develop Your Sales & Marketing Skills" come October 5, 2011 (Wednesday).
I quickly replied telling them that I can promote their seminar if they can give AAFP readers some sort of discount. And guess what, they are willing to give us P500 discount.
In case you'd like to attend and avail of the P500 discount, just send me an email to garrydc@financialplanningph.com with your full name and I'll send you the discount voucher.
Here are the details of the seminar.
"Develop Your Sales & Marketing Skills"
Date: October 5, 2011 (9am to 5pm)
Venue: 1503A West Tower Philippine Stock Exchange Bldg (Tektite), Exchange Road, Ortigas Centre, Pasig City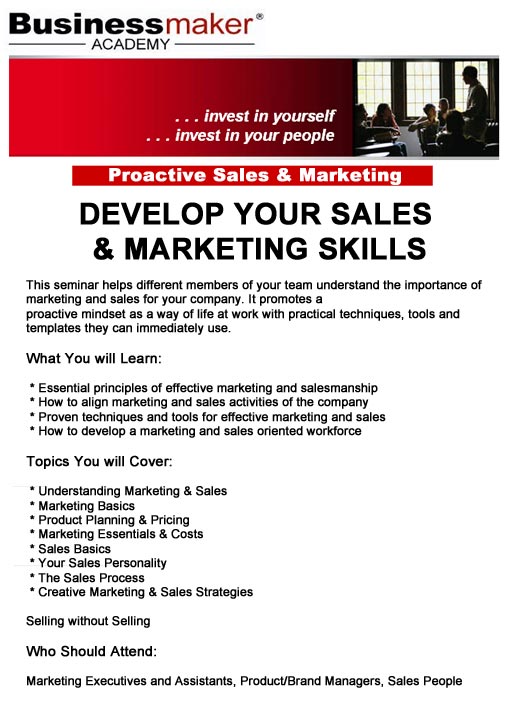 This seminar helps different members of your team understand the importance of marketing and sales for your company. It promotes a proactive mindset as a way of life at work with practical techniques, tools and templates they can immediately use.
What You will Learn:

Essential principles of effective marketing and salesmanship
How to align marketing and sales activities of the company
Proven techniques and tools for effective marketing and sales
How to develop a marketing and sales oriented workforce

Topics You will Cover:

Understanding Marketing & Sales
Marketing Basics
Product Planning & Pricing
Marketing Essentials & Costs
Sales Basics
Your Sales Personality
The Sales Process
Creative Marketing & Sales Strategies

Selling without Selling

Who Should Attend:

Marketing Executives and Assistants, Product/Brand Managers, Sales People and all employees who need to develop a marketing & sales mind-set.

Seminar Inclusions:

Module Handout Kit
Certificate of Completion
Snacks & Drinks
Plus: Added Value in 2009!
Sumptuous Lunch
Post Course Support Learning via One (1) Year Membership to the Businessmaker Network!

Seminar Investment:

Rate Per Course:
Reg Rate = Php3800
Early Bird = Php3500*
*enroll 8 days prior

How to Enroll: 3 easy steps!

Choose Your Course

You may call us at 6874445, 6874645 or 6873416,visit our office or our website at www.businessmaker-academy.com and book a slot.

Remit Payment

You may visit & pay at our office, or
You may pay thru Bank Deposit:
Savings Account Name: Businessmaker Academy, Inc.
BPI SA Acct #: 4013-0306-64
BDO SA Acct #: 280-622-422
(Pls fax deposit slip to 6874445 loc 814, include name & course)

Attend the Class

Please bring your deposit slip or receipt. Then enjoy learning!

Address: 1503A West Tower Philippine Stock Exchange Bldg (Tektite), Exchange Road, Ortigas Centre, Pasig City, Philippines
Tel. Nos.: (632) 6874445, 6873416 loc. 801
Telefax No.: (632) 6874645
I haven't really attended any of their seminars yet. But will be attending the Forex Seminar this coming September 24. If you'd like to join me, just let me know, I might be able to give you a discount also.
Tags: seminar