Just a brief background on Life Insurance. I truly feel that Life Insurance is one of the most under rated financial instrument due to the controversies in the past and also in the way some agents are selling this product. But if you will fully understand the purpose of this product, the benefits are countless. Among all financial investments, Life Insurance is a MUST especially if you have dependents.
What is Life Insurance?
Life insurance is an agreement between an insurance policy holder and an insurer (insurance company), where the insurer promises to pay a designated beneficiary a sum of money (the "benefits") upon the death of the insured. Depending on the agreement or contracts, other events such as critical illness may also trigger payment. The policy holder typically pays a premium (payment), either regularly (installment) or as a lump sum.
The benefit or advantage for the policy owner is "peace of mind", in knowing that the death of the insured person will not result in financial difficulty for loved ones.
Life insurance tend to fall into two major categories:
Protection policies – provides a benefit in the event of death, critical illness or disability, typically a lump sum payment. A common form of this design is term insurance.
Investment policies – where the main objective is to facilitate the growth of capital by regular or single premiums. Common types are whole life and variable unit-linked policies (VUL).
———————————————————————————————————————-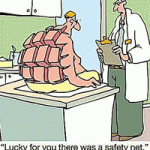 Unlike the usual scenario of hiding from insurance agents, my case was the opposite. I was the one who actually hunted my agent. After reading several books about financial planning, the urge to have an insurance quickly came into the picture. Maybe because before, I am not aware of the … Read More
—————————————————————————————————————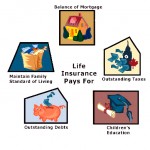 I have planned to write about this a long time ago, but procrastination always gets in the way, so my apologies for delaying this post. This should have been one of my earlier posts as it gives the necessary knowledge about the life insurance. I'm sure once a person realizes … Read More
———————————————————————————————————————-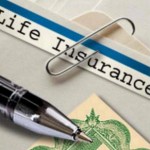 Everyday, I've been meeting and talking to different kinds of people on matters or money. People from all walks of life, young and old, thick and thin, small and big, middle class and rich, professionals and blue collar jobs. You name it, most likely I've conversed with them one way … Read More
———————————————————————————————————————-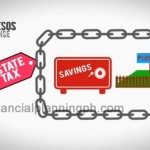 Here's the Pesos and Sense Episode 3 Video on the topic of Insurance if you've missed watching it from 2 weeks ago. According to Aya Laraya, the host, this is one area of finance that has a controversial reputation because of lack of proper information and also because of the people … Read More
———————————————————————————————————————-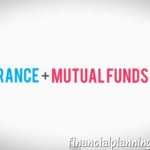 It's been more than 3 years since I started this blog Financial Planning Phils.  And over the years, readers come and go with their questions on how does this thing works, what is the minimum amount, what are the mode of payments etc. And since one reader asked in particular … Read More
———————————————————————————————————————-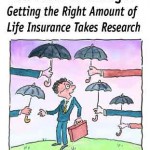 In my line of work, I often hear phrases like "I already got insurance!", "My insurance is already matured so I'm already thru with that". It's just sad to know when I ask them, is your insurance coverage enough? Most of them would answer, 'I don't know'.  Others would say … Read More
———————————————————————————————————————-
Life Insurance Solutions of Sun Life in the Philippines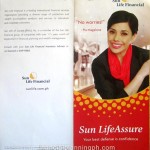 Here's another best selling product from Sun Life, it's called Sun Life Assure. It is actually a term insurance  that protects the insured from 36 Critical Illnesses. Once diagnosed with any of the 36 Critical illnesses, Sun Life releases the face amount to the insured or in the case of death … Read More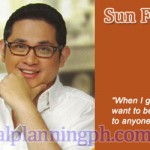 As I promised in my last post "In Search for Best Educational Plan – 2 Mother's Dillema", I'll discuss more about Sun Flexilink. When I say 'Sun Flexilink is the older brother of Sun Maxilink Prime', what I meant was simply Sun Flexilink was introduced first. It was 2004 when … Read More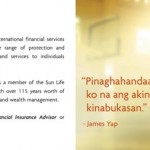 Just want to share one of the best value for money insurance product of Sun Life Financials – Sun Maxilink Prime. This is the Life Insurance I got for me, my wife and my son Jacob Benedict. The good thing about this sun life insurance product is that part of your payment … Read More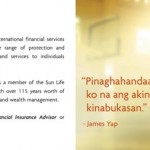 Recent survey says that the top 3 causes of death in the Philippines in the past 10 years are Stroke, Heart Attack and Cancer. And the Top 4 Cancer Killers in the Philippines are Breast Cancer for female, Lung Cancer, Liver Cancer and Colorectal Cancer for males. What would happen to you or your family if anyone gets hit with any of these illnesses?
…Read More
———————————————————————————————————————-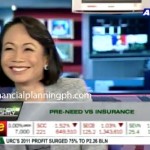 Last Saturday, during our small group seminar in Starbucks SM Bacoor, one attendee asked about the similarity / difference of a Pre-Need company from an Insurance company. Most probably, we already know where the question is coming from. It's been all over the news – the Insurance Commission ordering a … Read More
———————————————————————————————————————-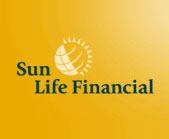 I have good news to all Sun Lifers' readers and Sun Life policy holders alike. Sun Life is the No. 1 Life Insurance company in the Philippines for 2011 based on premium income! That's a mouthful.   This is according to the latest report released by the Insurance Commission – pdf file … Read More
.
The following two tabs change content below.
Garry Zaldy de Castro is an advocate, Financial Advisor, Certified Investment Solicitor (Mutual Fund Representative), blogger, IT practitioner, husband to Aileen and a dad to Jacob and JohnD. He started Financial Planning Philippines in 2008 just to share his financial learning to friends, relatives and anyone who wishes to be financially independent.
Latest posts by Garry De Castro (see all)