Following the success of our Financial Planning Seminar last November 12, 2011, we're again running "All About Financial Planning Seminar" on November 26, 2011 (Saturday). This is after we received several requests and inquiries and to cater to those who were not able to attend the first one.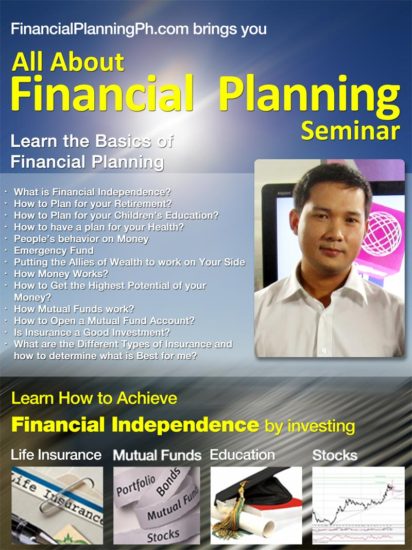 Learn the basics of Personal Finance as we give you the concrete foundation on how to achieve financial independence.  Some of the topics that will be discussed are as follows:
What is Financial Independence?
How to Plan for your Retirement?
How to Plan for your Children's Education?
How to have a plan for your Health?
People's behavior on Money
Why are most Filipinos Poor?
Putting the Allies of Wealth to work on Your Side
How to Get the Highest Potential of your Money?
How Mutual Funds work?
How to Open a Mutual Fund Account?
Is Insurance a Good Investment?
What are the Different Types of Insurance and how to know which one is best for me?
Investing in the Stock Market Experience
Right after the seminar, you will have a chance for a FREE one-on-one personal finance consultation with yours truly and my team should you want to consult your financial problems or inquiries.
When : 1:00-3:30pm (Saturday) November 26, 2011
Where: McDonalds Quezon Ave. cor Dr. P. Garcia (beside Mercury Drug, near Pantranco) Quezon City
Fee: P200.00/pax (onsite registration) or P175.00/pax for pre-registration (bank deposit – details upon requests). Registration fee will be for  food, drinks and handouts.
Best for beginner and intermediate investor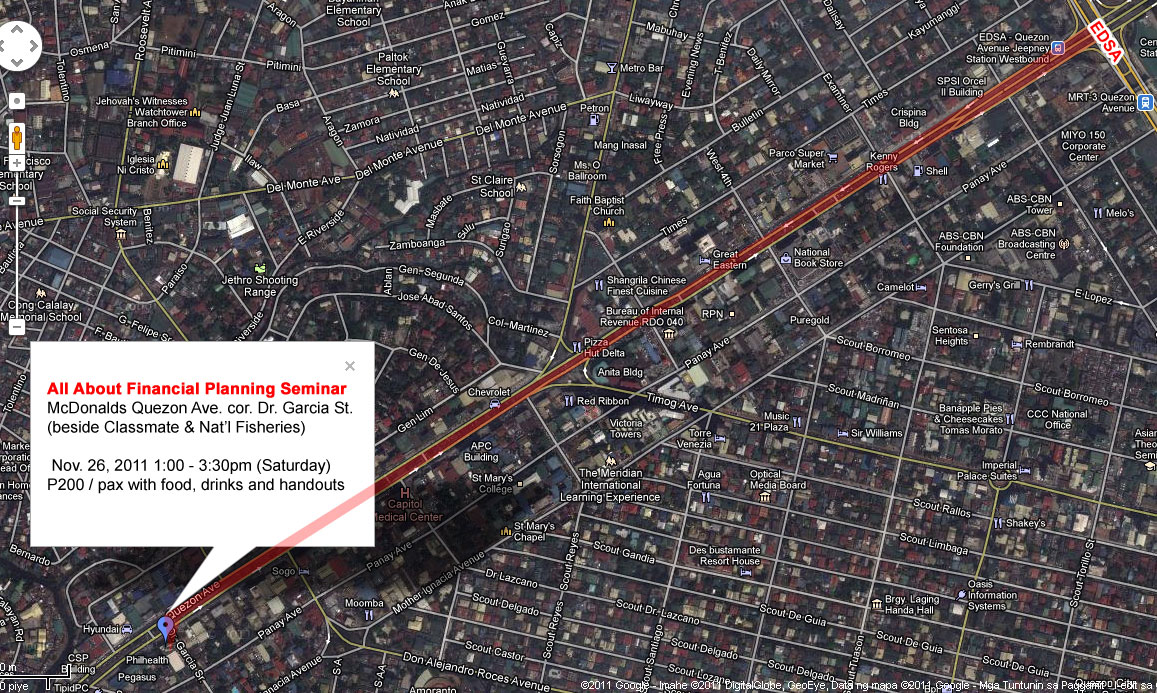 If you're interested to attend or would want to send this an early Christmas gift to your friends or relatives , kindly fill up the form below and indicate if you'd like to pay on-site or pre-register so that I'll send you the bank details for the deposit. Fill up only if you are sure to attend.
If you feel you're friends or relatives can benefit from this seminar, please feel free to share on Facebook by clicking the Share / Like button. Let's spread Financial Literacy and May we all achieve Financial Independence.
The following two tabs change content below.
Garry Zaldy de Castro is an advocate, Financial Advisor, Certified Investment Solicitor (Mutual Fund Representative), blogger, IT practitioner, husband to Aileen and a dad to Jacob and JohnD. He started Financial Planning Philippines in 2008 just to share his financial learning to friends, relatives and anyone who wishes to be financially independent.
Latest posts by Garry De Castro (see all)