Sometime last month, Floi Wycoco sent me a message asking if I can help promote the upcoming seminar organized by TGFI Facebook Group (The Filipino Global Investors) entitled "Bulls Session – TGFI Manila Market Outlook 2013". Of course, I happily obliged. That seminar actually happened yesterday March 9 and I was there, too.
Since the event was limited to only 100 participants, let me give you an overview by sharing my experience to those who weren't able to attend. A disclaimer though – this is not intended as a full coverage nor a report or a criticism. This is just based on my experience – key points that made an impact on me, so no one can attest to that – :D.
Bull's Session – TGFI Manila Market Outlook 2013 Experience
I arrived at around 10:30am, it was scheduled to start at 11am. It was my actually my first time at the National Press Club. I even caught Floi and Doc Khristian Santos at the gate putting the banner of the event. As expected, the venue was full to the brim when the actual seminars started.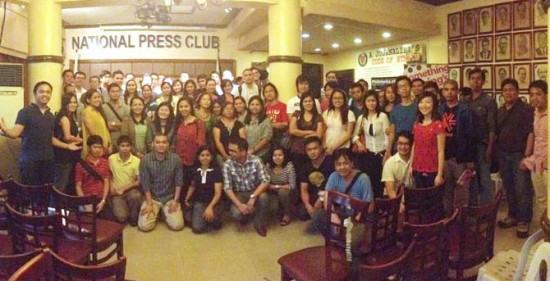 Talk 1 – Aya Laraya on Fundamental Analysis
– First met Aya Laraya on Pesos and Sense when I was luckily invited to guest in the show Pesos and Sense (My Pesos and Sense Experience) – shameless plug, hehe.
As expected, Aya's presentation was full of content. He first gave a Macro to Micro overview of the Philippine economic situation – from Strong Peso, Strong GDP, Unemployment and Political uncertainties in the upcoming election. All these and how it can affect on the index and stocks prices for 2013.
He then gave some pointers on 4 industries namely Mining, Consumer Goods/Services, Gaming and Banking. What disturbed me a little is when he gave a rundown on some stocks in these industries with their P/E (price earnings ratio) – particularly on LC – (current P/E of 182) and BLOOM- (current P/E of 71.3). Not that I have these stocks – no I don't. But probably I haven't really been reviewing most of the stocks I buy lately.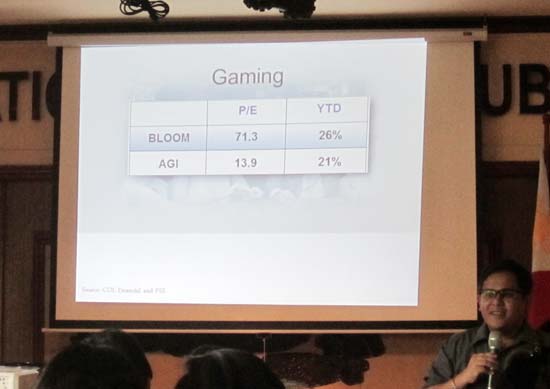 In the end, he also touched on the pending Credit Rating Upgrade and what it can actually mean to us. Lower interest on government debts, possibly less taxes, expansion for companies, more budget for infrastructure, more affordable loans and more investments which could mean more jobs.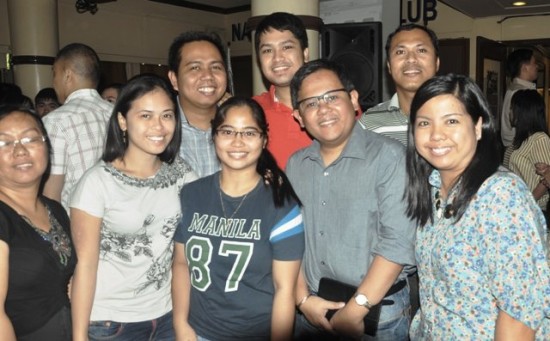 Talk 2 – Ramir Libre on Financial Planning / Mutual Funds
– I don't know Ramir Libre personally but he looks familiar. I just learned later from his presentation the he's also connected with Sun Life Financials. Only then I realized that I've already seen him in one of the recruitment events of Sun Life.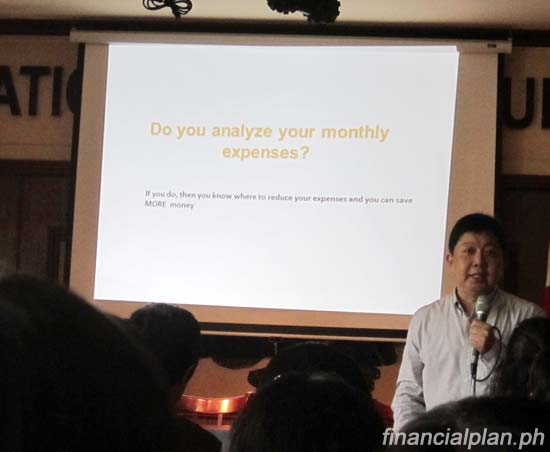 Ramir started with some sort of question on who wants to have 50 Million by the time you retire, who wouldn't? But are you willing to commit the monthly required savings to actually achieve it, he added. He stated that there are 4 ways to achieve wealth.
by inheriting it.
by marrying it.
by winning it.
and by spending less than what you make and investing the difference
[ad#content300]He then followed it with a question if you actually monitor your monthly expenses. A typical Filipino who saves 12-16% of his earnings usually puts it in a savings account not realizing that he's actually losing money. How? A savings/time deposit account only gives 1-2% per annum interest vs. the prevailing inflation of about 5-6% (average in the last 15 years).
Proper management of finances should be guided with 3 questions
Now – Where you are now?

Future – Where do you want to be?
Alignment – How will you get there?
In the latter part of his presentation, he mentioned some of the solutions of Sun Life Financials – VUL and Mutual Funds and their historical performance and how it can help anyone achieve their financial objectives like retirement and education planning.
Talk 3 – Ricky So on Odds Making
Ricky So's presentation was short but was full of content also. He started with playing billiards – first showing the photo of Manny Pacquiao and Iris Ranola. Most of us don't really know who Iris Ranola is but eventually, she's a billiards champion. As a backgrounder, he shared the story where Manny Pacquiao would play billiards against Iris with a handicap not knowing Iris was actually a better player. Given the scenario, what are the odds of Manny winning over Iris.
It was then when he related creating or determining the ODDS in stock market investing by using Fundamental Analysis and Technical Analysis by rating each category via Fundamental and Technical Analysis.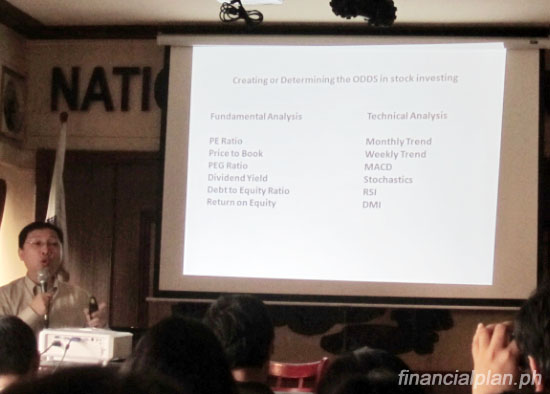 On the fundamental side, he showed a sample on Banks taking into consideration their EPS Growth, P/E Ratio, Price Book Value Ratio, Return on Equity and Dividends Yield. He then gave weights to each factor and then rank them. In the end, the average weights were computed giving total ranking on the banks. Below is the actual sample he showed (take note – this is just a sample and not a recommendation)

On the Technical Analysis side – it's more complicated than the first. Let me just share his example and let you decipher it for yourself – haha.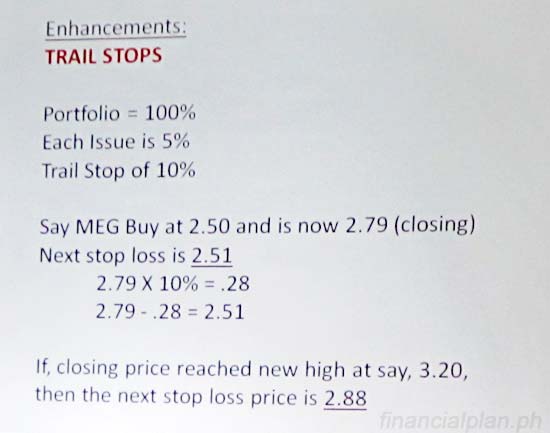 Talk 4 – Ron Acoba of Trading Edge Consultancy
By this time, I'm a little tired already so I'm not able to absorb much info. It was my first time to hear Ron Acoba or Trading Edge Consultancy actually. Probably because I'm not really a fan of technical analysis to begin with. Not to mention that I don't normally participate in stocks discussions.
The thing that interests me most on Ron's presentation was the PSE Index Target Range. He shared that based on their analysis, the index can range from 6,500 (Low) to 6,900 (Medium) to a high of 7,600.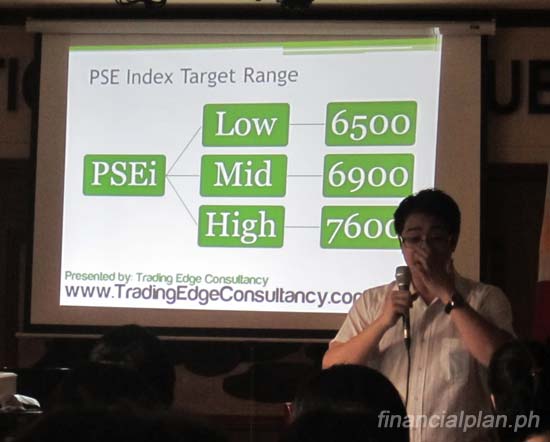 How did they come up with that? He actually showed the formula they used. It was like EPS of 2012 multiplied by the expected growth for 2013. The 6,500 came from 5700 (2012 index) multiplied by 12% EPS and so on and so forth.
I'm not sure if it was just me who noticed that Ron looked a little  nervous or "mejo gigil" in his presentation. Or probably the dilemma of presenting after a good speaker. Probably the latter.
Talk 5 – Magellan Fetalino on Technical Analysis
Around this time, you can expect that I'm a little less than low bat so I wasn't able to take down notes nor took pictures. All I can remember was that Magellan showed interesting charts on several stocks he followed and made money from.
He gave some tips on how you can take advantage of stocks investing by reading charts. He then showed chart samples like SLI, TA etc. He also pointed out that one shouldn't be greedy so as not to lose money.
Being not a great fan of Technical analysis, you can only expect that I don't recommend this strategy. It was like listening but my system was actually rejecting everything he says – BAD of me sorry.
Oh, another thing that caught my attention on his style – he's more of a preacher – teacher style, haha. Peace bro!
In the end, Floi shared a teaser about the upcoming TGFI project – Project Juan. It's actually a financial literacy movement with the mission of spreading financial literacy to Filipinos worldwide. There will be membership fees where part of the proceeds will be used for the future projects of TGFI.
Conclusion / Pointers
Being the first event for the group here in Manila, I must commend the organizers for having this meetup/seminar to begin with. Floi had to come straight from Singapore, other participants coming from as far as Ilocos, Pangasinan (riding a motorbike), Bataan, Pampanga etc. Congrats to all the organizers and the speakers (whom are all gratis).
It was an afternoon full of learning – information overload actually as some pointed out in their comments. Food was good, venue was a little overcrowded but that's understandable since it wasn't really intended for the big crowd outcome. Air condition was just right.
There were probably some areas for improvement for future events like member interaction (as also pointed in some of the comments), bigger venue, sound system etc. But then again, these are all just minor issues.
All in all, I had a great time. I'm sure future gatherings / seminars will be better. I'm happy and proud to be part of this group. Slowly but surely, we're actually making a difference to other Filipinos' lives thru financial literacy.
Time will come in the future when the Philippines will rise to be a great nation and we can all be proud to say – I WAS PART OF THAT!
Special mention to some of the people I've met in the event – Erwin De Vera from Bulacan and Delnar Sarmiento from Pampanga who thought I was 6 feet tall based on my FB profile pic, haha. To Wendie Malinao and Maria Chona Mentzer. And to my team who were with me – Regner Garcia, Ferdinand Aranas, Mayleen Bautista, Raymund Camat, Rowena Modino and Sylvia Francisco.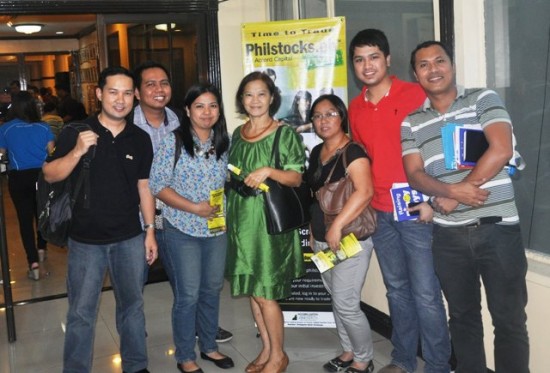 If there will be next time, I'm sure there will, I'll make sure that I'll find time again to promote and attend.
Please SHARE to your friends and relatives and be part of our movement on spreading Financial Literacy. Kudos to TGFI Facebook group.
The following two tabs change content below.
Garry Zaldy de Castro is an advocate, Financial Advisor, Certified Investment Solicitor (Mutual Fund Representative), blogger, IT practitioner, husband to Aileen and a dad to Jacob and JohnD. He started Financial Planning Philippines in 2008 just to share his financial learning to friends, relatives and anyone who wishes to be financially independent.
Latest posts by Garry De Castro (see all)