Watching this video (Pesos and Sense Episode 5) was like 3 years ago when I first learned about investing. The moment I read about the power of compounding interests and the power of time, I was so eager looking for a mutual fund company to open an account. Good thing I did and it led me to where I am now. Sharing what I learned and even becoming part of the financial industry that promotes financial literacy.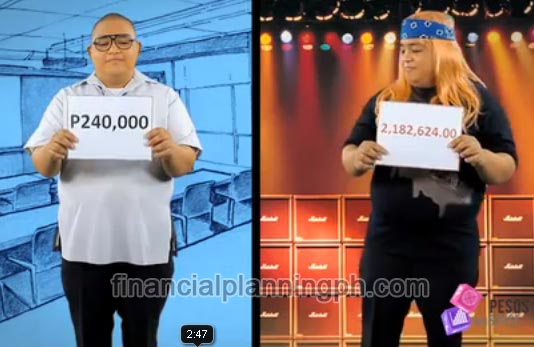 And from what I usually hear from the people I meet and discuss about these financial ideas, almost everyone has this remarks.
"Sana dati pa kita nakilala. Sana nung nagstart ako mag work nalaman ko na ang mga bagay na ito!"
Exactly the same thinking when I learned about the power of compounding interest and time – 2 allies of money.
Watch this Pesos and Sense Video Episode 5 and know the many benefits of Investing Early.
Video 1 of 4 – People's different views on investing early. Ideas like Insurance products are a lot cheaper when you are young and questions like 'when should you start investing' etc. Citiseconline's EIP was also used as an example in this video if you will start investing early.
Video 2 of 4 – Comparison of Investing early and investing late. Ping and Pong are 2 best friends with different styles of Investing. Ping started early with P2k a month for 10 years for a total of P240,000. Pong started late with P4k a month for 10 years for a total of P480,000. Who do you think has more money at age 60?
Video 3 of 4 – Part 3 on Technical Analysis with Mr. Juanis Barredo, the Chief Technical Analyst of CitisecOnline. Mr. Juanis Barredo talks about Correction and Consolidation.
Video 4 of 4 – Ask Aya portion of Pesos and Sense.
A lot of people, after watching this video started asking – 'what are the banks that offer compounding interest?'
Answer – Almost all of the banks that we have offer 'Compounding Interest'. It's just that the interest offered by the banks are so small that if we actually compare it with the prevailing rate of inflation, we are loosing money rather than make it work for us.
The question should be – 'What are the investment vehicles that offers at least 8% compounding interest?'. There are a lot – Mutual Funds, UITFs and Investing in the Stock Market.
The following two tabs change content below.
Garry Zaldy de Castro is an advocate, Financial Advisor, Certified Investment Solicitor (Mutual Fund Representative), blogger, IT practitioner, husband to Aileen and a dad to Jacob and JohnD. He started Financial Planning Philippines in 2008 just to share his financial learning to friends, relatives and anyone who wishes to be financially independent.
Latest posts by Garry De Castro (see all)