Sometime in April, I was invited by Pesos and Sense to attend to this small group meeting for a final review on the slides and presentation of "Make Your Money Grow" seminar series. Knowing that I won't be able to attend the actual seminar (which will coincide with my Bday celebration that month) I felt more than obliged to attend.
Besides, it's such an honor to be invited and to see/review the slides in advance – how cool is that. 😀
There were  just 6 of us. Pesos and Sense staff, Aya, me (with the background on personal finance already) + another one with totally no background. The idea is to check how it will impact the beginner up to intermediate audience.
So what are the main points of Pesos and Sense "Make Your Money Grow" seminar series 1. Here are some of them –
What are the reasons why people do not invest? (mostly Pinoys)
Fear – Most of the time we are afraid to lose our money. You are afraid of the things you do not know.
Ignorance – We simply don't know how to. Investing was not taught in school, even our teachers simply teach us based on textbooks.
Bad Habits – Spending has become a habit so no more funds left to invest.
The Social Cost of investing – I really love the video of Ping and Pong. But did you know that there's a long version called The Social Cost of Investing. Here, they showed the sacrifices that Ping made to be successful in building his retirement fund.
Who makes Investment Decisions?
Here, Aya pointed out that there are really no independent Financial advisors in the Philippines. Most of them are affiliated with a company that has it's own set of financial products. For example, a stock broker will most likely recommend to invest in stocks rather than other investment products.
Thus, in effect, most are not given independent financial advise but are rather sold financial products. Very true indeed. But I'd say not all. There are very few advisors  (me included, plugging) who educates people more than just sell financial products.
Aya's Investment Diagram (AID)
AID lets you know which investments are more suited for you. It is composed of 3 items, Time, Knowledge and Money. You might have the Time and Money but are lacking in Knowledge. Likewise, you might have the Time and Knowledge but are lacking in Money.
Before you invest, you must know the KKK: Know Why, Know What, Know How.
Different Types of Investments depending on your objectives and profile
Bank Products – low risk, low returns but below inflation. For daily expenses, emergencies
Bonds – High capital, low liquidity. Long term instruments with tax benefits
Pre-need – Lack of transparency, required rate of return are often not realistic
Managed Funds (UITF, mutual funds) – higher charges, minimum capital, relatively less risks
Foreign Exchange – Buying / selling pesos in multiple currencies. Very high risk
Real Estate – High capital, low liquidity. High earning potential, possible recurring income, high risk.
Stocks – High risk, high returns. In a way, you are part owner of a company.
Was it Successful?
To date, Pesos and Sense already made 2 runs of the seminar. And from what I heard, it was sold out. It only means that people are now looking for better investment vehicle other than bank products. Slowly but surely, Pesos and Sense is changing the way Filipinos think about money.
More Seminar Dates
In case you haven't attended the seminar series 1 and want to learn more, you can still catch it on June 30 and July 21, 2012. And if you're a Super Smart Investor, you have to register and pay on or before June 15, 2012 to avail of the discounts (only P495).
Register here for June 30 – http://www.pesosandsense.com/june-30-seminar.html
Register here for July 21 – http://www.pesosandsense.com/july-21-seminar.html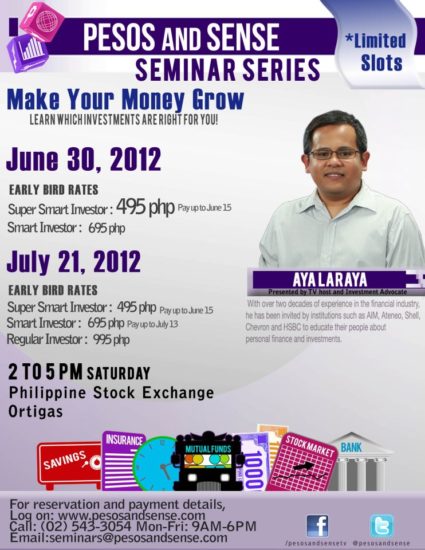 Pesos and Sense Seminar Series 2
And on July 28, they will now start Pesos and Sense Seminar Series 2 – Time Value of Money, Because Time is Money.
Register here for July 28 Seminar Series 2 – http://www.pesosandsense.com/july-28-seminar.html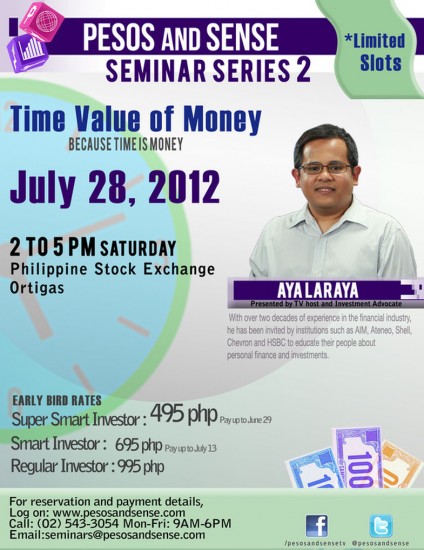 Have you attended the previous seminars? What can you say about it?
In case you find it valuable, please (hit) SHARE this to your friends and relatives in Facebook or Twitter.
The following two tabs change content below.
Garry Zaldy de Castro is an advocate, Financial Advisor, Certified Investment Solicitor (Mutual Fund Representative), blogger, IT practitioner, husband to Aileen and a dad to Jacob and JohnD. He started Financial Planning Philippines in 2008 just to share his financial learning to friends, relatives and anyone who wishes to be financially independent.
Latest posts by Garry De Castro (see all)