Sun Life, the country's first and oldest life insurance company in the Philippines, gives us another level of comfort in monitoring our accounts and policies thru it's newly re-launched mobile app – Sun Life Ph Mobile App.
The latest version (3.0) is both available on IOS (iphones and ipad download here) and Android (download here) devices and is now able to do the following:
View all your enrolled Sunlink Online accounts anytime, anywhere
Take control through the self-service menu
File a claim
Add, switch or redeem your mutual funds
Get in touch with your Sun Life advisor in an instant via the My Advisor sidebar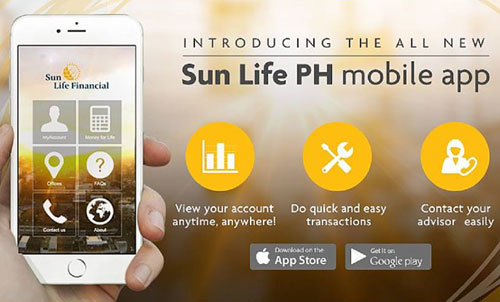 Here's my personal experience using the Sun Life Ph Mobile App on my Android phone.
Upon downloading, here's how it looks like (see below). Please take note that you can only view your accounts and policy details if you're already registered with SunLink Online. If you're not yet registered, you may follow this tutorial I made for easy step by step procedure – bit.ly/registersunlink.
Without the need to log in, you can navigate the rest of the options like Money for Life, Offices, FAQs, Contact Us and About Us.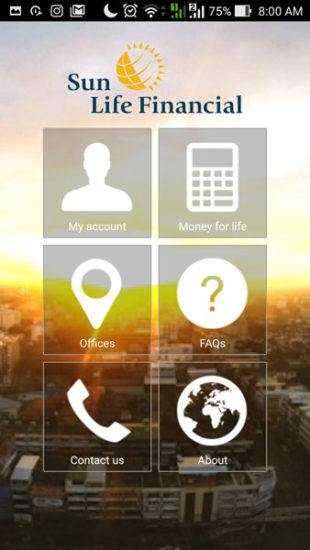 Since I'm already registered with SunLink Online, clicking on My Account and logging in looks like the image below.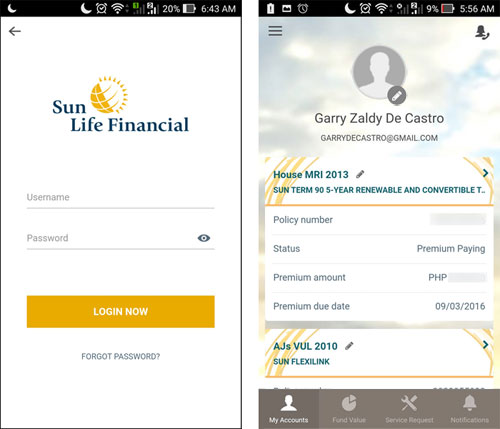 After some modifications and personal touch, here's how it looks like (image below). What I liked about the Sun Life Ph Mobile App is the ability to 'personalize 'each account that you have. You can put a name for each policies and accounts say for what goal is it for. You can even add a personal profile picture. 😀
Look what I did with mine, I named each of the  policies I have and added the year when I got them. This makes it easier to know 'till when I'm required to pay.
And here's another great feature. It will also show your Sun Life advisors for each account if you have multiple advisors. By clicking on the Message or Call button, it will immediately launch the text messaging or call from your phone and you can instantly call or send them a message.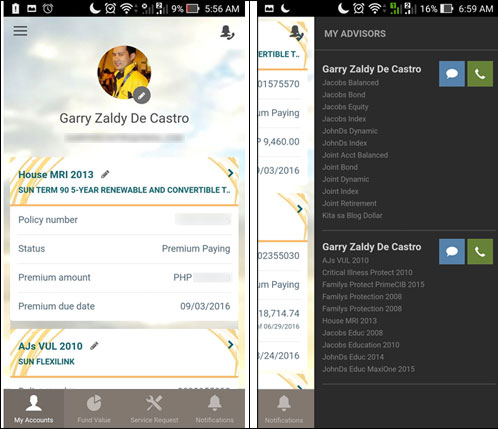 Checking the details of your accounts, click on a specific policy or account number to know the details like
Policy Number
Status
Total Fund Value
Premium Due Date
Fund allocation details
Coverage
and even Beneficiaries (for Insurance Policies).
For Mutual Fund account holders, here's a better alternative when Adding or Switching Funds to your accounts. By clicking on the Mutual Fund account number, you can easily Add, Switch or even Redeem from your account.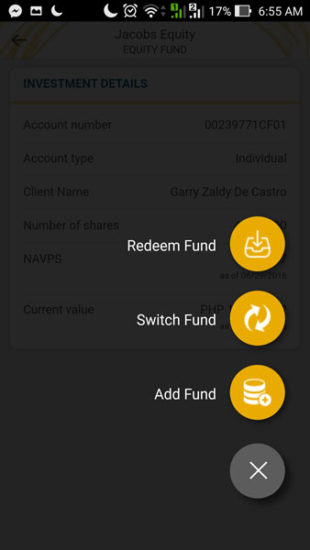 Some features like Service Request (changing Contact Info, Mailing Address) are not yet available but it's just a matter of time before we finally get access to them.
Here are some of the comments/ ratings by some of the users who have already downloaded and used the new Sun Life Ph mobile app.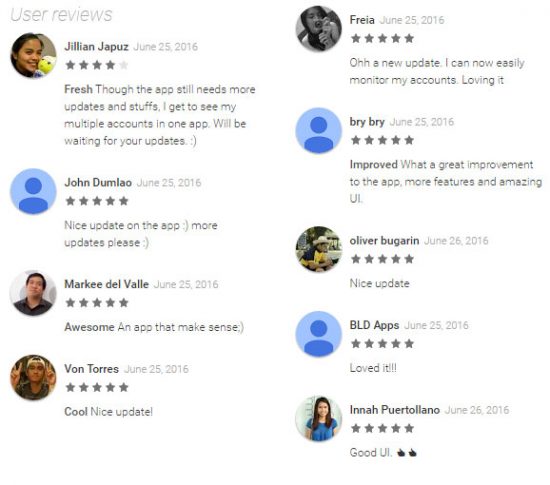 If you're a policy or account holder of Sun Life, download it now and monitor your investments. But if you're not, maybe it's about time you start something for yourself, your family or future family.
What can you say about the Sun Life PH app? Will it be helpful for you?
The following two tabs change content below.
Garry Zaldy de Castro is an advocate, Financial Advisor, Certified Investment Solicitor (Mutual Fund Representative), blogger, IT practitioner, husband to Aileen and a dad to Jacob and JohnD. He started Financial Planning Philippines in 2008 just to share his financial learning to friends, relatives and anyone who wishes to be financially independent.
Latest posts by Garry De Castro (see all)