In case you'd like to Redeem or Withdraw from your Sun Life Mutual funds, follow these simple steps.
1. Download the Order Ticket for Redemption/Interfund Transfer. It looks exactly the one below.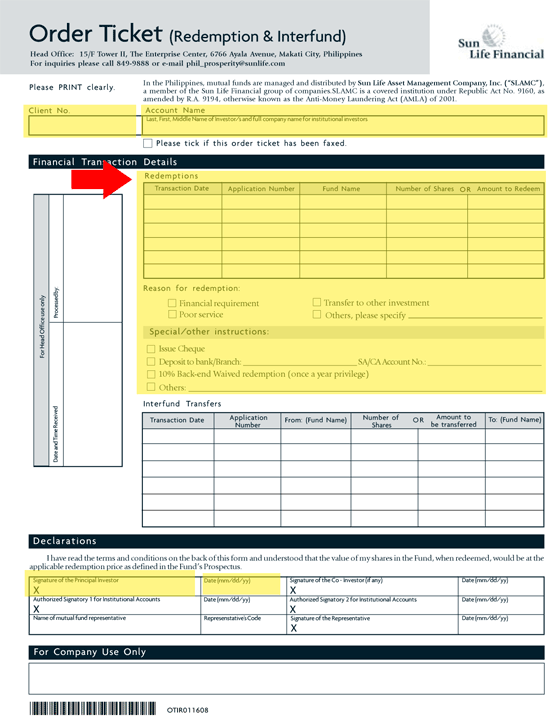 Make sure you fill up the following important details
Client Number or Account Number
Account Name
Under Redemptions, write the Date. You may skip on the Application Number.
Fund Name – from where you want to withdraw/redeem
Number of Shares or Amount to Redeem – you may simply put the Exact number of shares or just the amount
Reason for Redemption – Just check any that applies
Special /Other Instructions – Check any that applies
Your signature
Date
In case you requested for a Certificate of Shares, the original share certificate (if issued) of the investment for withdrawal must be submitted with the Order Ticket for Redemption/Interfund Transfer.
If you're enrolled with Fascimile Transactions, you may simply fax the filled up Order Ticket (Redemption/Interfund Transfer) to (632) 849-9744 or 849-9740.
If not enrolled, you must submit the original Order Ticket to the nearest Sun Life Office in your area.
For my clients (in case you're a client of mine), you may simply scan the filled up document and email it to me and I'll do the rest.
Wait for 3-7 days (as mandated by law) for your withdrawn fund. But based on actual experience of mine, submitted the form 9am (Thursday). Got the funds in my bank account the next day (Friday) at around 4pm.
You may also want to read this
Please SHARE to your friends and relatives. Just one click on the SHARE button and you help spread the news. Who knows, this might be useful for them too.
The following two tabs change content below.
Garry Zaldy de Castro is an advocate, Financial Advisor, Certified Investment Solicitor (Mutual Fund Representative), blogger, IT practitioner, husband to Aileen and a dad to Jacob and JohnD. He started Financial Planning Philippines in 2008 just to share his financial learning to friends, relatives and anyone who wishes to be financially independent.
Latest posts by Garry De Castro (see all)