Almost exactly a year ago, I wrote about Sun Life's Mutual Fund promo – Invest and Play [link here] wherein for a minimum placement of P500,000 (US$ 10,000) in mutual funds, investors will get a FREE gadget. That promo ended last December 31, 2011.
[Not familiar with mutual funds? Read and watch the video in this link What is Mutual Funds?]
To continue the momentum of that wonderful year of 2011 [ended with P21.46 Billion asset under management – story here], Sun Life Asset Management Co. Inc (SLAMC) – the mutual fund arm of Sun Life Financial – Philippines is introducing another promo called "Invest and Fly" wherein for a certain amount, investors will get a *FREE round-trip economy tickets to certain destinations around the world via Dragonair and Cathay Pacific Airlines. (promo period is til March 31, 2012 May 31, 2012 only – extended up to December 31, 2012)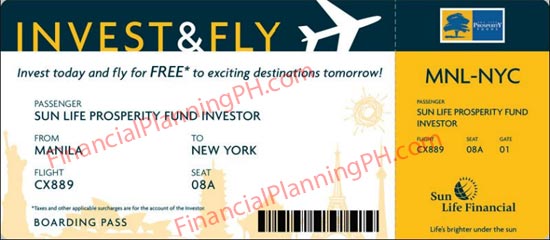 Below are the amount of Investments to qualify for the promo and destinations.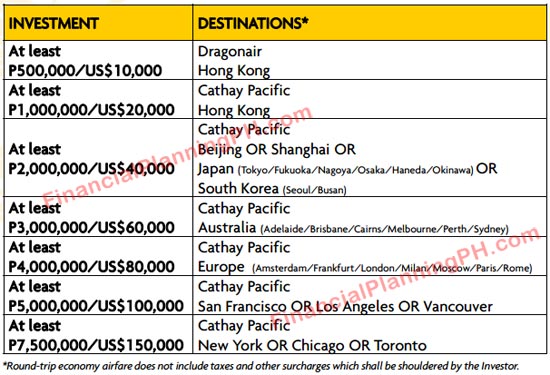 Promo Period – January 2, 2012 – March 31, 2012 May 31, 2012 December 31, 2012. Investments placed til March 31, 2012 May 31, 2012 December 31, 2012 qualifies for the promo. Travel period is valid for 1 year (til March 31, 2013).
How to Qualify
New and subsequent investments under Sales Load Option B (back end sales load option) in any of the 6 participating Sun Life Prosperity Funds (mutual funds) – GS Fund, Bond Fund, Balanced Fund, Philippine Equity Fund, Dollar Advantage Fund and Dollar Abundance Fund.
Investments in the Money Market Fund are NOT included. Transfers however from an existing Money Market Fund to any of the 6 funds are qualified.
Minimum investment to qualify is P500,000 for peso funds or US $10,000 for the US dollar-denominated  funds.
Investments under Sales Load Option B will be invested with no upfront sales load deducted but will be subjected for early redemption fees. (5% if withdrawn on the 1st year, 4% if on the 2nd year, 3% on the 3rd year, 2% on the 4th year, 1% on the 5th year, 0 charge on the 6th year onwards.)
*correct me if I'm wrong but as far as I know, Sun Life is the only mutual fund company in the Philippines that offers 0 sales charge (if withdrawn 6th years onwards).
Is the Promo Good?
I'm sure some people would say, "if I have that amount of money, I can surely afford to buy the plane tickets anyway, so why invest". Of course you can buy them, besides P500k is not a small amount of money. But if you have an investible fund of at least P500k, wouldn't you want the idea that by investing that amount of money, you'll get to travel for FREE? I sure won't.
[ad#content300] As I told to one of my clients, going to Hong Kong or any destinations, you can easily get a Piso or Promo Fares nowadays, so no need to shell out P500k just to go there. But if you have a time deposit in the bank that has been sitting there for sometime now and your not planning to spend it in the next 5 years anyway, wouldn't you like the idea that by just transferring it to another financial company like Sun Life, you can get to travel for *FREE 'with style'.  Not to mention that it has a lot more potential to earn more – 5%-10% per annum (though not guaranteed) as compared to 1%-4% in time deposits (guaranteed yet guaranteed to lose value due to inflation).
I've mentioned 'travel with style' coz I rode Cathay Pacific once and the experience is a lot different from PAL and Cebu Pacific Airlines.
I'm Interested, How Do I get Started?
In case you're interested or maybe your parents or grandparents might be, better call your Sun Life Financial Advisors and inquire about it. If you don't have one yet, just email me [garrydc@financialplanningph.com / garryzaldy.s.decastro@sunlife.com.ph], text or call [0922-897-8077 / 0916-414-7400] and I'll try my best to help you.
In case you're in Visayas or Mindanao area – I can refer you to a trusted Sun Life Financial Advisor in your area. You can also fill up the form below so that I can contact you instead.
Here are the procedures – http://www.financialplanningph.com/how-to-open-a-mutual-fund-account-with-sun-life/
Happy Investing!
Note: You don't need P500,000 to start investing in mutual funds. In fact, for a minimum of only P5,000.00, you can already have your mutual fund account. It's just that you won't qualify for this specific promo.
The following two tabs change content below.
Garry Zaldy de Castro is an advocate, Financial Advisor, Certified Investment Solicitor (Mutual Fund Representative), blogger, IT practitioner, husband to Aileen and a dad to Jacob and JohnD. He started Financial Planning Philippines in 2008 just to share his financial learning to friends, relatives and anyone who wishes to be financially independent.
Latest posts by Garry De Castro (see all)